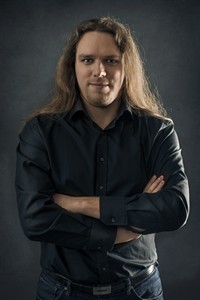 Možno ste už počuli, možno nie o novom českom, tak trochu tajomnom,  progresívno-metalovom zoskupení Silegrail. Na starosti ho má multiinštrumentalista Michal Worek. Na nahrávaní rovnomenného debutového albumu sa okrem Juhočeskej filhármonie zúčastnil aj známy slovenský gitarista Jakub Tirco. Viac sa už dozviete v nasledujúcom rozhovore.
Zdravím Michal Worek. Ty zo svojím zoskupením Silegrail si nedávno vydal rovnomenný debut. Mohol by si na úvod prezradiť pár slov – kto ste, čo ste?
Michal Worek: Jsme parta progresivních nadšenců z Česka a Slovenska, kteří se rozhodli udělat něco, co se u nás tak často nedělá 🙂
Dá sa Silegrail chápať ako plnohodnotná kapela alebo je to skôr projekt?
Michal Worek: Původně jsme Silegrail zakládali jako pražskou kapelu. Měli jsme jiného kytaristu, který ovšem za nedlouho z časových důvodů odešel. Chtěli jsme dělat technicky náročnou hudbu a hledání kytaristy (a taky zpěváka) se ukázalo jako velký problém. Místo koncertování jsme se tedy soustředili na tvorbu materiálu, který jsme postupně nahrávali a nakonec jsme se rozhodli oslovit našeho slovenského kamaráda Jakuba Tirča, aby nám kytary nahrál on. Byla to nejlepší volba, jakou jsme mohli udělat, protože Kuba je hráč světové úrovně. Ale jelikož vzdálenost Praha-Košice není ideální na pravidelné zkoušení, stal se ze Silegrail spíše projekt.
Ak je to len projekt, je plán z toho zrealizovať riadnu kapelu?
Michal Worek: Momentálně nemáme v plánu koncertovat a tvořit dál, ale uvidíme, jaké budou ohlasy na naše album. A pokud bude zájem, probereme možnost alespoň nějakého turné.
Ďalej ťa poprosím pár slov o spomínanom albume. Aj keď to bude možno ťažké, skús niekoľkými vetami napísať, od kedy ste začali na ňom pracovať a nejako charakterizovať muziku, ktorá sa na ňom nachádza.
Michal Worek: Materiál na album začal vznikat už asi před pěti lety, kdy jsem skládal své první progresivní skladby inspirované kapelou Dream Theater. V té době jsem netušil, že někdy dám dohromady kapelu. Po vzniku Silegrail v roce 2014 jsme začali postupně nahrávat právě skladby z mého šuplíku a celé album tak vznikalo asi dva roky. Stylově tedy naše hudba vychází z kapely Dream Theater, což je nejvíc znát hlavně u nejstarších skladeb Rivers of Fears, New Dimension a Look into the Past.
Celý je v podstate inštrumentálny s výnimkou dvoch kúskov Smell of Suicide a Rivers of Fears. Prečo iba tie dva sú spievané?
Michal Worek: Převaha instrumentálních skladeb je dána z velké části tím, že neumím psát texty a že jsme neměli stálého zpěváka. Rivers of Fears jsem původně psal jako jakési "moje Octavarium", tudíž jsem tam chtěl i zpěv a Smell of Suicide jsem původně vůbec nepsal pro Silegrail. Několik let mi to leželo v šuplíku a při přípravě alba jsem si řekl, že by mohla být na albu alespoň jedna "rádiovka" 🙂
Na albume hraje aj Juhočeská filhármonia, ako sa ti podarilo dohodnúť s nimi spoluprácu?
Michal Worek: Skladba Symphony of Progress, ve které hraje Jihočeská filharmonie, je moje bakalářská skladba v rámci studia kompozice na pražské HAMU. Jelikož jsem tam studoval vážnou hudbu, pojal jsem skladbu jako interakci vážné a rockové hudby. Katedra skladby obvykle zajišťuje orchestr pro živé provedení absolventských skladeb, ovšem pro provedení takové skladby nebyl k dispozici vhodný prostor a bylo by to technicky složité. Tak mi nabídli, že mi místo živého provedení zařídí nahrávku orchestrálního partu. Za to bych jim ještě jednou rád poděkoval.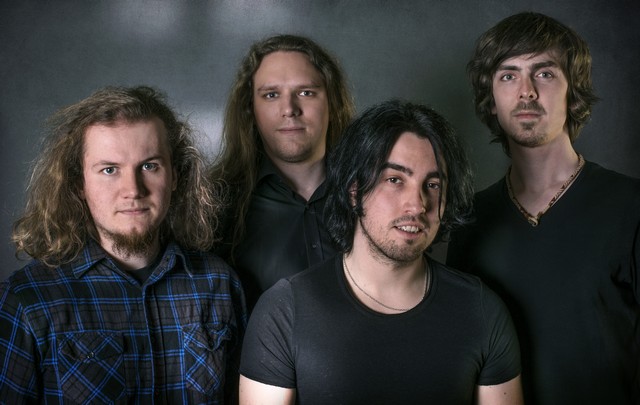 Kedy si ty osobne začal s hudbou a akými formáciami si prešiel?
Michal Worek: Od pěti let jsem se učil na klavír v ZUŠce v Třinci. Tam jsem začal hrát ve školní kapele, kde jsem se seznámil s jazzem. V době studií na třineckém gymnáziu jsem měl jazzové trio 3jazz spolu s Albertem Černým a Honzou Ciencialou, kteří později založili kapelu Charlie Straight. Na konzervatoři Jaroslava Ježka vznikl projekt Michal Worek Quartet, se kterým jsem nahrál album, a potom jsem od jazzu přešel k rocku a vzniklo Silegrail. Věnuji se ale i jiným žánrům od vážné hudby po šanson.
Čomu sa venuješ okrem hudby (povolania, záujmy, záľuby)?
Michal Worek: Tohle je nejhorší otázka, jakou můžu dostat, protože kromě hudby moc zálib nemám 🙂 Rád ale koukám na filmy, mám rád Davida Lynche, Matrix nebo Pána prstenů. Hodně samozřejmě ve filmech sleduju hudbu. Je to jedna z oblastí, kam bych se chtěl jako skladatel propracovat.
Ok, tak to bola posledná otázka. Ďakujem za rozhovor a ako je u mňa zvykom poprosím ťa o nejaký ten odkaz pre čitateľov.
Michal Worek: Já děkuju a tady je odkaz na náš web, fb a youtube profil.
http://www.silegrail.com/
https://www.facebook.com/silegrail/?fref=ts
https://www.youtube.com/channel/UCcM-8kTFlBk5GyCTpnUm4Aw
Youtube ukážka: