Grave Digger – videoclip for song Lawbreaker
23. March 2017
German metal veterans Grave Digger published videoclip for song Lawbreaker from their last album Healed By Metal.
Links:
http://www.grave-digger-clan.com/
https://www.facebook.com/gravediggerofficial/?fref=ts
Source of Information: www.youtube.com
Grand Magus – videoclip for song Freja´s Choice
23. March 2017
 New videoclip also published heavy/doom metallers Grand Magus from Sweden. This it is for song Freja´s Choice from their last album Sword Songs.
Links:
http://grandmagus.com/
https://www.facebook.com/grandmagusofficial/
Source of Information: www.youtube.com
SEVEN KINGDOMS – Unveil Release Date, Artwork and Track Listing Of New Album & Napalm Records Debut Decennium
21. March 2017
Florida power metal act SEVEN KINGDOMS have recently signed to Napalm Records and are now ready to unveil the track listing, release date and cover artwork for their forthcoming Full Length album and Napalm Records debut, Decennium. A band started for fun, found that hard work and dedication to their craft has major pay offs… SEVEN KINGDOMS is carving its own path in metal history creating something genuinely unique, yet undeniably Power Metal!
Find the powerful artwork and full track listing of this 10-Year-Anniversay Album below: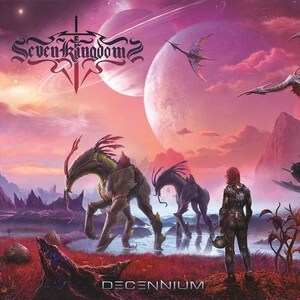 Tracklist:
Stargazer
Undying
In The Walls
The Tale Of Deathface Ginny
Castles In The Snow
Kingslayer
The Faceless Hero
Neverending
Hollow
Awakened From Nothing
In The Walls (EP Master) (Bonus Track)
Undying (EP Master) (Bonus Track)
The Bloody Meadow (Re-Recording) (Bonus Track)
Stormborn (Re-Recording) (Bonus Track)
Decennium will be released worldwide via Napalm Records on May 5th 2017!
Pre-Orders are up and ready for you HERE.
Decennium was recorded with Jim Morris (Iced Earth, Savatage, Death) and Phil Pluskota (Abiotic, King Conquer) at North Avenue Studios and Morrisound Recording. SEVEN KINGDOMS mixed the album at Morrisound Recording and was mastered by Jacob Hansen (Avantasia, Evergrey, Volbeat).
Commented SEVEN KINGDOMS guitarist Camden Cruz:
"We are very excited to start the Pre-Orders for the Official Worldwide Release of Decennium via Napalm Records. We are very, very happy with this album and it is undeniably the best product the band has put fourth yet. Napalm ensures that a significant amount of people overseas will get a chance to get the record now without the incredible shipping prices, and also we are excited to finally bring Digital and Streaming platforms to the fold thanks to Napalm. We are very excited for what all of this new stuff brings! Please Pre-Order the record and tell your friends to do the same! See you on tour with Evergrey in about 6 weeks! Get your tickets for the North American dates!"
SEVEN KINGDOMS will embark on full length North American tour with Evergrey, Need and Ascendia in May and June 2017 to support the new album. More shows are being added; catch them live at the following confirmed shows:
5.6.17 The Haven – Orlando, FL
5.7.17 The Orpheum – Tampa, FL
5.9.17 Scout Bar – Houston, TX
5.10.17 Gas Monkey – Dallas, TX
5.11.17 The Rock Box – San Antonio, TX
5.13.17 Joe's Grotto – Phoenix, AZ
5.14.17 Brick By Brick – San Diego, CA
5.15.17 Adrenaline bar – Las Vegas, NV
5.17.17 The Viper Room – Los Angeles, CA
5.18.17 TBA – San Francisco, CA
5.19.17 TBA – Portland, OR
5.20.17 Studio Seven – Seattle, WA
5.21.17 The Rickshaw Theater – Vancouver, BC
5.22.17 Dickens Pub – Calgary, AB
5.23.17 Exchange – Regina
5.25.17 The Cabooze – Minneapolis, MN
5.26.17 Reggie's – Chicago, IL
5.27.17 The Token Lounge – Detroit, MI
5.28.17 Mod Club – Toronto, ON
5.30.17 L'Anti – Quebec City, QC
TBA – New York, NY
TBA – Philadelphia, PA
More dates will be announced shortly.
Links:
www.facebook.com/SevenKingdomsOfficial
www.facebook.com/napalmrecords
www.napalmrecords.com
Source of Information: Napalm Records Promotion Team
Carnero – Assalto"
22. March 2017
Carnero is a four piece hardcore punk band from Forlì, Italy. Born as a side project in 2013, but active since mid-2015 Carnero mixes the old fashioned lyrical approach of italian punk bands such as Wretched and Sottopressione with new school hardcore, crust and dbeat while adding the spazzy and dissonant edge reminiscent of bands like Converge and Botch. Assalto is the outcome of one year of stability following a 3/4 line up change between 2013 and 2015: the songwriting is more focused, stripped out and essential, punkier and more pissed off than ever. CARNERO is Damiano, Enrico, Gianmaria and Marco. Assalto is a punk album. Short enough not to be boring, long enough not to leave anything unsaid. It bursts quickly in its short time. All concepts are spat out carelessly and urgently, withouth rhethoric. There's too much shit out there to smooth things out with sweet melodies. Frantic drumming, aching throats, words sharp and straight to the point like knives, to remind us that for as many blissful moments we may experience in our lives human wickedness and iniquity is always the dish of the day. Carnero are both new and old-timers of the scene of Forlì, a landmark for punk hardcore and screamo in Italy of the last two decades. There is no sugaring the pill this time. Witness a live show and see for yourself.
CREDITS
Enrico: vocals
Damiano: drums
Gianmaria: guitar
Marco: bass
Na`resh Ruotolo: voice in Spreco pt.2, Ignoranza, Rifletti, Veleno and Potere Produttivo.
Silvio Sassi: backing vocals on Ignoranza and Potere Produttivo.
Simona Galassi: backing vocals on Ignoranza.
Maicol Caggiano: recording and mixing @ Soundscape Studio, Forli`.
Carlo Izzo: mastering @ Big Pine Creek Studio, Parma.
Artwork by Marco Burbassi.
Layout by Alessandro Cellarosi.
Lyrics by Carnero.
Music by Carnero eccept Rifletti written by Carnero and Silvio Sassi.
Release date: 3 March 2017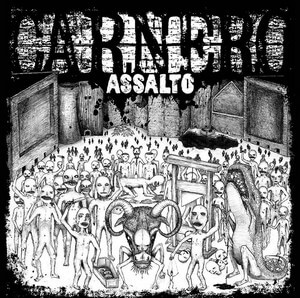 Links:
www.facebook.com/CARNEROHC
Source of Information: Dischi Bervisti
The Shiver Set to Release New Album "Adeline" on April!
24. March 2017
2017 marks the great return of one of alt metal's most unique, fast growing bands of the italian wave, THE SHIVER. Today, the band announces their new album, "Adeline", will be released on April 4th and have unveiled the artwork and track list for their imminent return.
With their first two albums "A New Horizon" and and "The Darkest Hour" , the band started building up their profile as a strong live act touring all over Europe as support band for Papa Roach, God Is an Astronaut, Dead Letter Circus, Tarja and many others, getting enthusiastic response by both media and fans alike for their great energy on stage.
The band is now ready to release their brand new album "Adeline", where Faith's stellar voice is enough to make The Shiver attractive and a must listen. The immersive layers of synth and guitar create some impressive soundscapes that permeate all songs.
We hope "Adeline" can stick to your head and keep you coming back again and again.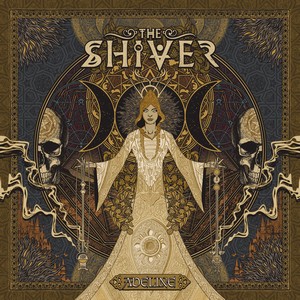 PREORDER ► https://theshiverband.bandcamp.com/album/adeline **
THE SHIVER will return to Europe this April/May for a spectacular tour with SONIC SYNDICATE.
Links:
https://www.facebook.com/theshiver.net/
Source of Information: Dark Art Conspiracy
ACID FORCE – "Atrocity For The Lust" – CD-DIGIPACK (23.03.2017)
22. March 2017
Young Slovak thrash metal band Acid Force released debut album Atrocity For The Lust.
01. Unleash
02. I Am The Skating Man
03. Speedtrain
04. Echoes Of Fear
05. Diamond Skin
06. Vein Ripper
07. All Scum Will Rot
08. Y. C. S.
09. Spill The Acid
10. Atrocity For The Lust
Lyric video for song Spill The Acid:
https://www.youtube.com/watch?v=3Cyywfnj14Q
Music by Acid Force
Lyrics by Acid Force
Recorded, Mixed and Mastered By Miro Spevak
Redorded August 2016 at SPK AUDIO
Cover Artwork by Andrei Bouzikov
Graphic Design by Studna, MáMa, Nitro, Rudo
Photography by Nuctermeron
ACID FORCE:
Andrej – guitar
Teo – vox, bass
Erik – guitar
Fede – drums
acid.force.thrash@gmail.com
acidforce.bandcamp.com
bandzone.cz/acidforce
facebook.com/acidforcethrash
Order On:
http://www.supug.cz
Source fo Information: Support Undeground