CHRIS CORNELL – samovražda?
19.5.2017
Ako ste boli informovaní, v stredu večer zomrel Chris Cornell, spevák gurngeových legiend Soundgarden a Audioslave.
Foto: www.wikipedia.org
Dnes súdny lekár potvrdil, že Chris zomrel obesením. Právny zástupca jeho rodiny však vydal vyhlásenie, ktoré spochybňuje verziu o samovražde. ,,Bez výsledkov toxikologických testov nevieme čo sa stalo s Chrisom, alebo či nejaké látky prispeli k jeho skonu" – povedal Kirk Psich. Chris, zotavujúci sa zo závislosti mal predpísaný liek Ativan… Rodina verí, že ak si Chris vzal život, nevedel čo robí a drogy alebo iné látky možno mali vplyv na jeho činy. Pasich poznamenal, že niektorá lekárska literatúra naznačuje, že Ativan môže spôsobiť paranoidné alebo samovražedné myšlienky, nezmyselné reči a zhoršený úsudok.
Zdroj: http://www.blabbermouth.net
Lord Of The Lost – zmluva s Napalm Records a nový album v jeseni
19.5.2017
Vydavateľstvo Napalm Records privítalo vo svojej stajni novú kapelu. Zmluvu s nimi podpísala nemecká kapela Lord Of The Lost.
Lord Of The Lost s produkt manažérom Billie Klein v berlínskej pobočke Napalm Records
Od roku 2007, kedy bola založená Chrisom Harmsom v Hamburgu sa stala jednou najznámejších a najzaujímavejších hviezd medzinárodnej scény. Zvuk kapely bol vždy heavy jazdou, prechádzajúcou mnohými temnými žánrami a stále sa vyvíja.
Nový album bude pokračovaním predošlého akustického Swan Songs a bude taktiež akustický. Jeho názov bude Swan Songs II a vyjde v jeseni tohto roku.
Členovia:
Chris Harms – spev, gitara, čelo
π – gitara
Class Grenayde – basa
Gared Dirge – piano, syntetizátory, perkusie, gitara
Tobias Mertens – bicie
Linky:
http://www.lordofthelost.de
http://www.facebook.com/lordofthelost
http://www.napalmrecords.com
http://www.facebook.com/napalmrecords
Zdroj: Napalm Records Promotion Team
The Privateer ohlásili nový album The Goldsteen Lay
19.5.2017
Nemeckí piráti THE PRIVATEER ohlásili vydanie tretieho albumu The Goldsteen Lay. Dátum vydania je stanovený na 28. júla.
Viac informácii sa dozviete čoskoro.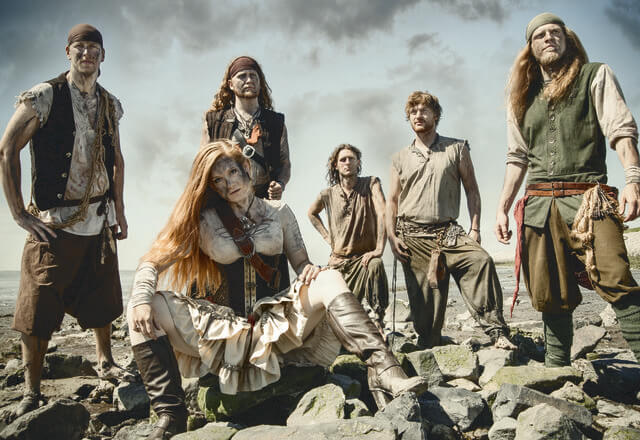 Linky:
http://www.theprivateer.de
http://www.facebook.com/ThePrivateer
http://www.noiseart.eu
Zdroj: NoiseArt Records