Evil Invanders – videoklip k prvej skladbe z chystaného albumu
13.6.2017
Belgickí thrash/speed metalisti EVIL INVANDERS zverejnili videoklip k prvej skladbe z chystaného albumu Feed Me Violence (vyjde 29. septembra) – MENTAL PENITENTIARY: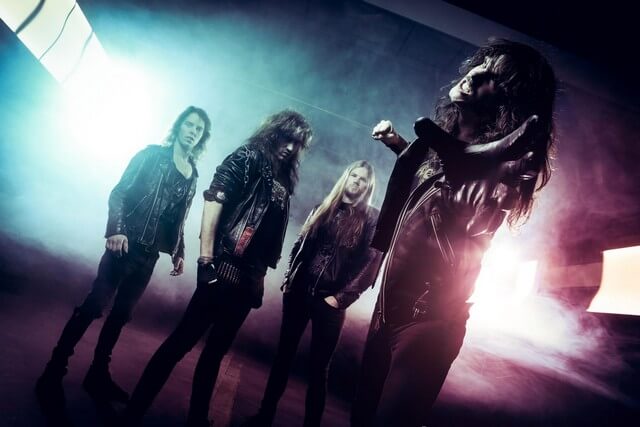 Linky:
https://www.facebook.com/evilinvaders
https://www.evilinvaders.be
Zdroj: Napalm Records Promotion Team
Iced Earth – lyric video k skladbe z chystaného albumu
13.6.2017
Vydanie nového albumu amerických power/thrasherov Iced Earth – Incorruptibile sa pomaly, ale isto blíži (dátum vydania – 16. jún) a kapela zverejnila lyric video k ďalšej skladbe z neho – Clear The Way (December 13th, 1862).
https://www.youtube.com/watch?v=wmljtVrxul0
Linky:
http://www.icedearth.com/
https://www.facebook.com/OfficialIcedEarth/?fref=ts
Zdroj: https://www.facebook.com/OfficialIcedEarth/?fref=ts
Kapela The Last Days of Jesus pokrstila album a predstavuje animovaný klip 1-2-3-War!
13.6. 2017
Polonahé dievčatá z Bratislava Burlesque, ktoré tancovali do rytmu goth'n'rollu! Tak vyzeral koncert skupiny The Last Days of Jesus v bratislavskom klube Randal, na ktorom pokrstila album "The Last Circus". Skupina si dala dokonale záležať na pódiovej show, aká sa len tak nevidí. The Last Days of Jesus pripravili k jednej zo skladieb z nového albumu videoklip. Pozrite si animované dielo k songu 1-2-3-War, na ktorom renomovaný španielsky creative a art director pracoval takmer pol roka!
 Skupina The Last Days of Jesus sa po albumoch vydaných v zahraničí sa rozhodla ten najnovší vyprodukovať pod vlastnou značkou. Album "The Last Circus" plný smutných hitov aj šialených šansónov uviedol v bratislavskom klube Randal do života bývalý dlhoročný organizátor Batcave párty a manažér skupiny DJ SexDwarf. Najväčším lákadlom boli sexi tanečnice z Bratislava Burlesque.
"Krst dopadol výborne. Po dlhšej odmlke v našom rodnom meste a zmenách v kapele, sme boli veľmi zvedaví, ako toto "divadlo" prijme publikum. A reakcie boli nad naše očakávania. Tanečnice dokonale zapadli a nádherne ozvláštnili celý večer. Publikum veľmi ocenilo okrem hudobnej aj vizuálnu stránku koncertu. Málokto na Slovensku si dá záležať aj na šou. Preto som rád, že táto spolupráca vyšla… " zhodnotil akciu frontman kapely mary0.
Charakteristickým znakom The Last Days of Jesus je veľká porcia irónie a dvojzmyselnosti v textoch i vizualite. Kapela hrá fúziu klasického death a gothic rocku s modernými zvukmi a postupmi, okorenenú prvkami punku, postpunku, new wave a rock and rollu. Z nového albumu pre fanúšikov pripravila nový klip k skladbe 1-2-3-War.
 "Je to vlastne animovaný spot, ktorý je svojím spôsobom takým vojnovým protestsongom. Nerád vysvetľujem svoje texty, ale je to celé o našom prístupe k planéte a následných dôsledkoch. Režisérom a animátorom v jednej osobe je Španiel Manuel Campagnoli. Je to renomovaný creative a art director, ktorý roky pracuje v reklamnom biznise a stojí za mnohými úspešnými kampaňami veľkých i menších značiek. Už dlhšiu dobu žije a pracuje na Slovensku. Tento klip bol aj preňho takým odklonom od každodennej práce a veľmi ho to bavilo. Pracoval na tom takmer pol roka," teší sa z nového klipu mary0.
 Na albume "The Last Circus" účinkujú jazzová speváčka Hanka G., kontrabasista Fabko z kapely The Rockefellas, talentovaný trúbkár Matej Korbelič. Textovo a spevom ho ozvláštnila aj francúzska multiinštrumentalistka Hellebore známa z kapiel Deadchovsky alebo Crimson Muddle. Album po prvýkrát vychádza aj v špeciálnom prevedení na vinyle. Skupina koncertuje po celej Európe a medzitým stihla hrať na festivale v Nemecku. V lete má v pláne ešte festival vo Francúzsku na zámku v Tilloloy.
Aktuálna zostava kapely je mary0 – spev, Feššy – gitara, Anjou – klávesy, Bajo – bicie a dr. – basa. Všetky informácie o skupine nájdete na favebook.com/thelastdaysofjesus a thelastdaysofjesus.bandcamp.com
Tlačová správa
Zaujímavé Podujatia
V zoznamoch pribudlo:
Renaissense & Etterna 1.7.2017; Metro Bar – Prešov
www.metalmania-magazin.eu/zaujimave-podujatia/renaissense-etterna-1-7-2017-metro-bar-presov/
Beyond Creation / Virvum at Collosseum (KE) 27.6.2017
www.metalmania-magazin.eu/zaujimave-podujatia/29017-2/
Armada + support; 17.6.2017 – rc Tartaros, Banská Bystrica
www.metalmania-magazin.eu/zaujimave-podujatia/armada-support-17-6-2017-rc-tartaros-banska-bystrica/
Anathema acoustic show; 10.7.2017 – Randal Club – Bratislava
www.metalmania-magazin.eu/zaujimave-podujatia/anathema-acoustic-show-10-7-2017-randal-club-bratislava/