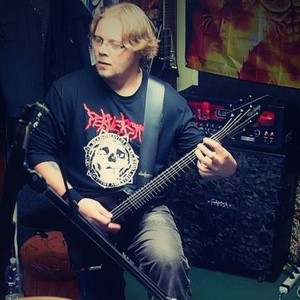 Death metal žije aj na ďalekom východe. Dôkazom toho je aj debutový album Fammy zo Strážskeho – Invasion of Hate. Ten sa podarilo nahrať hlavne vďaka pomoci Ľuba Stanka (alias Chrysogonus), ktorý v dávnych časoch pôsobil v humenskej parte Amorbital. Ako to vyzerá s hľadaním vydavateľa pre album, čo bude obsahovať a ďalšie podrobnosti sa dozviete v rozhovore s gitaristom Ladislavom.
Zdravím Laci, pred cca mesiacom ste nahrali debutový album Invasion of Hate. V akom štádiu je hľadanie vydavateľa preň?
Ladislav Škovranko: Ahoj Tomáš tak robíme čo sa dá, bolo oslovených zopár ľudí  takže čakáme na tu najlepšiu ponuku.
Ak sa nakoniec nepodarí nájsť, je možné že ho vydáte vo vlastnej réžii?
Ladislav Škovranko: Tak veríme, že sa niekto nájde. No aj keby náhodou nie tak sme rozhodnutí vydať CD na vlastné náklady.
Skús ho niekoľkými vetami charakterizovať (hudobná stránka, texty).
Ladislav Škovranko: Je to proste invázia 🙂 Na nových skladbách som sa už podieľal aj ja, takže oproti straším tam cítiť zmenu k death metalu (snáď k lepšiemu 🙂 ). CD obsahuje 6 skladieb, z toho jedna inštrumentálna a textovo je to rôznorodé… Napr. Alien-Human Hybrid: kríženie ľudí s mimozemskou entitou, môže byť v konečnom dôsledku posledná šanca na prežitie ľudskej rasy.
Wreak Havoc: Ľudská arogancia dokáže rozpútať peklo. Alter Ego: Každý v sebe skrýva niekoľko tvárí a je na každom z nás, ktorú nechá vyniknúť a ktorú bude navždy skrývať hlboko v sebe.  Demons Around You: Nedôveruj slepo každému, pretože to môže mať fatálne následky. Solar Enigma: Našej planéte pomaly dochádzajú všetky zdroje. Je čas zmeniť lokál…
Zaujímavé témy 🙂  Kde bol nahrávaný a ako prebiehalo samotné nahrávanie?
Ladislav Škovranko: To áno 🙂 Od prvého momentu keď nám Ľubo doniesol texty bolo jasne, že toto je to pravé. Samotné nahrávanie bolo o niečo zdĺhavejšie a náročnejšie, keďže náš spevák a basák v jednej osobe Erik kvôli pracovným povinnostiam kapelu opustil, ale nikto z nás nemal chuť vzdať to a sedieť len tak doma…
Takže aj napriek prekážkam bol cieľ jasný – nahrať nové skladby a to sa nám aj podarilo. Nahrávalo sa v  štúdiu Coop Art v Humennom. Bicie, gitary a basu sa nám podarilo nahrať v krátkom čase, no ako som spomenul problém so spevom  a to znamenalo prerušiť práce na  CD a začať hľadať vhodného speváka.
Spevák sa našťastie našiel, nahrávanie sa dokončilo a my sme spokojní.
No ďalšia otázka bude smerovaná naň. Ako ste ho vlastne našli on Vás kontaktoval alebo ako?
Ladislav Škovranko: Tak Ľuba už nejaký ten rok poznám, vlastne od čias keď ešte fungoval s kapelou Amorbital a po oslovení nemal najmenší problém nám pomôcť otextovať skladby a následne ich aj nahrať za čo sme mu veľmi vďační.
Ľubo aj po rokoch ostal srdcom verní death metalu aj muzike.
A ako to bude s basou?
Ladislav Škovranko: Aj basu už riešime. Basák už bol na prvej skúške, no nerád by som to nejako rozoberal kto to je atď. Je to ešte čerstvé a nechcem to zakríknuť 🙂
A ostane už nastalo člen Fammy?
Ladislav Škovranko: To ukáže čas. Každopádne bolo by to super, no prvotná dohoda bola taká, že nám pomôže naspievať skladby na CD a ďalšie veci budeme riešiť postupne .
Osobne som si všimol, že v poslednom čase majú domáce kapely vo zvyku sa vracať k rodnému jazyku. Je možné, žeby sme sa v budúcnosti dočkali slovenských skladieb od Fammy?
Ladislav Škovranko: Juuuj 🙂 Myslím si, že slovenské texty nebudú a ani nemáme v pláne robiť ale kto vie 🙂
Kde budete najbližšie vystupovať?
Ladislav Škovranko: To by som aj ja rád vedel xixi 🙂 Problém je v tom, že každý v kapele pracuje a nie vždy si dokážeme poriešiť voľno v práci na konkrétny dátum, ale koncertovať chceme a aj plánujeme. Odporúčam sledovať našu fb stránku, kde sa fans dozvedia viac.
Ako vyzerá bežný život členov Fammy (Záľuby, záujmy)?
Ladislav Škovranko: Práca, rodina, skúšobňa ja osobne na nič iné nemám čas.  No ak sa dá gitara hoci aj španiela pri vatre, fanziny a dobrú hudbu nikdy neodmietnem 🙂
Ty pôsobíš aj v kapele Hell Souls. Ako to momentálne s Vami vyzerá? Nejak o Vás nepočuť.
Ladislav Škovranko: Áno máš pravdu kapelu. Hell Souls som založil a náš štart bol celkom slušný v podstate stále dostávame ponuky na koncerty no kapela je 2. rok neaktívna. Po odchode Lukáša (gitara) to nejako padlo, náhrada sa nenašla a ja som sa začal naplno venovať kapele Famma.
Mohol by si rozpovedať svoj hudobný príbeh, ako si sa dostal k muzike a ako si sa dopracoval ku kapelám Hell Souls/Famma?
Ladislav Škovranko: K tvrdej hudbe som sa dostal ešte na základnej škole. Kapela Death bola topka, no hlavne vďaka tomu, že v Humennom bola silná metalová scéna. Kapely ako Amorbital Daybreak, Bizarre of Brutality každý pozná a koncerty Festering Blood to bolo niečo neskutočne skvelé…
Live akcie Vader, Sinister a kopec ďalších to bolo to pravé a aj vďaka tomu som vedel, že death metal bude môj život. Ku vlastnej kapele som sa dopracoval až v neskoršom veku, kedy som na svojom sne hrať v kapele začal aj reálne pracovať.
Kúpil som si prvú gitaru, začal cvičiť cvičiť cvičiť a keď to už nejako išlo, začal som reálne uvažovať, že je ten správny čas založiť kapelu. Hell Souls krásne obdobie, super partia v kapele  geniálne skúšky a koncerty (že Hudzi 🙂 ), no a potom následne odchod k bande Famma.
K Famme som sa dostal náhodou. Debata na koncerte v Humennom ohľadom pomoci obsadiť doprovodnú gitaru v kapele neodmietol som a rád som chlapcom pomohol. Až časom sa ukázalo, že toto je to pravé  orechové a s Fammou som až doteraz, tuším že tretí rok?
Ok tak to bola posledná otázka. Veľmi pekne ti ďakujem za rozhovor a poprosím ťa o nejaký ten odkaz pre čitateľov.
Ladislav Škovranko: Aj ja Ti ďakujem za podporu kapely a čitateľom odkazujem počúvajte, čítajte no hlavne podporujte SLOVENSKU SCENU !!!!
Youtube ukážka:

Linky:
https://www.facebook.com/FammaSK-435625666576978/?fref=ts
http://bandzone.cz/fammask
https://famma.bandcamp.com/
https://www.youtube.com/channel/UCCOoo9YvZxZMfnXuPOfvlhQ