1. júla som po viac ako roku opäť navštívil Prešov. V tamojšom Metro bare sa konal koncert, kde vystúpila miestna mladá ambiciózna formácia – melodici Etterna a namiesto pôvodne avizovaných Martinčanov Eufory ďalšou kapelou boli víťazi Wacken Metal Battle 2015 – rožňavskí progresívni power metalisti Renaissense. Na miesto konania sa podarilo doraziť krátko pred začiatkom. Menším prekvapením bola prítomnosť SBS na vstupe – čo v pod. kluboch nebýva zvykom (ale nie je to na škodu). Samotná akcia sa konala v podpivničených priestoroch baru.
Ako som už povedal v úvode – naposledy som bol v Prešove pred viac ako rokom, konkrétne to bolo kvôli koncertu kapiel  SunRain, Wild Sixtee NeiN. Prví vystupujúci Etterna mali so SunRain niečo spoločné, konkrétne mladého speváka Adyho Hnata (a občasného gitaristu – akustické vyhrávky v skladbách). V SunRain pôsobil ako gitarista. Bubeník a jeden z gitaristov taktiež pochádzajú zo známej kapely – Khadaver. Zatiaľ sa im podarilo vydať dva klipy (Secreto en Fragopolis. The Idependent Dreamland) a jedno lyric video (Demon).
Ich prvým songom bol Swan, hneď po ňom nasledovala klipovka Secreto en Fragopolis. Kapela zaujala energiou a hlavne tzv. osobitným výrazom (gitary + špecifický hlas Adyho), vďaka ktorému si ich s nikým nezameníte. To je v dnešných časoch cenná devíza. Ak ešte trochu na sebe popracujú, čaká ich sľubná budúcnosť. Podarilo sa im zaujať aj publikum, to si po poslednom songu – coveri Big In Japan vyžiadalo prídavok – ním bola opäť skladba Secreto en Fragopolis.
Setlist: Swan, Secreto en Fragopolis, This Moment, My Guidance Home, 10 years today (Bullet for my Valentine cover), The Idependent Dreamland,  Demon, Big in Japan (Guano Apes version, originál Alphavile); prídavok: Swan Secreto en Fragopolis
Rožňavčania Renaissense svoje vystúpenie odštartovali Wacken introm a prvou piesňou bola Impatient (z chystaného albumu Past In Devotion, ktorý bude min. rovnako kvalitný ako ich debut …like My Pain Never Lived z roku 2013). Svojím vystúpením potvrdili, že patria do prvej topky na našej melodicko-metalovej scéne…. Podľa mňa boli ešte lepší, ako keď som ich videl naposledy (koniec roka 2015 v Ke, spolu s kapelami Abstract a Neglected Fields)
Skladby mali síce pomerne veľkú dĺžku, ale o niečom ako nuda nemohlo byť ani reči. Frontman Marko ako tradične – okrem basy, spevu obsluhoval aj flautu (v rámci občasných vyhrávok). Zo začiatku sa im síce nedarilo strhnúť publikum na svoju stranu, neskôr asi v polke sa to zmenilo. Škoda, že nedali nejaký ten prídavok.
Setlist: Impatient, Vlčie maky, Haze, Where Sleep Your Eyes pt. I, Where Sleep Your Eyes pt. II, Like My Pain Never Lives, Ray Of Shame, Retrospective From Negative, Past In Motion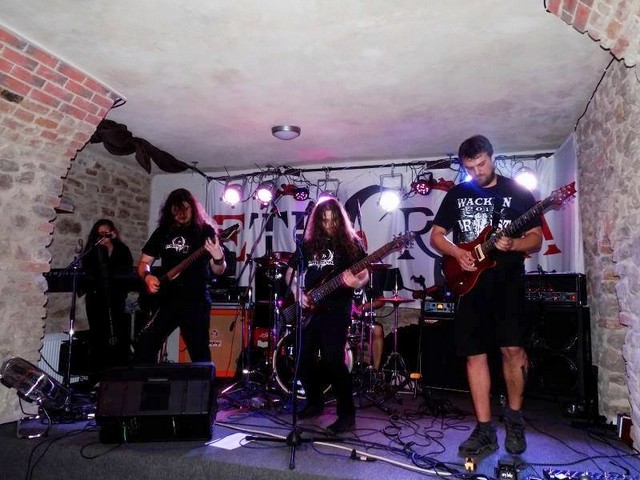 Celkovo hodnotím akciu ako vydarenú. Zaujímavá muzika, príjemná atmosféra – veď čo viac si môže metalový fanúšik priať. Škoda, že nebola o niečo väčšia účasť (tí čo neprišli môžu len a len ľutovať 🙂 ).
Za foto ďakujem Petre Dutkovej Neugebauer 🙂