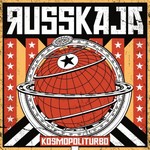 Vo svete hudby nie je ničím výnimočné, že kapely kombinujú rôzne hudobné žánre – napr. black a death, symphonic black… No a potom tu je skupina Russkaja, ktorá množstvo použitých žánrov ženie takmer do extrému. 🙂
V tomto prípade však neostalo len pri miešaní hudby, nakoľko tejto formácii nie sú cudzie ani rôzne jazyky a vôbec, celá ich tvorba je jednoducho mixom celých kultúr. A inak tomu nebolo ani na ich ďalšom počine Kosmopiliturbo, ktorý vyšiel pod hlavičkou Napalm Records 4. augusta.
Hneď prvá skladba Hey Road je jasným dôkazom toho, že kapela nechcela zostať nič dlžná svojej povesti- absolútne pohodová záležitosť, ktorá by sa nestratila na žiadnej ľudovej zábave ani u nás.
V nasledujúcej piesni Alive nájdeme dokonca aj prvky z elektronickej hudby, čím kapela len a len dokazuje svoju multižánrovosť. Hello Japan je prvá z tých rockovejších na Kosmopiliturbo, avšak stále plná ,,tradičnej" hudby.
Medzi ďalšie kúsky, pri ktorých zaplesajú srdcia milovníkov tvrdšej hudby radosťou patria aj Volle Kraft Voraus (mimochodom prvý song v nemčine), Cheburaschka a Chef De Cuisine. Ale rovnako ako pozdrav Japonsku, všetky stále obsahujú tie tradičné prvky a to, čím je Russkaja tak známa a čo jej ide na jednotku.
Potom máme samozrejme počuť aj tie bez rockových prvkov, avšak stále dostatočne energické. Kým tie tvrdšie nás nabádajú k hýbaniu prevažne hlavou a krkom, tie ďalšie vyzývajú do tanca celé naše telo.
Samozrejme nájdeme tu aj nejaké tie pomalšie a kľudnejšie kúsky. Vypichol by som hlavne Still In Love, kde som mal jednoducho chuť pohodlne sa usadiť, otvoriť si víno a na nič iné nemyslieť.
Kosmopiliturbo dovedna obsahuje 10 songov, pričom každý z nich je jedinečný originál, ľahko odlíšiteľný od svojich spolubojovníkov. Piesne sa tak nezlievajú dokopy, a už po prvom posluchu si ich dokážete zapamätať a jednoznačne určiť. A že tých chytľavých melódii čo vám utkvejú v mysli je tu fakt dosť!
Celé CD srší energiou. Na koncerte to musí byť fakt zážitok. Samozrejme, sem tam aj spomalíme. Ale to iba preto, aby sme nabrali dych na ďalšiu nálož čo sa na nás chystá. Ako napovedá samotný názov albumu, hudba neberie ohľad na žiadne hranice, a tak nikoho nemôže prekvapiť, že gitarové riffy sú doplnené husľami, trúbkou, a inými, budem sa opakovať ,,tradičnými nástrojmi".
Jednoducho prechádzame cez už spomínaný rock, balkánsku hudbu, folklór….. proste takmer všetko. Rovnaké to je aj s jazykmi, ktorých tiež máme možnosť počuť niekoľko – angličtina, ruština, nemčina….
Kosmopiliturbo je jednoducho veľký hrniec, kde sa varia ingrediencie z celého sveta. Výsledok tohto kulinárskeho umenia je viac ako chutný.
Takže ak by som to mal zhrnúť. Russkaja nám zas a znova pripravila album, na ktorom je možné počuť enormné množstvo žánrov, kultúr, jazykov, nástrojov…
Názov Kosmopoliturbo je v tomto prípade viac než trefný, a okrem tohto mixu je zároveň aj neskutočne energickým a veselým albumom, ktorý sa hodí na letné posedenia vonku, na jesennú melanchóliu, dlhé zimné večer a jarný rozkvet prírody. Jednoducho do každého počasia a nálady – skvelý liek na smútok.
Lineup:
Georgij Makazaria – spev
Engel Mayr – gitara
Dimitrij Miller – basa
HG Gutternigg – potete, trombón, tuba, roh
Mia Nova – viola
Rainer Gutternigg – trupmeta, krídlovka
Mario Stübler – bicie
Tracklist:
Hey Road
Alive
Still In Love
Hello Japan
Volle Kraft Voraus
Mare Mare
Cheburaschka
La Musica
Chef De Cuisine
Send You An Angel
Rok vydania: 2017
Vydavateľstvo: Napalm Records
Youtube ukážka:

Linky:
https://www.russkaja.com/
https://www.facebook.com/russkajaofficial/
Hodnotenie: 5,5/6