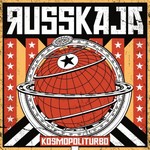 In the world of music (also metal and rock), it is quite a common thing that some band combine different genres – black and death, symphonic black…. And then, there is band called Russkaja, which compose to their music almost every genre 🙂 But it is not only about mixing of music, because this group also use different languages and elements of whole cultures around the world. The same things we can say about their new album Kosmopiliturbo released by Napalm Records.
Immediately, the first song Hey Road is the clear evidence, that Russkaja not owe whatever to their reputation – totally leisureliness piece, which will also fit in some rustic entertainment in Slovakia. In next tune Alive we can even hear something from electronical music, so group only show their talent to create amazing music with many influences. Hello Japan is first of the hardest one in Kosmopiliturbo, but still full of ,,traditional music". Another songs for the lovers of rock and metal are Volle Kraft Voraus (in German!), Cheburaschka and Chef De Cuisine.
But again, like in Hello Japan, we can still hear elements of the traditional music. And then, we can hear some songs without so significant electric guitars, but still energic bombs. While the hardest one incite us to headbang, another songs ask our hand to dance. Of course, on Kosmopiliturbo is possible to hear something slower and calm- Still In Love. Just sit and drink wine – that was all what I was able to do during this song .
Album Kosmopiliturbo consist of 10 songs, and every single piece is clear original, and it is easy to differentiate between all songs after one listening. And you can bet, that there are many of catchy melodies, which will bite into your brain like a worm! The whole Kosmopiliturbo is full of energy and make our body move. Concert of Russkaja has to be great experience. There are also some slower songs, but still energic. Acording to the name of the album Kosmopiliturbo, music break almost all limits and borders. So no one can be surprised when hard guitar riff sounds together with violins, trumpet, electronic music. Simply, we go through rock, Balkan music, folklore…
And the same thing is with the languages, when we can hear English, German, Spanish….. Kosmopiliturbo is on big pot, where are ingredients all around the world. And result of this recipe is more than delicious!
So some sum up. Russkaja prepare for us album, where we can hear big amount of genres, influences, languages, cultures, instruments…. Title Kosmopiliturbo is more than well-taken, and beside this mixture is also energic and amusing. This album is good to long summer evenings, rainy melancholic days or cold nights- simply to every weather and mood.
Lineup:
Georgij Makazaria – Vocals
Engel Mayr – Guitar
HG Gutternigg – Potete, Trombone, Tenor Horn, Tuba
Rainer Gutternigg – Trumpet, Flugelhorn
Mia Nova – Violin
Dimitrij Miller – Bass
Mario Stübler – Drums
Tracklist:
Hey Road
Alive
Still In Love
Hello Japan
Volle Kraft Voraus
Mare Mare
Cheburaschka
La Musica
Chef De Cuisine
Send You An Angel
Year of Release: 2017
Label: Napalm Records
Youtube teaser:

Links:
https://www.russkaja.com/
https://www.facebook.com/russkajaofficial/
Score: 5,5/6