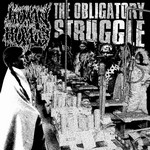 Popradský grindcore masaker Human Humus sa po 4 rokoch od vydania zatiaľ posledného počinu "Dirty Filthy Mess" hlási o slovo s novinkou. Vydanie albumu si vzala na starosť česká partička l'inphantile, ktorej aktivity v oblasti grindcore muziky všetci fanúšikovia iste poznajú. Hodnotenie začnem obalom – klasický jewel case, tlačovina v odtieňoch sivej, nechýbajú veľmi dobre pripravené texty, foto kapely. Úvodná predná koláž na obale je síce jednoduchá, ale má myšlienku. Nechýba štandardné logo kapely.
Nahrávalo sa u Maťa Barlu v Poprade. Myslím, že výsledok je viac než dobrý, natlačené, pritom veľmi zrozumiteľné gitary valia naozaj dobrý nátlak na naše uši. Basa príjemne skreslená, bicie vkusne vsunuté do muziky. Vokálny prejav je buď škrek alebo hrubší, pritom ale stále agresívny hlas. No a čo nám chlopi prinášajú hudobne ? Veľmi dobre zvládnutý, hutný grindcore. Ako to už v grinde býva, skladby sú pomerne krátke, úderné, prešpikované hardcore a crust pasážami.
Základ tvoria rýchle, agresívne výbuchy, popretkávané či už speedpolkami alebo spomaleniami. Som rád, že na plochu necelých 22 minút chalani nenasekali len paľby. Album otvára naliehavá, pomalá inštrumentálka "Bureaucratic Poetry", takisto záverečná skladba "Alarm"je citeľne pomalšia, i keď rozhodne nestráca nič z naliehavosti celého albumu. Ostatné skladby, ako som už spomenul, sa nesú v rýchlom tempe, avšak aj v nich je množstvo zmien, spomalení, dobrých harmonických postupov. Po prvom vypočutí tohoto albumu som si naozaj zapamätal pár momentov, čiže sa nejde o komplikovaný guľáš, a to si cením. Kapela sa na aktuálnom albume ukazuje v skvelej forme, ak túto energiu odovzdajú ľuďom aj na koncerte, tak to musí byť peklo ?
OK., čo napísať na záver ? Stačí len skonštatovať, že novinka Human Humus sa veľmi vydarila. Grinderi musia chrochtať blahom !!! Výborný album
Lineup:
Ižďo – vokál
Andrej – gitary, vokál
Šesto – basa
Sedrik – bicie
Tracklist:
Bureaucratic Poetry
World Peace the Third
The Other Side of Freedom
Searching for Lies
The Executors (of Unquestionable Authority)
Soul Plague
Victimless Crime
Bounce About (Yourself)
Consumers Rendez-Vous
Violence Priest
Alarm
Rok vydania: 2017
Vydavateľstvo: l'inphantile collective
Youtube ukážka:

Linky:
https://www.facebook.com/HumanHumus/?fref=ts
https://humanhumus.bandcamp.com/
Hodnotenie: 5/6
Páčil sa ti tento článok?