Smrť frontmana Nevermore a Sanctuary
13.12.2017
Známy metalový spevák Warrel Dane, ktorý sa preslávil v kapelách Sanctuary a Nevermore dnes zomrel v brazílskom Sao Paule. Chystal svoj druhý sólo album, no podľahol srdcovému infarktu.
Gitarista Warrelovho sólo bandu Johnny Moraes bol so spevákom okolo polnoci, keď sa Warrel začal cítiť zle.
,,Zomrel v noci. Bol v apartmáne, kde zostal počas nahrávania albumu. Keď sa to stalo dal som mu srdcovú masáž a zavolali sme záchranku. Ta prišla veľmi rýchlo, no bol už mŕtvy". – povedal Moraes pre brazílsku UOL. Ďalej uviedol, že Warrel (56) mal množstvo zdravotných problémov.
Inštrumentálne party jeho chystaného albumu sú dokončené a Warrel pred časom začal aj s nahrávaním spevov. Členovia Warrelovej kapely uvažujú o jeho dokončení s hosťujúcimi spevákmi s tým, žeby album vyšiel ako posmrtný tribute. Zatiaľ však nepadlo definitívne rozhodnutie.
R.I.P.
Zdroj: http://www.blabbermouth.net/, Foto: Karen Mason Blair/www.metal-archives.com
Thy Antichrist – detaily chystaného albumu
13.12.2017
Americká black metalová kapela Thy Antichrist, ktorá nedávno podpísala zmluvu s Napalm Records čoskoro vydá debutový album pod týmto vydavateľstvom – Warth Of The Beast.
Ukážka: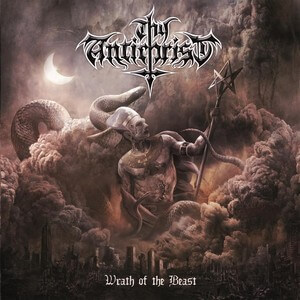 Tracklist:
Desolation
Metal to the Bone
The Great Beast
A World Burnt to Ashes
No Place Like Hell
Nightmares
Crown of Lies
Skeletons of Disgrace
Walking Through the Soul
The Last Breath – Instrumental Outro
Dostupný bude v týchto formátoch:
1 CD Jewel Case
1LP Gatefold
Digital Album
Link na predobjednanie: https://shop.napalmrecords.com/thyantichrist
Ďalšie linky:
https://www.facebook.com/pg/THYANTICHRIST
https://www.artistecard.com/thyantichrist
https://www.youtube.com/tragicthyantichrist
Zdroj: Napalm Records Promotion Team
Lamori – nový videoklip
13.12.2017
Fínski melodickí gothici Lamori zverejnili videoklip k skladbe To Die Once Again, ktorá pochádza z ich rovnomenného albumu vydaného začiatkom roka.
Linky:
http://www.lamorimusic.com/
https://www.facebook.com/lamorimusic
https://www.youtube.com/user/lamorimusic
Zdroj: WormHoledeath Press
Magnum – chystaný album
11.12.2017
Anglickí rockeri Magnum potešia 19. januára svojich fanúšikov albumovou novinkou Lost On The Road To Eternity.
Linky:
https://www.magnumonline.co.uk
https://www.facebook.com/magnumbandpage/
Zdroj: SPV GmbH