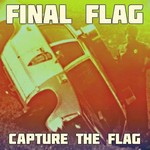 Bez ohľadu na to, či sa nám to páči alebo nie, svetu momentálne vládne globalizácia. Tak vznikajú nové spoločenstvá štátov, nové priateľstvá, a rovnako aj kapely s medzinárodným obsadením. Podobne ako česká banda Final Flag, kde okrem ľudí z Českej republiky (ktorých poznáte z kapiel ako Exorcizphobia, Tortharry) nájdete občana USA Erika Helzera. Ak sa vám zdá jeho meno povedomé máte pravdu. Je to spevák crossover/thrasovej kultovky Wehermacht. Zároveň sa však rozhodli aj kombinovať žánre, tak sa ich debutový počin Capture the Flag mal niesť v duchu hc-thrash-punk. Celkom zaujímavý mix, čo poviete?
Na dnešnú dobu možno už trochu nezvyčajné, ale album obsahuje dovedna 16 protispoločensky ladených skladieb. Hneď prvá Swallow All the Drugs to riadne rozbalí, a ukáže nám cestu po ktorej sa najbližšie minúty budeme túlať. Svižná, rýchla úderka nesúca prvky všetkých hore spomenutých žánrov. Female Accomplice znesie rovnaký opis, navyše je obohatená aj o počiatočnú dramatickú pasáž, plus neskutočne chytľavý refrén. Avšak s tónmi ďalšej piesne Insurgency  je už nad slnko jasnejšie, že tých nesmierne chytľavých a spevných vecí je tu viac než dosť. Spolu s Be the Movie je mojou srdcovkou. Navyše pri BtM som si spomenul na svoju punkom preplnenú pubertu. 🙂 Práve tento žáner mi prišiel najviac dominantný, čo sa týka celkového vyznenia Capture the Flag.
Na svoje si prídu aj milovníci poctivého hardcore, taktiež aj thrash tu má svoje miestečko. Okrem veľkého množstva skvelých riffov (patriacich do rôznych už napísaných žánrov) máme možnosť počuť aj niečo melodickejšie, kde je taktiež viacero skvelých pasáži a sól (pochvala pre Tomáša Skořepu) . Rovnako aj práca odvedená mužom za bicími (Jiří Rosa) si zaslúži pochvalu.
Celkovo inštrumentálna stránka je na vysokej úrovni. Jediné čo absentuje je nejaká pomalšia skladba, ale predsa len, čo by tu robila? 🙂  Daktoré kúsky sú síce o niečo dlhšie – posledné dva Get It Back a Palestinians, kde hrací čas oboch dokopy atakuje métu 10 minút, avšak stále sa jedná o poctivé a nekompromisné nárezy. Ďalšou silnou zbraňou nahrávky je skvelá atmosféra (čo sa v daných žánroch nie vždy podarí) s rebelantským nádychom. Hlavne dve ultra rýchle, pod minútu trvajúce vypaľovačky Take Me To Your Leader a Hey Officer majú v tomto smere čo povedať. Okrem hudby je to samozrejme aj zásluhou  textov. Tie sú samozrejme komplet v angličtine, čo určite nie je na škodu. Final Flag je určite vývozný artikel, ktorý má potenciál zaujať aj pomimo hraníc Česko-Slovenska.
Suma sumárum, Final Flag si nachystali pre fanúšikov nesmierne kvalitný mix punk-hc-thrash. Skvelý rebelantský nádych, výborná inštrumentálna stránka s kvalitným vokálom. Niet čo dodať.
Lineup:
Eric Helzer – spev
Tomáš Skořepa – gitara, basa, vokály
Jiří Rosa – bicie
Tracklist:
Swallow All the Drugs
Female Accomplice
Insurgency
Uncle Tom
Johnny´s at the Disco
Be the Movie
Prison Break
Hang ´em High
Hey Officer
Cutloose
The Incorporated Eights
White Wine
Run From the Cure
Take Me to Your Leader
Get it Back
Palestinians
Rok vydania: 2017
Vydavateľstvo: Support Underground
Youtube ukážka:

Linky:
https://www.facebook.com/FinalFlag/
https://www.youtube.com/channel/UCnAND_v6ichei3k5VLtUWyQ
Hodnotenie: 5,5/6