The Black Dahlia Murder – nový videoklip, chystaný album
24.4.2018
Melodickí death metalisti The Black Dhalia Murder potešia tento rok svojich fanúšikov novým albumom Nightbringers. Vydaný bude pod hlavičkou Metal Blade Records.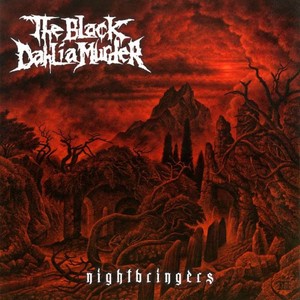 O jeho kvalitách sa môžete presvedčiť z nasledujúceho videoklipu:
Linky:
http://www.tbdmofficial.com/
https://www.facebook.com/theblackdahliamurderofficial/
Zdroj: http://www.blabbermouth.net/
Alia Tempora (CZ) vydala letos již druhý singl, tentokrát ve spolupráci s Timo Somersem (kytarista DELAIN).
23.4.2018
Původem česká modern metalová sestava ALIA TEMPORA si letos své fanoušky pořádně hýčká a po úspěšném startu sezóny klipem HUMANITY přichází s novým singlem, který by se dal dle slov frontmanky Markie Morávkové popsat slovy: "Vzpomeňte si, jak vám říkali, že na to nemáte…" a odkazuje tak na její aktuální kampaň proti kyberšikaně "Real Talk".
Výsledkem je nový singl Black 'n' White, který vznikl ve spolupráci s Timo Somersem, kytaristou uznávané nizozemské kapely DELAIN, a který je trefou do černého pro každého fanouška lehčího melodického metalu v moderním balení.
Singl je k dostání online na iTunes, Google Play, Amazon a dalších.
Také si jej můžete poslechnout na Spotify nebo ZDE:
Linky:
https://www.aliatempora.com
https://www.facebook.com/AliaTemporaOfficial
https://www.youtube.com/AliaTemporaOfficial
https://www.instagram.com/AliaTemporaOfficial
Tlačová správa
EXORCIZPHOBIA. – "About Us Without Us" – CD-DIGIPACK (31.3.2018)
21.4.2018
Po samostatných emisích v podání Catastrofy a KAAR došlo i na posledního zástupce z tzv. "PISS3", kterým není nikdo menší, než trutnovská legenda EXORCIZPHOBIA!!! Kruh se tak uzavřel a je nutno dodat, že jsme doslova u vytržení z toho, že i tato formace spojila určité období svojí existence právě s naším skromným labelem!!!
Album nazvané "About Us Without Us" vyšlo po dlouhých šesti letech od svého předchůdce a načasování na letošní rok spojený s významnými milníky naší republiky je více než symbolické. Události předcházející Mnichovské dohodě a následující vývoj musí být udržovány v co nejširším povědomí, jako varování pro nastupující generace!!!
Skupina se aktuálně nachází na evropském tour, čítajícím rovných 18 zastávek.
Lost Again
Planet-Penitentiary
Relationshit
Gypsy Rock'n'roller
Beggars Of Today
Time Does Not Heal
About Us Without Us
Just One Shot
The Rats In The Walls
Recorded in Pulton studio, Fall 2017
Mastered by Michal Martinec
Produced by Michal Martinec and Tomáš Skořepa
Artwork by Josef Bavor
EXORCIZPHOBIA:
Tomáš Skořepa – rhytm guitars, vocals
Ondřej Šíma – lead guitar
Jan Erben – bass
Filip Kudrna – drums
Guest: Jaroslav "Goya" Chvoj – bass (6)
https://www.facebook.com/EXORCIZPHOBIA/
http://bandzone.cz/exorcizphobia
https://exorcizphobia.bandcamp.com/
Objednávejte na:
http://www.supug.cz
Tlačová správa