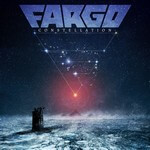 Viackrát sa už stalo, že nejaká kapela sa napriek svojej kvalite vytratila z povedomia. Medzi také patria aj nemeckí hard/blues rockeri Fargo. Toto zoskupenie bolo založené už v roku 1973. Od 1979-teho začali servírovať svoje albumy a vďaka spoločným koncertom s interpretmi ako napr. AC/DC sa stali známymi po Európe. Po roku 1982, kedy im vyšiel posledný počin s krátkym názvom F sa ale na dlhý čas odmlčali.
Nedávno sa basgitarista Peter "Fargo-Peda" Korn rozhodol napísať knihu o svojom pôsobení vo Fargu a po jej vydaní sa stretol s gitaristom Petrom Ladwigom. Rozhodli spraviť veľký comeback. Pridali sa k ním gitarista Arndt Schulz a bubeník Nikolas Fritz. Tento rok prišli s novým albumom Constellation.
Samotné CD obsahuje dvanásť skladieb v hard/blues rockovom štýle. Dajú sa rozdeliť do dvoch kategórii. Tou prvou sú ostrejšie – rockovejšie kúsky ako prvá Steps Back, päťka Buzz Buzz, alebo deviatka Boozie Vivienne… Druhou sú melodickejšie veci, napr. Loser's Blues, Don't Talk, Southern Breeze. Ohľadom kvality sa im nedá nič vytknúť. Členovia kapely jednoducho majú talent na riffy, melódie, navyše Peter Ladwig disponuje zaujímavou farbou hlasu. Dobrú prácu samozrejme odvádza aj spomínaný Peter Korn v spojení s Nikolasom.
Album Constellation je dôkazom, že rozhodnutie o návrate na scénu bolo správne (aj keď súčasná zostava nie je úplne totožná s najslávnejšou). Ma potenciál zaujať aj nových poslucháčov ale aj starých.
Lineup:
Peter Ladwig – spev, gitara
Arndt Schulz – gitara
Peter Knorn – basa
Nikolas Fritz – bicie
Tracklist:
Step Back
Leave It
Mind Your Own Business
Loser's Blues
Buzz Buzz
Cross To Bear
Don't Talk
Southern Breeze
Boozy Vivienne
What's Wrong
Goddess Of Destiny
Goodnight
Rok vydania: 2018
Vydavateľstvo: SPV/Steamhammer
Youtube ukážka:

Linky:
https://www.facebook.com/FargoGermany/
Hodnotenie: 5/6
Páčil sa ti tento článok?