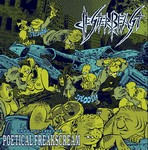 Vo svete metalovej hudby sa nájde veľké množstvo milovníkov starých čias, ktorí by sa najradšej vrátili v čase do zlatej éry ich milovaných kapiel. Samotné kapely to tušia, a tak ich niekedy odmenia reedíciou svojich legendárnych albumov. Tak ako aj talianska skupina Jester Beast, ktorá sa rozhodla nanovo vydať svoje CD Poetical Freakscream obohatené o bonusový materiál. Celé to dostalo po novom názov The Lost Tapes of… Poetical Freakscream.
Bez akéhokoľvek varovania sa hneď od prvých sekúnd začne poriadna thrash jazda v podaní prvej skladby Freak Channel  9 a my si uvedomíme, že cestovanie v čase je možné. Návrat do obdobia vydania albumu- 1991, alebo ak chcete do zlatej éry thrash metalu sprostredkovaný v priebehu pár sekúnd. Stará poctivá škola thrash metalu – na headbang vyzývajúce riffy, melodika, rečnícko-spevavý prejav hlavného vokalistu, melodické pasáže, rýchle tempo, politicky nekorektná atmosféra a správne "špinavý" zvuk.
Jednoducho priamy ťah na bránku, a kľúč k srdciam fanúšikov thrash metalu. To sú atribúty, ktoré by sa dali použiť na opísanie prvých 9 piesní, teda songov z pôvodného albumu. Všetko odsýpa rýchlo bez nejakého výraznejšie pomalšieho alebo baladickejšieho kurzu, a my sa tak dostaneme k druhej časti nahrávky  obsahujúcej nahrávky z demo albumu Destroy After Use. Odštartuje to song Mother, ktorý je dôkazom toho, že už vo svojich začiatkoch mala kapela jasnú predstavu o tom, akú hudbu chce hrať. A tak všetko vyššie napísané na popis hudby možno použiť aj v tomto prípade. Jedinou výnimkou je čisto inštrumentálne, avšak stále thrash metalové Outro. Posledná časť nahrávky pozostáva z koncertných verzii piesní, ktoré odzneli na koncerte v Tervise v roku 1988. Tu ma milo prekvapil dobrý zvuk vzhľadom k roku vzniku nahrávok. Opäť, nekompromisná, našliapaná thrash jazda.
Suma sumárum, Jester Beast si pre všetkých fanúšikov nachystali veľmi príjemný darček vo forme výletu do minulosti, ktorý mapuje históriu kapely a predstavuje ju v tom najlepšom svetle. Old school poctivý thrash metal, ktorý nenechá žiadneho fanúšika daného žánru chladným.
Lineup:
Stefano Zapponi – spev
C.C. Muz – gitary
Mario "Pinotto" Garitta – basa
Tony Lionetti – bicie
Tracklist:
 Freak Channel 9
Illogical Theocracy
Jester Day
Claustrophobic Autogamic
Swan Ain't Die
Poetical Freakscream
Mother
D.A.U.
Unidentified Body
"Destroy Ater Use" – Demo 1988
Mother
Destroy After Use
Hypnotized
Clustrophobic Autogamic
Outro
Live in Treviso, 16/04/1988
Hypnotized
Psychopathic
Dream Over Dream
Labyrinth
Suck My Powerful Dick
Still Born
Rok vydania: 2018
Vydavateľstvo: F.O.A.D. Records
Youtube ukážka:

Linky:
https://www.facebook.com/jesterbeast
Hodnotenie: 4,5/6