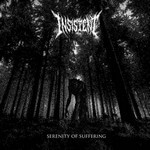 Starí pardálové z rozpadnutej grind smečky Destructive Explosion of Anal Garland, rozhodne nezavesili nástroje na klinec. Založili novú bandu, ktorá počúva na meno Insistent. Tá pokračuje v šľapajách extrémnej muziky, avšak na trochu inú nôtu, než spomenutí DEoAG.
Ich debut by som charakterizoval slovami ťažký, dosť špinavý, metalový, nasratý a zlý grindcore s hardcore pasážami. Úvod tejto krátkej (6 skladieb, 9 a pol minúty hudby) nahrávky je zaťažkaný, pomalý metal. S nástupom dvojky "Victims of Hate" sa však mašina výborne rozbehne a valí krásny masaker. Trojka "Cursed" pokračuje v zbesilej jazde, samozrejme dočkáme sa aj spomalení, speedpoliek, ale prím hrá naozaj nášup. Naopak, záverečná "Before the Flood" prináša výborný hardcore úvod, poriadne spomalený a zaťažkaný stred, a záver s krásne pískanou (spätná väzba) gitarou, ktorá tracku dodáva industriálny nádych. Veľmi dobre vystavané poradie skladieb, drží tých necelých 10 minút poslucháča v pozornosti, no a zrazu (žiaľ) záver nahrávky….tak poďme pekne od začiatku 🙂
Skladby sú dobre zapamätateľné, jednoduché, ale účelné riffy bombardujú, skreslená basa tlačí príjemný, nie však prebublaný spodok a nad tým sa drží skvelý vokál, príjemne nachráply, vcelku zrozumiteľný. Spevákov hlas mi pripomína staré nahrávky Disfigured Corpse s Vláďom Třískalom za mikrofónom. Proste mix hardcoru a grindu.
Veľmi vítam fakt, že sa kapela nerozhodla navštíviť najvyťaženejšie české štúdio na grindové nahrávky, ale zamierila do pre mňa neznámeho pražského Dodsmord štúdia. Zvuku nemám, čo vytknúť – hrá to proste výborne, veľmi zrozumiteľne a dostatočne hutne.
Som zvedavý na fyzický nosič – split s kapelou BUT, o vydanie ktorého sa postarajú L'Inphantile Collective a držím palce v plánovanom vydaní na asfalte. Veľmi dobrý štart na scéne.
Lineup:
Jirka – vokál
Mr.Dan – gitara
Petr – Basa
Přéma – bicie
Tracklist:
Ease Of Disgust
Victims Of Hate
Cursed
Rest In Piss
Serenity Of Suffering
Before The Flood
Rok vydania: 2018
Vydavateľstvo: Samovydanie
Youtube ukážka:

Linky:
https://www.facebook.com/insistentgrind/
https://insistent.bandcamp.com/releases
Hodnotenie: 5/6