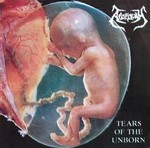 Je síce pravdou, že príbehy o dobrodruhoch hľadajúcich poklady sú radené k dobrodružným, alebo k vedecko-fantastickým, no niečo pravdy však na nich skoro vždy je. Veď naraziť na poklad je možné aj v bežnom živote, v normálnych podmienkach, častokrát vtedy, keď to človek najmenej čaká. Správne, hovorím z vlastnej skúsenosti, nakoľko mi pred pár dňami prišiel na recenziu doslova kultový klenot vydaný v roku 1995 Tears of the Unborn + prvotina v podobe dema Dysmorphophobia (umiestnené na jednom nosiči) od bohužiaľ už neaktívnej kapely Apoplexy.
A hneď  prvá pieseň Manipulated dokazuje, že status kultu je viac než len oprávnený. Prevažne v strednom tempe sa valiaci, kompozične vystavaný, avšak stále dosť úderný dnes už zrejme za old school považovaný death metal plný skvelých virtuóznych gitarových pasáži, a výborný zrozumiteľný harsh vokál.
Ak by som mal hľadať analógiu v nejakej svetoznámej skupine, tak by som bez váhania povedal Death. Samozrejme vo vlastnom, originálnom odeve. Po prvej skladbe nasleduje možno menšie prekvapenie v podobe čisto inštrumentálnej a akustickej piesne Memory. Možno trochu nečakaný krok, avšak s výborným výsledkom. Skvelé oživenie nahrávky a dôkaz veľkého nadhľadu tvorcov.
Tým pádom pozitívne vyznieva aj fakt, že podobných "pauzičiek" sa na Tears of the Unborn  dá nájsť ešte viac – konkrétne Crying Sea a perfektná Coronation. Zároveň však musím jedným dychom dodať, že všetky tieto inštrumentálne kúsky sú vložené medzi skutočné skvosty death metalu podľa vzorca spomenutého vyššie.
Slovo kult je viac než správne, nakoľko som ani pri viacerých posluchoch nenašiel na albume žiadnu chybičku. Prvých 8 piesní jednoducho spĺňa aj tie najprísnejšie kritéria. Demo Dysmorphophobia odštartuje ďalší inštrumentálny song Reanimation, ktorý je nasledovaný "plnohodnotnou" Through Dying, ktorá nás presvedčí, že Apoplexy vedeli od začiatku čo chcú hrať a hlavne ako to hrať.
Ďalší skvelý death metal, opäť sypúci podľa návodu vyššie. Jediným výraznejším rozdielom je trochu "špinavší a undergroundovejší" zvuk, čo však zrejme nikoho neprekvapí. No a keďže sa v podobnom duchu nesie zbytok dema, hodnotenie musí byť opäť viac než len pozitívne.
Ešte si dovolím dve menšie poznámočky. Ťažko sa vyberá najlepšia pieseň, keď je celá nahrávka famózna, avšak jeden kúsok sa mi do srdca zaryl najviac zo všetkých- Desolate, obzvlášť ponurý úvod. Určite top pieseň v histórii death metalu. A nielen slovenského.
Druhou poznámočkou sú texty. Death metal je žánrom často pranierovaným kvôli textom (v mnohých prípadoch oprávnene). V prípade Tears of the Unborn však na to nie je žiaden dôvod, skôr naopak. Pretože už dlho som sa nestretol v danom žánri s tak inteligentne a s nadhľadom napísanými textami s istým posolstvom.
Nech to ale nezdržujem: Označenie  Tears of the Unborn za kult je viac než správne a my môžeme byť len radi, že sa kapela ako Apoplexy zrodila práve na Slovensku. Snáď nás títo páni poctia aj niečím novým. Pretože bola by škoda, ak by takýto muzikanti zostali len kultom predstavujúcim roky minulé
Lineup:
Mário Duga- vokály, gitara
Paľo Boháč- gitara
Andrej Kohout – basa
Fiškál – bicie
Tracklist:
Manipulated
Memory
Deceptive Imagination
 Coronation
Confine Shadows
 Desolate
 Averted Face of Humanity
 Crying Sea
 Reanimation
 Through Dying
 Before Suicide
 Hidden Infection
 Distress
 Whispering Gods
Empire of Children Tears
Rok vydania: 2018
Vydavateľstvo: Dark Symphonies
Youtube ukážka:

Linky:
https://www.facebook.com/apoplexyslovakia.apoplexyslovakia
Hodnotenie: 6/6
Páčil sa ti tento článok?