The Unity – ukážka z chystaného albumu formou lyric videa
10.8.2018
Kapela The Unity, kde nájdete aj dvoch členov Gammy Ray (Henjo Richter – gitara, Michal Ehré – bicie), zverejnila lyric video k skladbe No Hero, ktorá sa objaví na ich chystanom albume Rise. Ten vyjde 14. septembra vo vydavateľstve SPV/Steamhammer
Tracklist:
Revenge
Last Betrayal
You Got Me Wrong
The Storm
Road To Nowhere
Welcome Home
All That Is Real
No Hero
The Willow Tree
Above Everything
Children Of The Light
Better Day
L.I.F.E.
Linky:
https://www.unity-rocks.com/
https://www.facebook.com/unityrocksofficial/
Zdroj: http://www.blabbermouth.net
Stoned Jesus – videoklip pre tretí singel Thessalia
10.8.2018
Ukrajinci Stoned Jesus zverejnili videoklip k tretiemu singlu Thessalia z chystaného albumu Pilgrims. Dátum vydania je stanovený na 7. septembra.
Linky:
https://www.facebook.com/stonedjesusband/
Zdroj: Napalm Records Promotion Team
Imperium Dekadenz – zmluva s Napalm Records
9.8.2018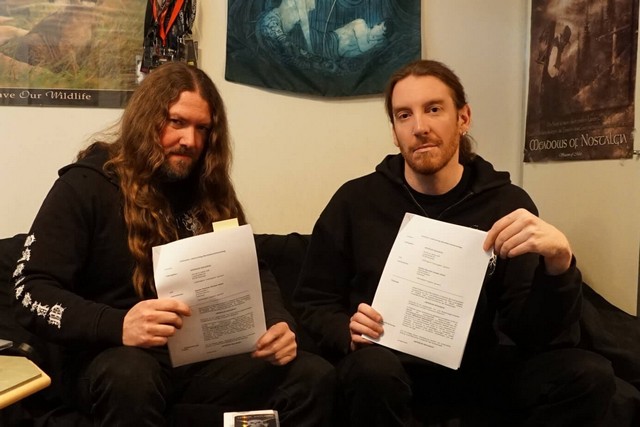 Pod hlavičkou rakúskeho gigantu Napalm Records vstúpila aj nemecká black metalová formácia Imperium Dekadenz. Daná kapela vytvorila vlastnú cestu medzi old school black metalom a post blackom. Ich posledný počin Dis Manibvs ich vyniesol až na vrchol tamojšej black metalovej scény. Momentálne pracujú na nových skladbách a debut pod spomínaným vydavateľstvom im vyjde na budúci rok.
Linky:
http://www.imperium-dekadenz.de/
https://www.facebook.com/ImperiumDekadenz/
Zdroj: Napalm Records Promotion
Mysterious Eclipse – skladba z chystaného albumu
12.8.2018
Death metalisti z Nového Mesta nad Váhom Mysterious Eclipse pokračujú v predstavovaní skladieb z chystaného albumu. Po Rakovina duše pri mojej kolíske zverejnili aj Dcéry búrky:
Linky:
http://mysteriouseclipse.com/
https://www.facebook.com/mysteriouseclipse.sk
Zdroj: Martin BradoMe Bradáč