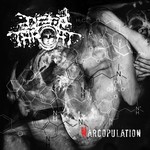 Dlhých 6 rokov od vydania debutu "Until it Stops…" sme museli čakať na jej nasledovníka od porn/gore/grinderov Deep Throat. Už v úvode konštatujem, že čakanie sa oplatilo.
Vyše 25 minútový výplach "Narcopulation" má tlak, ako sa patrí. Úvodných 40 sekúnd jednotky "Rotting Zombie Cunnilingus" patrí intru, ktoré by som ja osobne pokojne oželel. Skladba sa však rozbehne parádnou speedpolkou, ktorá prejde do nasekaného rytmu. Valíme ďalej…dvojka nás víta silne skreslenou basou a sekaným hc rytmom s patrične sekaným gitarovým riffom. V druhej polovici krásny kanál a výplach.
Titulná "Narcopulation" klasická grindcore riffovačka s polkou a klepačkou, nasleduje pogo taneček. Veľmi poteší šiesta "Sperm Caused Diarrhoea", jednoduchý preplach našich čriev ako z učebnice grindu. V podobnom duchu valí zvyšok albumu. Okrem vlastných vecí zaradila kapela na album aj trojicu coverov (Tu Carne, Grossmember a Gronibard) a záver CD patrí "Squirting Schoolgirls Armageddon", skladbe z prvého albumu, samozrejme v aktuálnom zvukovom kabáte.
Keď sme pri tom zvuku – nahrávalo sa vo vyškovskom Davose a všetko je tak, ako má byť. Veľmi dobre zrozumiteľné gitary, silne skreslená basa, naozaj vydarené bicie a celé to korunuje Habošov vokál. V ňom mi však chýba aspoň občasné spestrenie – celý jeho prejav je totiž patrične zefektovaný, podladený cez pitch shifter. Frázovanie a množstvo spevu je OK, len by som občas rád počul aj iný zvuk vychádzajúci z jeho hrdla. Obal albumu zdobí príjemne spracovaná grafika, v buklete nájdeme koncertné fotky členov kapely. Vydanie si takisto ako debut zobral pod svoje krídla Vláďa Prokoš a jeho NTEY v spolupráci Rotten Roll Rex, pre fans grindcoru veľmi známy a významný pojem.
Úprimne sa priznám, že ma album veľmi potešil, dosť dlho som nepočul gore/grindovú nahrávku a Narcopulation mi proste naozaj sadol a opäť vo mne prebudil chuť popočúvať tento druh muziky, ktorému som pred časom holdoval. Takže Deep Throat – ďakujem !!!
Lineup:
Hrabosh – vokál
Stihlda – gitary
Najmisch – basa
Mincer – bicie
Tracklist:
Rotting Zombie Cunnilingus
Your Unleashed Cunt Is Wide Open
Narcopulation
Basement Limbless Orgies
Spern Caused Diarroea
Bottonless Ass (of Raisa Wetsx)
Contagious Sperm Anal Injection
Posthumous Organic Spasm
Clitophagous Feast
Cuerpo Muerto (Tu Carne cover)
Sadness In Your Eyes – War Time (Grossmember Medley)
Va Faire La Vaisselle (Gronibard Cover)
Resquirted 2018
Rok vydania: 2018
Vydavateľstvo: Nice To Eat You Rec./Rotten Roll Rex
Youtube ukážka:

Linky:
https://www.facebook.com/DeepThroatGrind/
http://bandzone.cz/deepthroat
https://throatfuckingoregrind.bandcamp.com/
Hodnotenie: 4,5/6
Páčil sa ti tento článok?