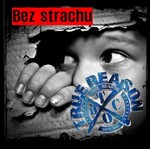 Ako fanúšik hokeja som mal mesto Topoľčany primárne späté s rodiskom Miroslava Šatana. Recenzentská dráha a hlavne posledné dni mi ukázali, že okrem športu má toto mesto čo ponúknuť aj ohľadom umenia. Konkrétne mám na mysli druhý album hardcore kapely True Reason pomenovaný Bez strachu.
Na úvod tu budeme mať hneď titulnú skladbu. Tá si ma získala hneď od začiatku. Skvelé gitarové riffy, trochu melodiky, chytľavé, rýchle a trefné – tu musím pochváliť aj podarený motivačný text v rodnom jazyku. Pokračujeme pre mňa najlepším songom s jasným posolstvom Mier. Obzvlášť by som vypichol skvelý refrén, s takmer až hovoreným prejavom hlavného vokalistu Lukáša.
Na podobnú nôtu to bude do konca CD – čo v praxi znamená, že všetkých 10 piesní sa dá charakterizovať nasledovne – rýchly a nekompromisný hardcore na štýl TOHC (vysvetlím neskôr), skvelé inštrumentálne výkony všetkých zúčastnených, slovenské texty rýpuce sa v spoločnosti, politike, ľudských vlastnostiach (samozrejme tých pozitívnych) spolu s výborným speváckym prejavom Lukáša. Ten si tiež pre nás pripravil svojský autorský podpis – varíruje medzi spevom, rýchlym hovoreným slovom, a keďže mu to ide viac než dobre, musím zas, a znova chváliť. Plus ako bonus, už dlho som sa nestretol s doprovodnými vokálmi, ktoré by ma tak oslovili. Opäť palec hore. Napísal som kopu pozitív, a aj to, že platia pre všetky piesne.
Z toho jednoznačne vyplýva, že máme dočinenia s albumom, ktorý je bez nejakých slabších miest, výraznejších výnimiek (avšak stále 10 jedinečných a ľahko odlíšiteľných skladieb), a silný od začiatku do konca. Chytí vás od prvých tónov a na konci vypustí zo svojho zovretia s poriadne vytrasenou, a prevetranou hlavou.
Ak by som však musel niečo konkrétnejšie vypichnúť, tak by to bol jednoznačne už spomenutý Mier, Dôvody – priam geniálny gitarový motív a Nostalgia.Za svoj život som niekoľkokrát priznal, že nie som veľmi hardcore fanúšik, a tak by som vám za normálnych okolností nevedel úprimne, a pravdivo prirovnaťTrue Reasonk nejakej známej kapele. V tomto prípade je to však asi aj zbytočné, pretože mám pocit, že True Reason si ide vlastnou cestou tzv. TOHC. Ak je to tak, nech si ju dajú patentovať, raz by na tom mohli dobre zbohatnúť.
Myslím si, že Bez strachu je ten typ albumu, ktorý má predpoklady spájať ľudí naprieč žánrami tvrdej hudby. Mňa totižto ako fanúšika gothic, doom a podobných žánrov oslovil viac než dosť.
P.S. V poslednej skladbe Znalci sa skupina vyjadrila nie práve lichotivo o hudobných recenzentoch, tak dúfam, že po tomto mojom výšplechu si ma chalani z kapely nezaradia na svoj čierny zoznam. 🙂
Lineup:
Lukáš – spev
Fuxo – gitara
Emil – gitara
Boro – basa, vokály
Paťo – bicie
Tracklist:
Bez strachu
Mier
Iný ako ostatní
Výkrik do tmy
Náboženstva
Nostalgia
Bullshit Gangsta
Železo ft. Novko (Začiatok konca)
Dôvody
Znalci
Rok vydania: 2018
Vydavateľstvo: TOHC Music Style
Youtube ukážka:

Linky:
www.facebook.com/truereasontohc
www.bandzone.cz/truereason
www.truereason.bandcamp.com
Hodnotenie: 5,5/6