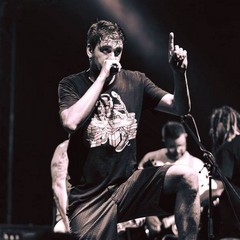 Topoľčianska HC kapela True Reason 29. septembra pokrstí svoj druhý album Bez Strachu. Ako tomu už býva, oproti prvému sa udialo niekoľko zmien. Tá najvýraznejšia je, že tentokrát je celý v slovenčine. Okrem toho do konca roka majú pripravených niekoľko ďalších akcií na Slovensku a v Českej republike. Čo, ako, kde sa dozviete v rozhovore so spevákom Lukášom Kozákom:
 Ahoj, kapela True Reason vydala svoje druhé CD Bez Strachu. Ako vyzeral proces jeho vzniku?
Lukáš Kozák: Ahoj! Noooo…. Proces vzniku bol veľmi zdĺhavý a ťažký, až som chvíľami sám nechápal, prečo nám to tak dlho trvá, ale niektoré veci si proste nevymyslíš, tie sa stanú a musíš sa im postaviť….ale pekne po poriadku teda.
Piesne, ktoré obsahuje druhý album vznikali priebežne počas tých päť rokov od vydania dema a nahraté boli počas zhruba pár hodín u kamaráta v štúdiu.
Následne sme si povedali, že mastering a konečný mix dáme tentokrát spraviť niekde inde ako doteraz, aby sme sa zvukovo posunuli  trochu ďalej…
Nakoniec sme sa zhodli a dohodli s Blast Production v CZ. Po dlhom boji, hlavne z našej strany a perfekcionizme sme mastering  ukončili, myslím niekedy koncom februára 2018. Nasledovalo vydanie.
Chceli sme to skúsiť pod niekým vydať, ale keďže nikto na Slovensku nechce vydávať HC, vydali sme si to na vlastné náklady pod vlastnou značkou TOHC MUSIC STYLE a druhý album vyšiel oficiálne na svetlo sveta v máji 2018. Nakoniec sa nám prednedávnom náhodou podarilo spraviť aj pár vinylov, ktorým sa osobne veľmi teším…
Rozdiely oproti debutu
Narozdiel od debutu …Talk to my hand! sú na novom albume texty výhradne v slovenčine. Jednalo sa o zámer už pred samotným nahrávaním, aby bolo kompletné CD výlučne v materinskom jazyku?
Lukáš Kozák: Vieš čo, áno. Myslím si, že je oveľa hodnotnejšie to, keď ti ľudia textovo rozumejú a môžu si aj s tebou zaspievať. Ľahšie pochopia, o čo ti ide, môžu sa s tebou stotožniť  a rozhodnúť sa či ťa vypískajú alebo povedia, kurva tie texty sú dobré… 🙂
Je v tomto trende plán pokračovať aj do budúcnosti alebo je možný návrat, aj k angličtine?
Lukáš Kozák: Myslím, že mi pár ľudí, ktorí si to tu práve čítajú a vypočuli si náš album, dajú za pravdu, keď poviem, áno. Ostaneme pri slovenčine.
Sú aj nejaké ďalšie výraznejšie rozdiely medzi vašimi oboma albumami?
Lukáš Kozák: Tak okrem postu bubeníka, druhej gitary a už len slovenských textov, iného masteringu, a menšieho počtu skladieb, menšieho nákladu vydania, a väčšieho spotrebovania času nahrávania, zmeny skúšobne, a po vydaní albumu aj bubeníka, myslím, že ani nie.
Každopádne sme sa posunuli a stále sa posúvame ďalej. Aspoň sa snažíme, nechceme ostať stáť na mieste a tretí album bude zas niekde inde, uvidíš 🙂
Texty
Vo vašich textoch si neberiete servítku pred ústa a často sa venujete témam, ktoré hýbu spoločnosťou. Dal by sa v tomto smere chápať váš názov True Reason, ako istá parafráza na snahu sprostredkovať dané témy?
Lukáš Kozák: Áno, môžeme to definovať aj tak… TRUE REASON znamená vlastne pravdivý dôvod a chceme, aby ľudia hlavne tie správne dôvody vedeli aj rozlíšiť od tých umelých, a nesprávnych, ktoré nám pchajú slovenské médiá a tlač.
Neveriť hneď prvému názoru, ktorý sa k nám dostaneme a vypočuť si ich viac. Slobodná myseľ brácho, dúfam, že sa nám to raz podarí a aspoň trošku prostredníctvom našej muziky budeme môcť navádzať ľudí k používaniu tej sivej hmoty, ktorú nosíme v hlavách…
Originálne pôsobí aj fotka z novembra 1989, myslíš si, že v súčasnosti patrí medzi najväčšie problémy neschopnosť ľudí ozvať sa a reagovať adekvátne na spoločenské problémy?
Lukáš Kozák: Presne tak… ale hlavne sa zjednotiť. Dnes každý rieši kto s kým, kde a kedy môže koho ojebať, jak druhému hodiť polená pod nohy, aby sa mu náhodou nezadarilo viac.
Ako, čo najrýchlejšie prísť k peniazom, lebo len vtedy budú šťastní a stále dookola egoizmus, arogancia a sebeckosť  a pritom zabúdajú, že sme všetci na jednej lodi, a pokiaľ sa tu na Slovenku budú riešiť veci štýlom, ako vyberiem si radšej menšie zlo, tak sa tu ani nikdy nič nezmení. Práve preto BEZ STRACHU!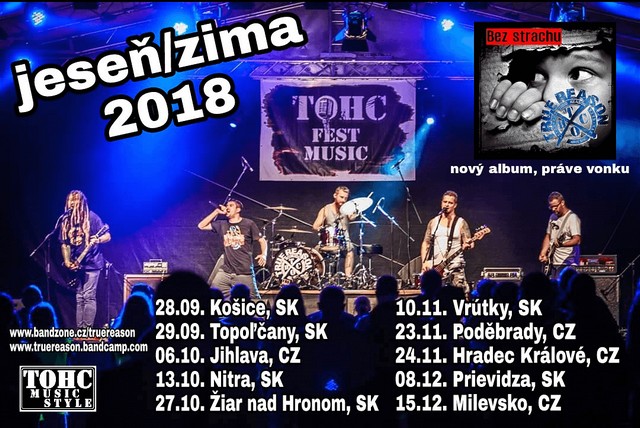 Myslíš si, že v tomto smere má veľký význam aj spomínanie pálčivých tém v textoch hudobných kapiel?
Lukáš Kozák: Ale samozrejme, vždy to tak bolo. Stačí sa pozrieť do histórie a pri každej veľkej zmene, bola hudba. Avšak hudobníci musia aj žiť tým, čo rozprávajú, o čom spievajú. Pózerstvo a afektovanie je nula bodov, poznáš to a ver mi je veľa kapiel, ktoré by sa len pre trochu slávy dokázali vopchať do riti až po samé hovno…  🙂
Len poctivo a dobre podaná hudba dokáže a dokázala pohnúť ľady.
Scéna v Topoľčanoch
 V piesni Znalci spomínate aj HC scénu v Topoľčanoch. Ako by si ju charakterizoval?
Lukáš Kozák: Tak scéna v Topoľčanoch bola, je a asi aj vždy bude na tak malé mesto silná. V minulosti tu vyrástlo pár aj dodnes fungujúcich kapiel, ako ZAČIATOK KONCA či ILEGALITY, z neexistujúcich treba spomenúť určite LS, THALARION, GODNOISE (v tejto kapele som ja a gitarista Emil boli zakladateľmi), a dnes tu máme zhruba sedem/osem fungujúcich skupín, čiže platí, že TOHC (Topoľčany Hardcore) still lives!
Týmto Vás zdravím hoši; TRUE REASON, HEAD2DOWN, TPS CREW, BEAUTIFUL BASTARDS, ZERO TOLERANCE, MAENIA a nedá mi nespomenúť aj chalaniska reprezentujúceho Topoľčany už roky v Prahe, robí super reggae MCRYHHA.
A čo koncerty? Kde vás budú môcť ľudia vidieť?
Lukáš Kozák: Tak, pár sa nám ich do konca roka podarilo naplánovať a všetky informácie o nich môžete nájsť kde inde, ako na nete… Facebook, Bandzone a Bandcamp. Avšak, najbližšie Vás všetkých pozývame 29.9. do Topoľčian na krst nášho druhého albumu.
Za zmienku určite stojí TOHC music fest. Mohol by si povedať o ňom niečo viac? Ako to celé začalo, prípadne niečo o ďalšom ročníku?
Lukáš Kozák: Začali sme s ním pred štyrmi rokmi s myšlienkou oživiť a udržať HC kultúru, a scénu na Slovensku pri živote. Rok po roku sme rástli, ale tento rok nám to nejako nevyšlo, ľudí sme asi neoslovili, možno zlý dátum a účasť nám nastavila zrkadlo, do ktorého sme sa asi skôr či neskôr museli pozrieť, takže o budúcom roku veľa neprezradím, sorry.
Avšak, kto nevie, tak kľudne všetko nájde na www.tohcfestmusic.sk
Tak, to bola posledná otázka, ďakujem ti za odpovede a zároveň by som ťa rád poprosil o odkaz pre našich čitateľov.
Lukáš Kozák: Ja ďakujem tebe. Ľudia chodievajte na koncerty a nečakajte doma pri kompoch na to, kto to natočí, aby ste si ho vy potom zadara mohli pozrieť. Život treba žiť….tak žite! Žime, aby sme raz mohli povedať, že to za to stálo… tešíme sa na Vás na každom jednom našom koncerte… TOHC Still Lives!
Youtube ukážka:

Linky:
www.facebook.com/truereasontohc
www.bandzone.cz/truereason
www.truereason.bandcamp.com