UNLEASHED – Release Second Single And Lyric Video For "The Hunt for White Christ" New album out on October 26
12. October 2018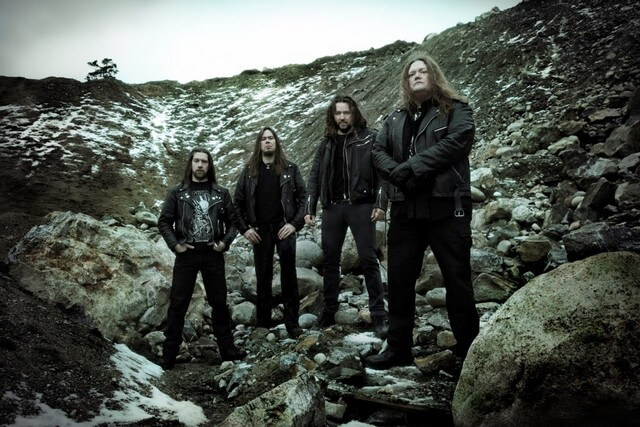 The chief Vikings of Swedish death metal defending their throne!
Here comes the second strike of UNLEASHED's new album. It's the title track of The Hunt for White Christ, which will be out on October 26th via Napalm Records!
Singer and bass player Johnny Hedlund explains the story behind the new song:
"After the despicable acts of terror against women and children in the South, and the devastation of the villages (as seen on the album cover), The Midgard Warriors decide to hunt down White Christ, all the way to Jorsala if need be.
"Unleashed at their darkest and most ambitious. Raise your horns and let the hammer fall – the hunt is on!"– LOUDWIRE
With THE HUNT FOR WHITE CHRIST Unleashed underscore their position as reliable standard-bearers of Swedish Death Metal."
– METAL HAMMER GERMANY
When it comes to Swedish Death Metal, the traditional Stockholm way and death metal per se, there is one band you have to mention: UNLEASHED! Formed in 1989 by vocalist / bass player Johnny Hedlund, UNLEASHED have been delivering supreme death metal from day one. Dealing with Viking traditions and values, and honing their craft, they have become extreme metal pioneers, musically and lyrically, inspiring legions of other bands with their sound.
The Hunt for White Christ is the fourth album in the continued story line of the World of Odalheim and their Midgard warriors – a story authored by Johnny Hedlund himself, comprising of the past, present, and what Hedlund's deems as the future of the Viking traditions and values. The album was recorded in the spring of 2018 at Chrome Studios, and does not simply mark the Swedes` 13th full-length album: it also solidifies the bands impact on history, paving the way to their 30th anniversary in 2019! Three decades of metal onslaught, and they have neither lost their bite, nor their love for pure death metal mayhem!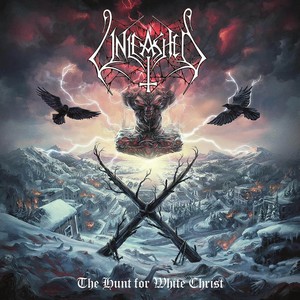 Links:
http://www.unleashed.se
https://www.facebook.com/unleashed
https://www.instagram.com/unleashed_official
http://www.napalmrecords.com
Source of Information: Napalm Records Promotion Team
Ministry – upcoming album
12. October 2018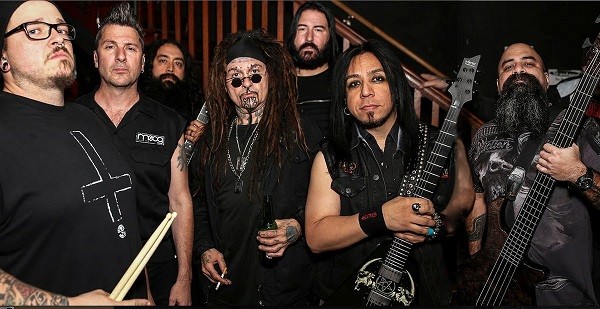 Al Jourgensen said for Billboard, that band is working on next album. ,,I have to get as many albums as I can done while Trump is still president. And then what am I going to do: write those crappy albums that I write while Democrats are president? […] "– he said.
Links:
http://ministryband.com/
https://www.facebook.com/WeAreMinistry/
Source of Information: http://www.blabbermouth.net, photo: http://www.metal-archives.com/
Epic metallers RISING release music video for 'Hunger And Exile'!
12. October 2018
Epic metal quintet RISING will release the band's fourth album 'Sword And Scythe' on October 26th via Indisciplinarian, and two weeks ago the first single and video 'Salted Earth' was unleashed. Now, RISING release a brand new single and video in the shape of the aggressive yet super melodic song 'Hunger And Exile'. The video is created as a cooperation between director Kennie Ørsted Jensen and the band, not least RISING's visual conceptualist, singer Morten Grønnegaard.
Watch the video for the band's first single 'Salted Earth' HERE
'Hunger And Exile' might be the most "political" song of RISING's forthcoming concept album 'Sword And Scythe', which examines the progression and recession of mankind throughout the movements of history. Singer Morten Grønnegård says of the song:
"Hunger And Exile is a song about globalization and migration. A powerful and rich city has polluted its surroundings and exploited all its neighbours' resources, forcing the humans outside the city to seek exile within its protecting walls. Here the refugees will only be tolerated as servants to the greedy citizens, but time will turn the tables, empires falls due to their own ignorance and greed, and those once masters will become thralls."
RISING takes an ambitious leap with the band's fourth album 'Sword And Scythe', a concept album on the history of mankind seen from the perspective of cosmic circularity, where the full potential of the band's musical vision unfolds in a collection of songs of both progressive outlook, melodic mastery and fierce aggression. 'Sword And Scythe' consists of ten songs and two short instrumentals produced by Jacob Bredahl and RISING, while the album's artwork are once again created by singer Morten Grønnegaard.
'Sword And Scythe' will be released on October 26th 2018 as LP and digital formats via Indisciplinarian. The two singles 'Salted Earth' and 'Hunger And Exile' are now available at all relevant digital services. The vinyl version of the album – a black virgin vinyl with a beautifully illustrated gatefold cover – is now available for pre-orders HERE
Links:
www.facebook.com/risingdk
www.rising.bandcamp.com
Source of Information:  Mona Miluski – ALL NOIR
Solfernus – new videoclip
10. October 2018
Czech black metal band Solfernus have new videoclip for song "Mistresserpent"
Links:
https://www.facebook.com/SOLFERNUS-322352119065/
http://bandzone.cz/solfernus
Source of Information: Igor666