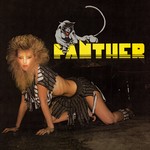 Jeff Scott Soto je v súčasnosti jeden z najznámejších melodic/hard rockových spevákov. Vydal mnoho sólových albumov a známy je aj zo spolupráce s formáciami ako Journey, Talisman alebo s gitaristami Axel Rudi Pell, a Yngwie J. Malmsteen. No pozrieme sa bližšie na kapelu, kde pôsobil ešte pred érou Y. Malmsteena – Panther.
Tá vznikla v roku 1984 v Los Angeles. Postupne sa im podarilo získať slávu na lokálnej úrovni a približne dva roky na to vydali prvotinu – rovnomenné EP. To obsahuje 6 riadnych piesní, plus na kazetovej verzii sa objavila aj jedna skladba navyše. Celá nahrávka bola nedávno remastrovaná známym producentom Bartom Gabrielom a znova vydaná spolu s troma songami z dema s Jeffovým nástupcom T.J. Machom. Bohužiaľ, to demo bolo ich pomyselnou labuťou piesňou. Krátko po ňom sa navždy vytratili zo scény.
Spomínaný Bart Gabriel odviedol výbornú prácu. Na albume zostala zachovaná pôvodná old school heavy atmosféra, no vďaka čistému zvuku dokáže osloviť aj mladších metalistov. Tá je spolu s gitarami dua Mike Barrish/Jason Giordano  jednou z najväčších pokladov tohto albumu. Skladby sú väčšinou v stredných a stredne rýchlych tempách. A Jeff? Ten je kapitola sama o sebe. Trochu síce pripomína Ronieho Jamesa Dia, no do tejto muziky sa skvele hodí. Vôbec sa nečudujem, že Y. Malmsteen ho chcel mať pri sebe. No na druhú stranu je to škoda. Mohli s ním ešte vydať mnoho skvelých nahrávok.
Posledná trojica piesní je taktiež celkom vydarená, no T.J. Mach sa na Jeffa nechytá. Aj keď, samozrejme, nie je vyslovene zlý spevák.
Na závere len toľko. Budem sa opakovať, ale je veľká preveľká škodou, že toto EP bolo prvým, no zároveň aj posledným plnohodnotným počinom tejto bandy.
Lineup:
Jeff Scott Soto – spev 1-7
T.J. Mach – spev 8-10
Mike Barrish – gitary
Jason Giordano – gitary
Michael F. White – basa
Scott Taylor – bicie
Tracklist:
First There Was Rock
Desire
Danger
Deliver the Axe
Warchild
Panther
Set Me Free (bonus)
Sheer Heart Attack (bonus)
What You Do To Me (bonus)
When You're In Love (bonus)
Rok vydania: 2018 (pôvodná verzia 1986)
Vydavateľstvo: No Remorse Records (pôvodná verzia Half-Wet)
Youtube ukážka:
Linky:
http://www.metal-samples.com/search/label/Panther
Hodnotenie: 5,5/6
Páčil sa ti tento článok?