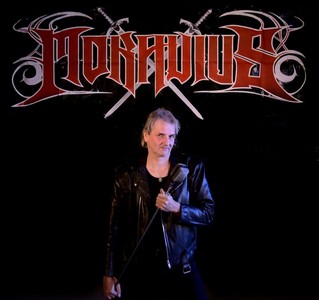 Po necelých štyroch rokoch sme sa konečne dočkali nového albumu českej power metalovej kapely Moravius – Wind from Silesian Land. Ak vám jej meno nič nehovorí, tak možno poznáte jej speváka – Dalibora Halamíčeka, známeho ako Panther poprípade jeho predošlé pôsobisko – Salamandra. Daná platňa vyšla napriek istým problémom v zostave a dokonca na nej opäť nechýbal zaujímavý hosť, tentokrát to bol spevák švédskych Dream Evil – Niklas Istfeltd (na predošlom albume zas spieval aj Tommy ReinXeed). Viac informácii sa dozviete v rozhovore so samotným ,,Pantherom":
 Zdravím Panther. Kapela Moravius začiatkom mája vydala už tretí album Wind from Silesian Land. Odkedy ste na ňom začali pracovať a ako vyzeral proces jeho vzniku?
Panther: Ahojky…Dělali jsme na něm asi půl roku a pak se dávalo tři měsíce dohromady.
Jeho názov naznačuje, že je to koncepčný album. Je tomu tak?
Panther: Ne ne, není to koncepce i když některé songy jsou o naší Slovanské a Moravské zemi.
Oproti predošlému sa jemne obmenila zostava. Basu miesto Zdenka Jirčíka obsluhuje Patrik Hrnčíř, odišla klávesačka a bicie obsluhuje hosť Dušan Kiss. Prečo?
Panther: Zdeněk má ještě jednu kapelu a více se jí věnoval a Lea má bohužel časově náročnou práci ,tak taky opustila naše řady. Dušana jsme oslovili, jestli by s námi nechtěl hrát, proto že jsme neměli bubeníka a on nám nahrál celé CD a nabídnul nám za sebe náhradu na koncerty, proto že už nechce koncertovat.
Jinak po nahrání CD bohužel odešel Patrik, kterého mi zlanařila Salamandra, ale to mi nevadí, proto že máme adekvátní náhradu a tím chci představit mého spoluhráče ze staré sestavy Salamandry – Jardu Dufka a pak nového bubeníka nadějného Marka Rybu.
Taktiež ste mali zaujímaveho hosťa – speváka švédskych Dream Evil – Niklasa Isfeldta. Prečo práve jeho?
Panther: Já si s Niklasem už píšu delší dobu a napsal jsem mu, že máme song ušitý přímo na něj a on mi ho nazpíval a tak vznikla velmi dobrá skladba.
V jednom rozhovore si spomínal, že Wind from Silesian Land má ohlas aj v zahraničí. Z ktorých krajín sa hlásia záujemcovia oň?
Panther: Zatím nám hned po vydání napsali ze Španělska , Holandska, Belgie, Anglie, Švýcarska, Argentíny a Japonska, kam jsme posílali CD. A už jsem dělal rozhovory i do rádií ve světě .
Napriek tomu, že už dochádza k postupnému uvoľňovaniu – stále zažívame tvz. koronakrízu. Mohol by si ale povedať niečo o pripravovaných koncertoch?
Panther: Připravujeme koncertní program, ale letos jich asi moc nebude, proto že kluby budou odehrávat odložené koncerty kapel, které měly nasmlouvané, tak je náročné sehnat nějaké volné termíny.
Mohol by si porozprávať o svojich hudobných začiatkoch?
Panther: Já začínal zpívat už ve třech letech. Chodil jsem od šesti let do lidovky na kytaru a bicí a od patnácti už hrál na bicí v zábavové kapele Satelit. Po vojně jsem se věnoval už jen zpěvu a hrál v kapele Metan a pak jsem měl novou kapelu Panther. Po té byly ještě nějaké kapely než se založila Salamandra a v té době jsem zpíval v zábavové kapele Grog se kterou jsme taky vydali 4 CD. No  a teď už mám jen Moravius.
Ty si sa stal známy hlavne s kapelou Salamandra, čo bol dôvod že si s nimi skončil spoluprácu?
Panther: Bohužel jsem byl drobný podnikatel v té době a finančně jsem na tom byl špatně, že jsem musel jít pracovat a vydělat si do Anglie na 4 roky a Salamandra pokračovala dále. Ale musím říct, že začala už na třetím albu, které jsme udělali jít jinou hudební cestou než se mi líbilo, tak proto jsem udělal MORAVIUS, který je tím co chci dělat dál. Prostě přímočarý melodický power metal, hlavně pro poslech pro všechny fanoušky .
Neskôr sa tam vystriedalo viacero spevákov. Nebola šanca, žeby si sa tam vrátil?
Panther: Nedávno odešel Ivan a byl jsem na pár zkouškách, ale jak říkám je to jiná metalová krabička než děláme v Moraviusu. A taky Moravius je pro mě prioritou .
V Moravius od začiatku spievaš po anglicky. Existujú nejakí českí a slovenskí interpreti, ktorí po niekoľkých anglicky spievaných skladbách siahli po rodnom jazyku (Witch Hammer, Silent Stream of Godless Elegy). Mohlo by sa stať, žeby ste niekedy v budúcnosti vydali skladbu v českom jazyku?
Panther: S klukama jsme se o tom bavili, že bychom udělali něco česky, ale shodli jsme se, že Moravius je kapela co dělá hudbu pro fanoušky na celém světě a proto jen angličtina. Ale možná někdy uděláme nějaký český cover .
Pred koncom sa ta ešte spýtam. Ako bude podľa teba vyzerať hudobná scéna po konci koronarkízy?
Panther: Lidi budou hladoví po koncertech. Jen že v Česku i u vás na Slovensku nejdříve budou hrát ti známí, kteří hrají pořád dokola jedno a to samé a jsou slyšet v rádiích, aby se jejich agentury mohly zase nabalíkovat a pak až příjdou ty kapely, které hrají o hodně lépe a dělají stále nové CD, ale nemají tu možnost té megalomanské reklamy.
Ok, tak to bol záver. Veľmi pekne ďakujem za rozhovor a poprosím ťa o nejaký ten odkaz pre čitateľov.
Panther: Přeju všem fanouškům opravdové a dobré, poctivé metalové muziky, hodně zdraví a spoustu dobré muziky. Pokud můžete, podpořte kapely, které hrají s radostí a nejsou třeba známí, choďte na koncerty a podpořte je. Určitě budou rádi a udělají pro vás vše aby jste se dobře bavili.
Moravius vás zve na koncerty, které připravujeme a těžko sháníme, ale i k dobrému poslechu našeho nového CD "WIND FROM SILESIAN LAND" .
METAL FOREVER!
Youtube ukážka:
Linky:
http://www.moravius.cz/
https://www.facebook.com/Moraviuspowermetal/
https://bandzone.cz/moravius
https://soundcloud.com/moravius