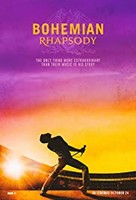 Ak sledujete filmové novinky tak možno ste začiatkom minulého roka zachytili, že sa pripravuje film o legendárnej britskej kapele Queen. Pomyselný deň D nastal 23. októbra tohto roku. Vtedy mal svoju prvú premiéru. Od 1. novembra ho začali premietať aj slovenské kiná.
Kapela Queen bola založená v roku 1970 v Londýne. Jej predchodkyňou bola formácia Smile, kde pôsobili gitarista Brian May a bubeník Roger Taylor. Po rozchode so spevákom a basákom v jednej osobe Timom Staffellom prijali ako speváka Farrokha Bulsaru (ktorý si neskôr zmenil meno na Freddie Mercury) a basáka Johna Deacona. Koncom 70tych a hlavne počas 80tych rokov sa stali celosvetovým fenoménom. Ako plnohodnotné hudobné teleso skončili v roku 1991, keď Freddie zomrel na A.I.D.S.
Film Bohemian Rhapsody sa hlavne zameriava na mladého Freddieho. Po odchode Tima sa pripojí k bande. Dosiahnu brutálny úspech a konči mamutím koncertom Live Aid. Je tu zobrazená jeho komplikovaná povaha (je homosexuál, no zároveň ľúbi partnerku Mary Austin; občas je s ním ťažké vychádzať atď) ale aj kľúčové okamžiky kapely. Nechýba množstvo Queen skladieb a taktiež ani skvelé zábery z ich koncertov.
Tvorcovia skvelo vystihli ich atmosféru a hlavne keď to pozeráte v kine na veľkom platne, je to úžasný zážitok. Z hľadiska faktografických údajov je to viac menej presné. Taktiež mali skvelú ruku pri výbere hercov. Rami Malek skvelo zvláda hlavnú úlohu a ostatní sú takmer na nerozoznanie od reálnych členov Queen.
Mne osobne síce chýbalo obdobie albumov The Miracle, Innuendo. Bolo by to zaujímavé – Freddie Mercury je smrteľne chorý, no snaží sa toho nahrať čo najviac.  No uznávam… Film by bol potom už neznesiteľne dlhý. Ale ak by vzniklo nejaké pokračovanie s touto etapou Freddieho života, nič by sa tým nepokazilo.
Záverečné hodnotenie: Jednoznačne sa pripájam k ľuďom, ktorí Bohemian Rhapsody považujú za jeden z najlepších tohtoročných snímkov.
Režisér: Bryan Singer
Rok vzniku:2018
Dĺžka: 134 minút
CSFD link: https://lnk.sk/jgq5
IMDB: https://lnk.sk/hiqf
Youtube trailer:

Hodnotenie: 6/6