Within Temptation – upcoming album
23. January 2019
Dutch symphonics Within Temptation will release new album Resist on 1. February via Spinefarm Records. On this album you can hear interesting guests Jacoby Shaddix (Papa Roach), Andres Fridén (In Flames), Jasper Steverlinck (Arid).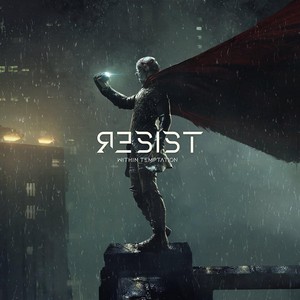 Tracklist:
The Reckoning (feat. Jacoby Shaddix)
Endless War
Raise Your Banner (feat. Anders Fridén)
Supernova
Holy Ground
In Vain
Firelight (feat. Jasper Steverlinck)
Mad World
Mercy Mirror
Trophy Hunter
Youtube ukážka:

Links
https://www.resist-temptation.com
https://www.facebook.com/wtofficial/
Soruce of Information: http://www.blabbermouth.net/, photo: https://www.metal-archives.com
Alchemy: details of "Dyadic" unveiled
21. January 2019
Street Symphonies Records & Burning Minds Music Group are proud to announce the details of "Dyadic", the second official studio album from Italian melodic hard-rockers, Alchemy. After a year of hard work in the studio, the band is currently adding the final touches to the album with producer Pierpaolo "Zorro" Monti. They are now in the final stages of mixing and mastering by renowned sound engineer, Roberto Priori (Danger Zone, Raintimes, Wheels Of Fire). "Dyadic" showcases a remarkable step ahead in the band's artistic career. Davide "Dave Rox" Barbieri (Raintimes, Wheels Of Fire, Room Experience, I.F.O.R., Charming Grace) is handling the vocal production, and Stefano Zeni (Wheels Of Fire, Room Experience, I.F.O.R., Charming Grace) on guitar production. Last but not least, the band partnered with British novelist, Peter Darley, for the supervision of their lyrics in order to perfect their new sound for worldwide fans with unquestionable quality. Moreover, great contributions have been provided in the album by renowned artists: James Martin, Tom Martin & Nick Workman (Vega) penned together the exclusive unreleased track "Hero", while the likes of Davide "Dave Rox" Barbieri, Stefano Zeni and Steve De Biasi (Gunshy, Room Experience, Charming Grace) appear in "Dyadic" as very special guests.
Frontman Marcello Spera says: "We put everything we had into the songwriting, production, and recording processes to make this record sound huge, and I must say, the result is already astonishing. Working with top-notch melodic rock heroes, Pierpaolo Monti, Davide Barbieri, and Stefano Zeni really helped us deliver the best sound we could. At the moment, everything is in Roberto Priori's hands, and it's his turn to make the magic happen. After listening to some of the mix previews, we knew his contribution would raise the quality of our record even further, thanks to his experience and dedication. Be ready for a solid hard rock album with a deep melodic twist, big guitars, and catchy melodies!"
"Dyadic" is set for release on March 29, 2019 via Street Symphonies Records / Burning Minds Music Group, with a special Ltd. Personalized Edition created by Outward Styles (available exclusively on the label's online shop, Rock Temple). CD graphics have been designed by Aeglos Art (Airbound, Raintimes, Michael Kratz, Wheels Of Fire), while the CD booklet features introductive liner notes written by Fabiana Spinelli (Loud And Proud, Fireworks Magazine, Classix). The album will be introduced with an exclusive live event on March 30, 2019 @ Dedolor Music Headquarter (Rovellasca – CO / ITALY), during the third awaited "A Melodic Rock Night" festival.
Tracklist:
Cursed
One Step Away
Endless Quest
What It Takes (feat. Stefano Zeni)
Nuketown
Day By Day
Hero
Lost In The Dark
Goodbye (duet with Davide "Dave Rox" Barbieri)
Take Another Shot
Prisoner
Goodbye (Acoustic Version feat. Steve De Biasi – Exclusive European Bonus Track)
Line-up:
Marcello Spera: Vocals
Cristiano Stefana: Guitars
Andrew Trabelsi: Keyboards
Matteo Castelli: Bass
Matteo Severini: Drums & Percussion
Links:
https://www.facebook.com/musicalchemy
https://www.burningmindsgroup.com/street-symphonies
https://www.facebook.com/streetsymphonies
Soruce of Information: Atomic Stuff Promotion
Ramchat pubslihed videoclip for song Jastrab
23. January 2019
 Slovak black/death metalists RAMCHAT published videoclip for title song from their vinyl EP Jastrab.
Links:
https://www.facebook.com/ramchatband/
Source of Information: Ramchat
Insistent – new videoclip
22. January 2019
Czech grinders Insistent published videoclip for song Crused from their album Serenity of Suffering, which was released like split CD with BUT last year via Neonarcis (l´inphatile collective).
Links:
https://www.facebook.com/insistentgrind/
https://insistent.bandcamp.com/releases
Source of Information: Daniel Weis