Turilli/Lione Rhapsody – upcoming debut
7. February 2019

Crowdfunding campaign for debut album Turilli/Lione Rhapsody was ended on the beginning of February. Mix of it will start in a few weeks.
,,Fabio, Alex Holzwarth, Dominique Leurquin, Patrice Guers and I wanna simply say "THANK YOU!" to all the ones who contributed to this crowdfunding campaign, so important for the first steps of our new band.
Fabio and I are realizing the album we always wanted to do together and this is happening thanks to your precious support too. We are at the last stage of the recordings and in a few weeks the mix of our debut album will finally start. The pieces of the puzzle are beginning to come together and we are getting really excited. More news to come for you all in a very short time. Stay tuned!" – announced Luca.
Links:
https://www.facebook.com/tlrhapsody/?ref=br_rs
https://www.indiegogo.com/projects/turilli-lione-rhapsody/
Source of Information: https://www.facebook.com/tlrhapsody/?ref=br_rs
1914 – Sign With Napalm Records!
6. February 2019
Historic Blackened Death/Doom Metal From Ukraine
Ukrainian WWI experts 1914 join the Napalm Family! With their unique blackened death/doom metal sound, 1914 leads you back in one of the darkest chapters of the last century – they breathe The Great War!
Strongly influenced by genre pioneers like Bolt Thrower and Entombed, 1914 have already released two full length albums, Eschatology of War (2015) and The Blind Leading The Blind (2018), which making them one of the most talked about newer bands in the genre. From now on they are part of the Napalm roster!
1914 on the signing:
"We're so excited to work with Napalm Records, the label we know very well and fully respect. We hope our cooperation will be really fruitful and awesome. 1914 want to tell the world about The Great War, about its horrors and the senselessness of war and murders. For us, the partnership with Napalm Records is a great chance to spread these ideas all over the globe, a chance to tell everyone that war is hell, that it's only death, mud and fear, so fuck the wars!
Be sure, we are going to take full advantage of this chance. And for all those who consider our music as political, we can say 'just go fuck yourself' because the worst things to have ever happened with this world are religions, ideologies and their followers.
Links:
https://www.facebook.com/1914band/
https://www.youtube.com/channel/UCIi5hWkPUWkWUXRN7KDKQiA
Source of Information: Napalm Records Promotion Team, photo: May Lee
Darkwater – upcoming album
5. February 2019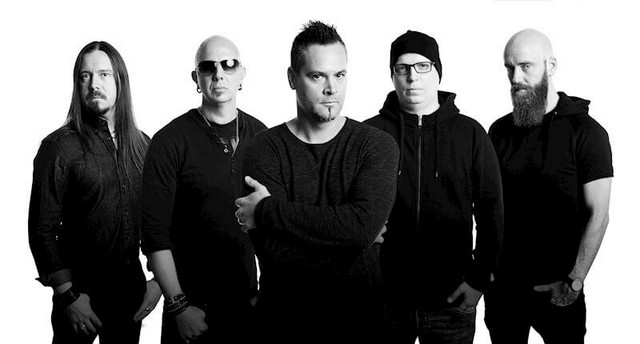 Darkwater was formed in the western parts of Sweden in 2003 and their debut album "Calling The Earth To Witness" was released in 2007 via Ulterium Records. The album was received very well around the world and the band's perfect blend of melodic and progressive metal was something the scene was craving for, and the band quickly got a loyal following.
The band did their first US show in 2008 at the Bay Area Rock Fest together with Liquid Tension Experiment and Jeff Scott Soto. During 2009 the band parted ways with their bass player Karl Wassholm and welcomed Simon Andersson (ex. Pain of Salvation) as his replacement.
In 2010 Darkwater released their second album "Where Stories End" which was mixed and mastered at Studio Fredman in Gothenburg. The album received excellent reviews and feedback, and the band played festivals like ProgPower USA, ProgPower Europe, Brainstorm Festival and more.
Darkwater are now back with their new album "Human", and it surely won't leave fans of melodic metal or progressive metal disappointed! The songs are heavier, more melodic and atmospheric than before and the band worked really hard on tweaking the ten songs and over 76 minutes of playing time into perfection. Jacob Hansen (Evergrey, Volbeat, Amaranthe) was chosen to mix and master the album and he did a fantastic job which resulted in the best sounding Darkwater album to date.
The lyrics of the album welcomes you into a world of you and me, how we affect the world around us and the struggles we deal with as humans.
Don't miss out on "Human", a perfect album for fans of melodic progressive metal and bands like Circus Maximus, Seventh Wonder and Evergrey!
Tracklist:
A New Beginning
In Front Of You
Alive (Part I)
Alive (Part II)
Reflection Of A Mind
Insomnia
The Journey
Burdens
Turning Pages
Light Of Dawn
Youtube teaser:

Links:
http://www.darkwater.se
https://www.facebook.com/darkwaterofficial
Source of Information: Ulterium Records
Symfobia – new singer
2. February 2019
New singer of Slovak symphonics Symfobia is  Simona Janovičová, known from Sirenade project and Sinners Moon. She will sing in this band together with their singer Erika Strečková.
Links:
http://www.symfobia.sk/
https://www.facebook.com/pages/Symfobia/917048024996628
http://bandzone.cz/_84971
Source of Information: https://www.facebook.com/pages/Symfobia/917048024996628