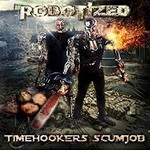 Fénix nie je jediný vo svete, kto môže povstať z vlastného popola. Minimálne v Čechách má konkurenciu vo forme skupiny Robotized, ktorá vznikla na základoch Spacegoat (tá zanikla v roku 1998).
Napriek relatívne veľkému časovému odstupu sa fanúšikovia predsa len dočkali. Skladby Spacegoat spolu s nejakými bonusmi sa objavili na debute Robotized – Timehookers Scumjob . Ten bol vydaný koncom minulého roka.
Už úvodná pieseň 14th Escaping dokazuje, že aj keď sa daná formácia  vrátila len v dvojčlennom zložení, sila a kreativita im nechýba. Industrial hudba plná skvelých riffov a samplov držiacich sa väčšinu času pekne v pozadí a mix growlu a čistého vokálu. Originalita a kvalita v pravom slova zmysle.
No a v nastolenom trende pokračujeme skrz naskrz celým albumom, a teda všetkými 10 songami. Prvou vecou, ktorá človeku udrie do uší je už spomínaná skvelá kombinácia industriálnej nálady a gitár, obohatená a death metalový growl a sem tam aj dáku tú melodiku.
Občas to však trochu ,,preženú" so samplami a elektronikou, vďaka čomu máme možnosť počuť skutočné industrial skvosty. Reč je napríklad o poslednej, a podľa mňa najlepšej piesni Coming, s tajomnou Sofiou….. takto nejak si predstavujem industrial metal.
Zaujímavo potom vyznievajú aj takmer inštrumentálne piesne Code That a Rekalibration, kde najmä prvá menovaná s hovoreným prednesom dosahuje ďalší level origninality. Druhou vecou, ktorá udrie človeku do uší je silná vyrovnanosť nahrávky. Ak som spomínal, že máme možnosť dovedna počuť 10 songov, tak vedzte, že ani jeden nijak výrazne nezaostáva, čo sa kvality týka.
Taktiež všetci zúčastnení (teda obaja) hudobníci odvádzajú svoju prácu na výbornú, čo sa spevu aj hudby týka. Osobne by som však určite ešte vypichol rýchlu Dayzex, alebo skvelú "psycho" skladbu In Virus We Trust, kde samply opäť urobili svoje. Podstatné je aj to, že album ma ani na chvíľu nezačal nudiť, a s každým novým a novým posluchom som ho mal stále radšej, nakoľko som vždy dokázal nájsť niečo nové.
Nech to zbytočne nenaťahujem, Timehooker´s Scumjob je jasným dôkazom toho, že aj v Českej republike môže vzniknúť skvelý album s potenciálom zaujať aj vo svete. Skvelý, silný a premyslený.
Lineup:
Petr Staněk – spev, gitary, basa, sample
Patrik "Duffy" Nejedlý – bicie
Tracklist:
14th Escaping
Antennas
Dayzex
In Virus We Trust
Acute
Code That
Desktop Life
Rekalibration
Atalavista Jezus
Coming
Rok vydania: 2018
Vydavateľstvo: Hoggorm Music
Youtube ukážka:

Linky:
www.bandzone.cz/robotized
www.facebook.com/robotizedband
Hodnotenie: 5,5/6