Medzi interpretov, ktorí si zamilovali našu prekrásnu krajinu patri aj Tobias Sammet. Turné k novému albumu Moonglow so svojím projektom Avantasia začal práve na Slovensku. Udiali sa dokonca dva koncerty –  27. marca v Prešove, deň na to v Bratislave. Navyše táto šnúra bola vo viacerých ohľadoch špeciálna.
Hlavne preto, lebo sa jej nezúčastnili bývalé stálice Michael Kiske a Amanda Somerwile. Prišli noví ľudia – bývalý spevák amerických progresívnych metalistov Queensryche – Geoff Tate a dve nové dievčiny – Adriene Cowan a Ina Morgan.
Prvú spomínanú ste mohli poznať napr. z youtube (spievanie coverov) ale aj z pôsobísk Winds of Plague (klávesy), Sascha Paeth's Masters of Ceremony (spev) a Seven Spires (spev).
Ale niečo ostalo po starom. Okrem Tobiasa nechýbali ľudia ako Eric Martin, Oliver Hartman, Sasha Paeth a taktiež celkovo koncert trval až tri hodiny. Bohužiaľ však sa zopakoval aj menší nedostatok  z vystúpenia približne spred troch rokov v Banskej Bystrici – nie príliš šťastne poriešený vstup na miesto určenia.
Pre masu ľudí bol dosť úzky priestor na vstup do miesta určenia. Síce tentokrát otvorili dvoje dvere, ale aj tak sa vytvorila zbytočná tlačenica. Dobrou vecou bol predaj občerstvenia – vo vnútri bolo možné kúpiť pivo a vonku aj nejaké to jedlo. A samozrejmosťou boli aj stánky s merchandise – oblečenie, nahrávky plus pamätné zápalky.
Samotný koncert začal približne 20:39. Skalní fanúšici, majitelia VIP vstupeniek,  obsadili priestor tesne pod pódiom, ostatní boli rozdelení po celej hale. Začalo sa piesňami zo spomínaného albumu Moonglow – Ghost in the Moon, Starlight, Book of Shallows.
Tobias sa na pódiu cítil doslova ako ryba vo vode a nesmierne si pochvaľoval prešovské publikum. A nie len on aj ostatní si to užívali. Eric Martin napr. dovolil obecenstvo pochváliť aj v slovenčine 🙂 Atmosféra bola vynikajúca, aj keď ľudia mali v krvi skôr staršie kúsky (Reach Out for the Light, Dying for an Angel, The Scarecrow).
Tým samozrejme nechcem povedať, že tie nové ich nebavili. Bohužiaľ celkový dojem kazil nie príliš vydarený zvuk, hlavne čo sa týka doprovodných vokálov. Tie sa v niektorých piesňach strácali.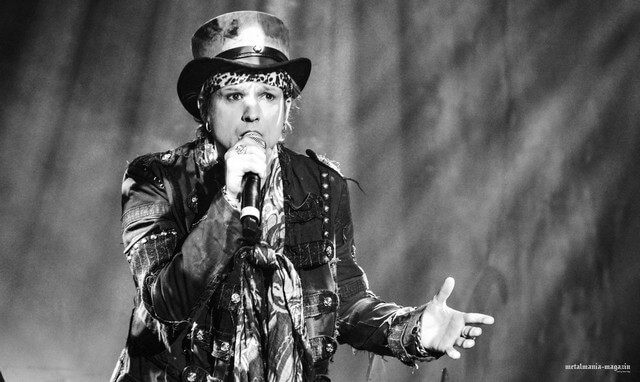 Taktiež treba pochváliť aj nováčikov, hlavne Geoffa. Vrcholom jeho vystúpenia bola balada Invincible. Pôvodne som myslel, že bude akýmsi náhradníkom za M. Kiskeho. No jeho party si však rovnomerne podelili ostatní (v Reach Out for the Light dokonca Oliver Hartman). Čo ma trochu prekvapilo bol Herbie Langhans – ktorý ho nahradil v Shelter from the Rain.
Záver sa taktiež niesol v tradičnom duchu, čiže Sign of the Cross + úryvok zo Seven Angels.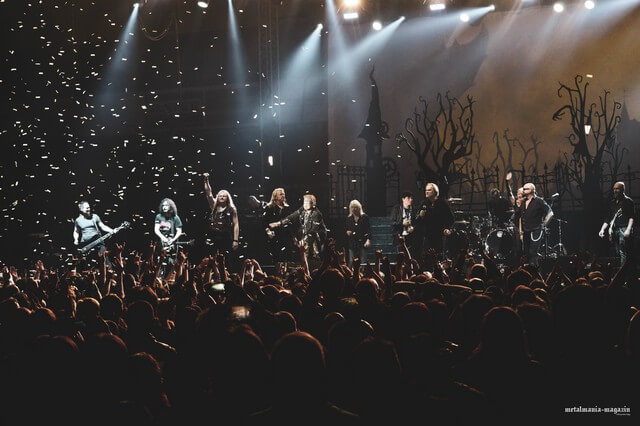 Až na tých pár nedostatkov si dovolím povedať, že celkovo išlo o veľmi vydarené vystúpenie. Navyše začiatok turné na Slovensku bol peknou reklamou pre nás. Dokonca – okrem Slovákov na koncert dorazila aj skupinka poľských fanúšikov. Páni z profieventu si zaslúžia veľké poďakovanie.
Nezabudnite si pozrieť aj galériu – autorom foto je Famine Killjoy (https://www.facebook.com/faminekilljoyphotographer/), ktorému takisto patrí veľké poďakovanie 🙂