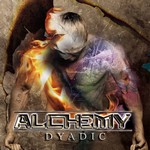 Z Talianov sa na poli rock/metalovej muziky pomaly, ale isto stávajú majstri. Dôkazom toho sú formácie ako Saints Trade, The Sticky Figners Ltd., Watershape a taktiež aj Alchemy. Tí 29. marca vydali platňu Dyadic, svoj druhý full album.
Jeho celková dĺžka je až 49 minút aj 9 sekúnd. Obsahuje príjemný 80tkový melodický hard rock – čiže prevažne strednotepové skladby postavené na gitarách a výrazné klávesy. Spevák Marcello Spera svojím hlasom a trochu aj štýlom spevu evokuje pána menom Jon Bon Jovi. Na tomto albume nechýbajú ani balada – skladba Goodbye (duet Marcella a hosťa – speváka Davidea Barbieriho s pseudonymom"Dave Rox"). Ak obdržíte európsku verziu CD, môžete si ju vypočuť aj v akustickej podobe (kde Dave spieva iba doprovodné vokály).
Z muzikantského hľadiska sa nedá Alchemy nič vytknúť – skúsení muzikanti výborne ovládajúci svoje remeslo. Problémom je však málo zaujímavých momentov v piesňach, aby sa vám dlhšie udržali v hlave. Sú viac menej na jedno kopyto a ku koncu hrozí až nuda.
Vydanie Dyadicu rozhodne nebolo zlým krokom, určite ma potenciál zaujať nejakých rockerov – napr. tých, ktorým chýba muzika z prvých albumov spomínaného Jona Bon Joviho. Do budúcnosti by však mali viac popracovať na svojích skladbách.
Lineup:
Marcello Spera – spev
Cristiano Stefana – gitary
Andrew Trabelsi – klávesy
Matteo Castelli – basa
Matteo Severini – bicie a perkusie
Hostia:
Davide "Dave Rox" Barbieri spev, doprovodné vokály (9,12)
Stefano Zeni – gitarové sólo (4)
Steve De Biasi – akustické gitarové sólo (12)
Tracklist:
Cursed
One Step Away
Endless Quest
What It Takes (feat. Stefano Zeni)
Nuketown
Day By Day
Hero
Lost In The Dark
Goodbye (duet with Davide "Dave Rox" Barbieri)
Take Another Shot
Prisoner
Goodbye (Acoustic Version feat. Steve De Biasi – Exclusive European Bonus Track)
Rok vydania: 2019
Vydavateľstvo: Street Symphonies Records & Burning Minds Music Group
Youtube ukážka:

Linky:
https://www.facebook.com/musicalchemy
https://www.burningmindsgroup.com/street-symphonies
https://www.facebook.com/streetsymphonies
Hodnotenie: 4/6
Páčil sa ti tento článok?