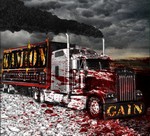 Talianska hudobná scéna nespí ani tento rok – opäť sa tam urodilo množstvo zaujímavých albumov, ktoré dokážu zaujať celý hudobný svet. Medzi ne patria novinky od kapiel Alchemy, N.Ex.U.S.. Podobne tomu bolo aj vlani. V októbri 2018 vydali svoju prvotinu aj heavy/thrash metaloví Kamion. Ich členovia pochádzajú z miest Treviso, Padova, Benátky.
Daná kapela vznikla v roku 2014, zakladajúcimi členmi boli gitaristi Paul a Patch. Postupne sa pridali spevák Dodo, bubeník Dan a basák. Debut Gain im začala firma Atomic Stuff začiatkom februára propagovať po celom svete.  Kapela si dala záležať aj na jeho vzhľade – pekný digipack v tvrdom obale.
Muzika, ktorú obsahuje je postavená hlavne na dunivých bicích,  zbesilých gitarách a melodickom Dodovom speve. Obzvlášť na dvojkopákove paľby dávajú veľký dôraz. Sami udávajú, že v hudbe kombinujú old school a nové prvky. Gitarové sóla síce nie sú samozrejmosťou, ale ak sa započúvate do jednotlivých piesní vôbec vám to nebude vadiť (to tvrdím aj ja, ťažký old schoolista hehe 🙂 ). Všetky piesne sú správne chytľavé, tak ľahko z hlavy ich nedostanete.  Najväčším nedostatkom je jeho pomerná krátkosť. Áno viem – dôležitá je kvalita a nie kvantita. Uznajte však – nie je moc dobré, keď vás album doslova pohltí a po pol hodine už je koniec.
Každopádne pol hodina jazdy týmto Kamiónom je veľmi príjemná. Radi ju absolvujú ,,old schooleri" tak aj milovníci modernejších odnoží metalovej muziky.
Lineup:
Dodo – spev
Paul – sólová gitara
Patch – rytmická gitara
Lux – basa
Dan – bicie
Tracklist:
The Reaper
Another God
Queen Of Hate
Home
Mr. Sucker
Going Wrong
Escape
Jungle
Rok vydania: 2018
Vydavateľstvo: Samovydanie
Youtube ukážka:

Linky:
https://www.facebook.com/kamionband/
https://www.burningmindsgroup.com/atomic-stuff/roster/100/
Hodnotenie: 5,5/6
Páčil sa ti tento článok?