Gloryhammer – New Album Legends from Beyond the Galactic Terrorvortex OUT TODAY!
31. May 2019
In Hoots We Trust!
Mighty warriors of the galaxy! The day has finally come!
GLORYHAMMER's new album Legends from Beyond the Galactic Terrorvortex is out today and will tell us the whole story of the most gigantic battle of all time.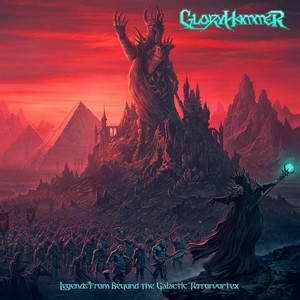 Tracklist:
Into the Terrorvortex of Kor-Virliath
The Siege of Dunkeld (In Hoots We Trust)
Masters of the Galaxy
The Land of Unicorns
Power of the Laser Dragon Fire
Legendary Enchanted Jetpack
Gloryhammer
Hootsforce
Battle for Eternity
The Fires of Ancient Cosmic Destiny
I: Dundaxian Overture
II: The Battle of Cowdenbeath
III: Return of the Astral Demigod of Unst
IV: The Knife of Evil
V: Transmission
Today, GLORYHAMMER not only release their full album, but also the third single and music video "Hootsforce" from Legends from Beyond the Galactic Terrorvortex! How will the story of the epic fight of crown prince Angus McFife against evil continue?
Links:
https://gloryhammer.com/
https://www.facebook.com/gloryhammer/
Source of Information: Napalm Records Promotion Team, photo: Robert Zembrzycki
ECSTATIC VISION extend worldwide deal with HEAVY PSYCH SOUNDS! Brand new album + a reissue of the band's memorable debut coming this Fall!
30. May 2019
Rising powerhouse label HEAVY PSYCH SOUNDS is proud to have extended a worldwide deal with psychedelic rock grandmasters ECSTATIC VISION! 2019 will see the Philadelphia Heavy Psych quartet (regarded as the second coming of vintage Hawkwind) not only reissue the pathbreaking debut album, Sonic Praise, but also returns with their brand new album For The Masses!
Says the band: "We are very pleased to announce that we have signed a deal with Heavy Psych Sounds for a new record coming out this fall! After meeting all the HPS guys on our countless European tours, we appreciate their passion for our little corner in the world of modern music. We think they will be good teammates as we carve our unique path across the globe fufilling our destiny as Psychedelic Pirates from Philly. See youse on the road!"
For The Masses is set to be released on September 20th 2019, while Ecstatic Vision's re-release of Sonic Praise will be available as a re-mastered version on September 6th. Today Ecstatic Vision are sharing with us the cover artwork and tracklist For The Masses, which is now available to pre-order in various VINYL and CD formats at THIS LOCATION!
For The Masses tracklisting:
1. Sage Wisdom
2. Shut up and Drive
3. Yuppie Sacrifice
4. Like a Freak
5. For the Masses
6. The Magic Touch
7. Grasping the Void
After bursting onto the scene with their 2015 tribal-psychedelic LP, Sonic Praise, touring the USA with Yob and Uncle Acid & The Deadbeats, crushing Roadburn, then quickly releasing a for-heads-only, noisy, psychedelic-garage record to weed out the weak (Raw Rock Fury), Ecstatic Vision have pulled themselves out of the muck to deliver their finest album to date. Recorded in Philadelphia at Retro City Studios with Joe Boldizar andmixed/mastered by Tim Green (Earthless, The Melvins) at Louder Studios in Grass Valley, CA, Ecstatic Vision's recent fuzzed-out sound has been sculpted it into a HI/FI psychedelic wonderland. This album is the closest the band has gotten to achieving the energy of their untouchable live shows on tape. EV took a simpler approach on the art this time, using the Spanish dream-team of Edko Fuzz and Bangalore Studios. For the Masses blends Tripped-out Synth, Semi-Catatonic Desert driving tunes, Afro-tribal Funkadelic Vibes, Troglodyte-Detroit Rock grooves, Acid Freak-Outs, Ethereal Psychedelic Hymns, and Mind-Altering Kraut Rock into Ecstatic Vision's outsider take on modern music. It's like if Tangerine Dream jammed with Lemmy and the Asheton Brothers and decided to play some World Music and Free Jazz in 1971.
In 2018 the band returned with Under The Influence on the Italian fuzz and cult rock label Heavy Psych Sounds. Under The Influence is Ecstatic Vision's take on some of their favorite songs by some of their biggest influences ranging from Zam Rock to the kings of early Psychedelia and Detroit rock. The Fall of 2019 will see them release not only their hotly anticipated, new album For The Masses via Heavy Psych Sounds, but also the reissue of their timeless and classic of a debut album, Sonic Praise.
ECSTATIC VISION is:
Doug Sabolik
Michael Field Connor
Kevin Nickles
Ricky Kulp

For More Info Visit:
www.facebook.com/ecstaticvision
www.ecstaticvision.bandcamp.com
www.heavypsychsounds.com
www.facebook.com/HEAVYPSYCHSOUNDS
Source of Information: All Noir
JINJER Begins Recording New Album: Fall 2019 Release Expected
29. May 2019
Ukraine's most ferocious metal export JINJER have officially begun work on their highly anticipated third album and follow up to their NAPALM RECORDS debut King Of Everything (2016) and their amazing "Micro" EP (2018). Once again teaming up with sound producer Max Morton at Kaska Studio in Kiev, the as of yet untitled album is expected to be released sometime in fall 2019 and promises to be their best and most fierce material to date.
"No rest for the wicked! Together with our long time friend and producer Max Morton, we are pleased to announce that we've entered Kaska Studio in Kiev to begin recording our third full album, to be released later this year. Trust us, it's gonna blow your heads off," says the band.
Hot off the heels of the news that numerous North American dates with special guests The Browning being upgraded to bigger venues and some shows near the sell out point, JINJER have also announced a full blown European Headline Tour in November/December to coincide with the release of their new album.
JINJER seem determined to take over the world one country at a time and by any means necessary: "Europe! We are coming for you! The time has come to show you the fiercest side of JINJER ever, with a new album, new songs as well as all our older hits and a few surprises in-between. We know a lot of you have been waiting for us to do a proper headline tour with our own production and that time has finally come! Join us this November/December throughout Europe and the United Kingdom and help us celebrate this new era with a bang!"
Do not miss your chance to see JINJER somewhere in Europe or North America this year!
Links:
http://www.facebook.com/JinjerOfficial
http://jinjer-metalband.com/
Source of Information: Napalm Records Promotion Team. photo: Javier Bragado
Gloom – upcoming album
27. May 2019
,,Dearest fans,
Most of you already know that we are going to record our third studio album at the end of June 2019. The long winter really left a mark on our melancholic souls. Same as everyone creative , we also want to shape our thoughts into something meaningful. For us, it is our music, the music we create. However, none of it would be possible without you, our supporters! We need you this time again, and thus we set up donate channels for your voluntary donations, which would help us bring to life our "newborn child"! We are already very grateful and we honour those who decide to support us this way, since we understand the importance of such help on the today's underground music scene. By helping us to finance our new album you have already bought the newest Gloom!
If you would like to send your donation via bank transfer, please send it to this account:
IBAN:SK9209000000005063991211. Use the "mesage for recipient" to provide your contact details and add note "Gloom".
If you would like to donate via PayPal, use the following link:
https://www.paypal.com/cgi-bin/webscr…
Again, you can use the "message for recipient" space to provide us your contact details.
THANK YOU!! Forever yours GLOOM" – quoted from their fb page
Links:
http://www.gloom.sk/sk/novinky/
https://www.facebook.com/gloomslovakia/
http://bandzone.cz/gloomsk
https://gloomsk.bandcamp.com/
Source of Information: https://www.facebook.com/gloomslovakia/