Poďme tentokrát rovno k veci. Čo robí James LaBrie stále v backstage-i počas ich koncertu? Pije luxusné šampanské, pije lacné borovičky alebo si dáva kyslíkové dopingy? Potrebuje Mike Mangini toľko bicích, hlavne tých, čo má nad hlavou? Naozaj ich má tak lebo sa mu tak lepšie používajú alebo slúžia len ako estetický doplnok? Nosí John Myung stále to isté oblečenie? Pere si to po každom koncerte, alebo až po celom turné? Na tieto otázky by ma zaujímali odpovede. Ak viete nejakú odpoveď napíšte do komentáru a potešíte tým nie len mňa. Poďme si teraz posvietiť na celý koncert.
Rolu otvárača koncertu získali domáci PERSONA GRATA. Tu by zase zaujímalo mňa, či si ich vybrala kapela alebo sa o to postaral organizátor. Pretože si pamätám, ako sa s Mike-om Portnoyom fotili a on ich dal do svojho rebríčka zaujímavých mladých kapiel.
Ale ktovie, či sa Mike so svojou bývalou kapelou rozpráva. Chalani a slečna mali síce krátky čas (polhodina), no využili ho naplno.
Z nahrávky som si neuvedomil, že budú mať vo svojich radách slečnu, aj keď flautu som tam počul. Slečna sa pekne na(style)lovala (hrozné poslovenčené slovo, ale tu mi pasuje) do orientálneho štýlu, natočila vlasy, až mi jej bolo občas ľúto, ak pri rytmickejších skladbách točila vlasmi.
Zase spevák bol oblečený ako doma – tielko a tepláky, čo bola azda jediná vec, čo mi na ich vystúpení vadila.
Hudobne to bolo zahraté na vysokej úrovni, kde dominoval gitarista so svojimi mimoriadnymi schopnosťami. Spevák taktiež spieval bravúrne, keď bolo treba otvoril hrdlo a dostal zo seba riadne výšky. Zahrali aj novú skladbu, ktorá znela perfektne, tak sa môžeme tešiť na nový album.
Zaradenie TESSERACT do tejto zostavy mi veľmi nerezonovalo. Pamätám si ich z Brutal Assaultu asi 6 rokov dozadu, kde šlo o veľmi zlé vystúpenie s falošným spevom. Pár rokov ubehlo, tak prečo im nedať šancu. Musím uznať, že vystúpenie bolo o dve triedy lepšie.
Spevák má už vyspievaný hlas a tóny si už podržal. Hudobne vychádzajú, asi ako každá kapela tohto žánru, z bájnych MESHUGGAH, len to celé okoreňujú až popovými vokálmi v melodickom duchu. Staršie nahrávky boli viac uškriekané, novšie si idú melodickou cestou.
Keď som si to dal celé dokopy, tak mi vychádza, že ich hudba je vlastne MESHUGGAH pre teenagerov. Nemôžem im uprieť, že sa nesnažili. Pohybu na pódiu bolo kopec, aj šla z nich energia. Fanúšikovia kapely si museli prísť na svoje, ja som skôr čakal na príchod hlavnej hviezdy.
DREAM THEATER sú profesionáli. Nevravím len o hráčskych schopnostiach, ale aj o vizuálnej stránke vystúpenia. Počas celého koncertu premietali rôzne videoprojekcie, ktoré by sme mohli označiť ako samostatné klipy a každý tvoril určitý príbeh alebo to bol výjav spoločný s hranou skladbou. Fakt veľmi vydarený krok.
Progresívni profesori vytvorili playlist z dosť neznámych vecí, žiadne "Pull Me Under" či "Caught In A Web" alebo "Panic Attack". Dostali sme hlavne piesne z nového albumu, ale aj celkom nečakané skladby ako "A Nightmare to Remember" alebo "Lie", no mňa najviac potešila "The Dance of Eternity" a "As I Am", prvú by som označil za úplný vrchol koncertu a to tam ani nebol potrebný spev.
Dá sa napísať niečo prekvapivé na hráčske schopnosti členov kapely? Myslím, že nie.
Zahraté to bolo dokonale, neskutočne spolu ladia a všetko je úplne presne zohraté. Klobúk dolu. Jediné, čo by sa dalo zkritizovať je spev Jamesa LaBrieho. Veľa ľuďom nesedí už jeho farba hlasu a označujú ju ako "mňaukanie", no mne vôbec neprekáža. Horšie už bolo, keď pri poslednej skladbe
"As I Am" nestačil s hlasom a väčšinu skladby skôr prekričal ako prespieval a to si zoberme, že pomaly polovicu času ani nestrávil na pódiu.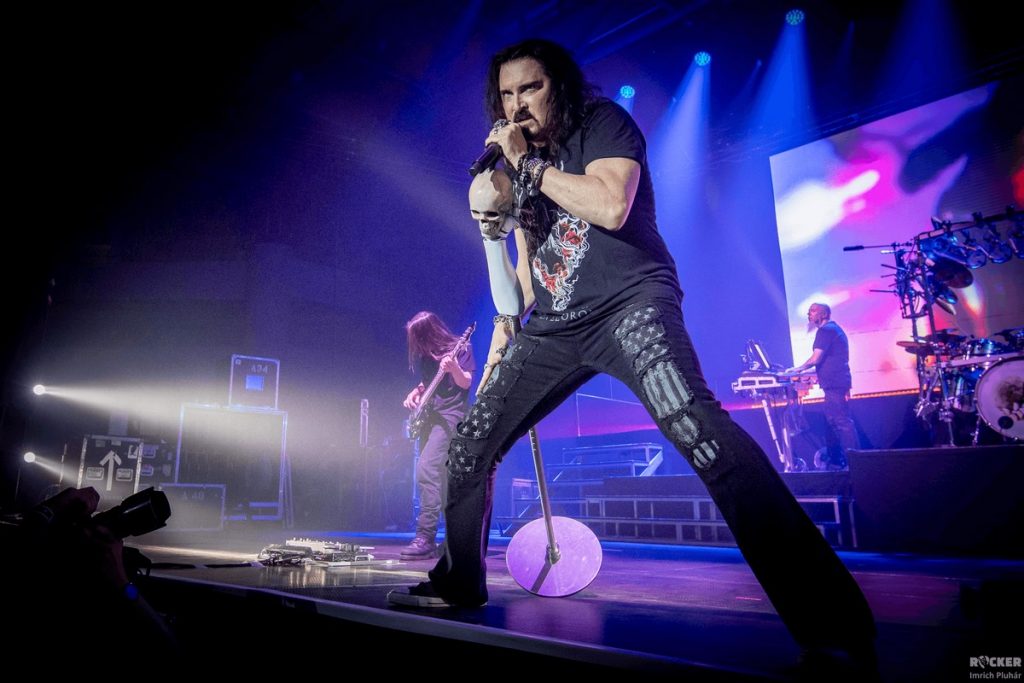 Každopádne šlo o mimoriadny zážitok a som veľmi rád, že som ich mohol konečne vidieť naživo. Rozhodne odporúčam každému fanúšikovi progresívnej hudby.
Za foto patrí čo najsrdečnejšie poďakovanie webu ROCKER.SK a autorovi Imrichovi Pluhárovi 😉