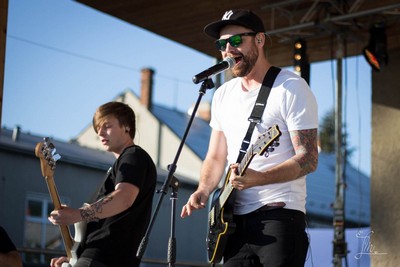 Napriek veľkým-preveľkým pôrodným bolestiam crossoverovi Alike tento rok konečne vydali debutový album Desires, Hopes and Failures. Členovia pochádzajú z českých miest Velešín, České Budějovice, Dolní Třebonín, Hrdlořezy. Väčšina z nich pôsobila predtým v a SweetWater Trick a minulý rok gitarista Roman Knop odišiel k slávnejším Cocotte Minute. Problémy kapele sa nevyhli ani po vydaní spomínaného CD. Frontman Karel Krejčí zažil veľmi nepríjemný incident s fanúšikmi. Aj o tom sa môžete dočítať v tomto rozhovore.
Ahoj, Skupina Alike vznikla z kapely A SweetWater Trick. Mohol by si povedať niečo viac o okolnostiach vzniku?
Karel Krejčí: Po odchodu jednoho z členů do lepší kapely (dle jeho slov), jsme měli za sebou slušné turné, první pořádné cd a sestavu bez bubeníka. Kapele táhlo na deset let a furt to byl ups and downs styl. Sebrali jsme zbytky ambicí a přemýšleli o změnách.
Naskytla se možnost přibrat kytaristu a skladatele Romana Knopa (dnes Cocotte minute) z rozpadlých x-left-to-die a tak se nabízelo vymyslet nové jméno kapely a obout se do hudby opravdu vážně, i proto, že ještě před Romanem jsme konečně sehnali do party druhou kytaru a super parťáka Heňu. Takže samé změny… Tak proč nezměnit název a nezačít s čistým štítem?
Momentálne vám vyšlo debutové album Desires, Hopes and Failures. Aký bol proces jeho zrodu?
Karel Krejčí: Bolestný a zdlouhavý ! Dá se říct, že album je i nedokončené. Album jsme defacto měli hotové již někdy v roce 2017. Ale realisticky jsme ho zhodnotili jak po zvukové či produkční stránce a rozhodli jsme se ho přepracovat a to včetně textů. Sehnali jsme producenta a textaře.
Bohužel producent už neměl po 10 písních zájem pokračovat a tak jsme vydali pouze to co jsme měli hotové. Např. songy Desire a Falling down tak mají jiný zvuk a původní nepřepracovaný text.
Čo môžu fanúšikovia od neho očakávať?
Karel Krejčí: Přes zmiňované problémy si myslíme, že to CD  je zajímavé v rozmanitosti. V plánu je ještě ho doplnit, což digitální distribuce umožňují, a tak dokončit jeho myšlenku. Ta říká, že v rozmanitosti je krása. Nebojíme se kombinovat styly co máme rádi a zkoušet nové věci.
Spomínané CD je dosť multižánrové. Kto je u vás hlavným autorom hudby?
Karel Krejčí: Hudbu jsem skládal já s Romanem a obrovský podíl má Filip Vlček, který vlastně přehrával kytary i basu v mnoha songách po odchodu Romana. Je tam tedy hodně produkčních nápadů od Filipa, které jsem sním dotahoval do finální podoby. Dalo by se ale říct, že původní nápady a návrhy songů se dají dělit na půl mezi mě a Romana.
Kapela taktiež nahrala viacero videoklipov, pričom posledný je Limbo Light. Podľa akého kľúča vyberáte piesne, ku ktorým vznikne videoklip?
Karel Krejčí: Na počátku jsme si řekli, že se lépe hudba prezentuje s obrazem. Proto vlastně máme tolik videoklipů. Nicméně klíč byl jednoduchý. Vždy jsme vybrali asi nejsilnější song, který byl zrovna produkčně k dispozici a měl finální verzi. Ještě bych rád natočil klip na song Niky AM, protože to je asi nejlepší song, co jsem kdy složil. Se silným příběhem, myšlenkou a melodií. Uvidíme.
Na začiatku minulého roka skupinu opustil gitarista Roman Knop, ktorý momentálne hrá v Cocotte Minute. Ako sa vám podarilo vysporiadať s touto zmenou?
Karel Krejčí: Dočasně či dlouhodobě jsem se musel ujmout opět kytary. Pokud by se povedlo najít zase kvalitního muzikanta a skladatele jako byl Roman, tak se rád vrátím jen ke zpěvu.
Čo koncerty? Kde vás budú môcť ľudia vidieť?
Karel Krejčí: V současnosti hrajeme hlavně u nás na jihu. Je to hlavně i kvůli tomu, že nemohu nějakou dobu hrát kvůli zranění na kytaru a tak se tolik nikam necpeme 🙂
Je možné, že navštívite aj Slovensko?
Karel Krejčí: V roce 2016 jsme měli naplánované miniturné po Slovensku, ale nakonec jsme to kvůli finanční náročnosti zrušili. Věřím však, že ještě šance přijde, protože půlka z nás má na Slovensku kořeny. 😉
Ty si mal pred niekoľkými týždňami dosť nepríjemný zážitok s opitými fanúšikmi, mohol by si o tom povedať niečo viac?
Karel Krejčí: Jsem si jistý, že to fanoušek nebyl. No za vším hledej ženu…
Naštěstí mám svědomí čisté, ale po koncertě, který byl spojený s oslavou narozenin našeho kamaráda, jsem si 4 dny poležel v nemocnici a nemohu kvůli poranění ruky hrát na kytaru. Alespoň tak na ni nedělám chyby. 🙂
Mohol by si povedať niečo o živote členov pomimo kapelu?
Karel Krejčí: Máme to věkově zajímavě rozložené. Violoncelistovi je už 34, má dvě děti a dvě benzínky. Mě je ještě 32 a dělám práce všeho druhu včetně plavčíka. Kytarista je novopečný otec a poskytovatel internetového připojení. Bubeník má hluboký hlas a velké ruce – "velká noha dělá boha" a basák jezdí pozdě na konecerty i zkoušky, protože mu je asi 23.  🙂
Ako ty osobne vnímaš hudobnú scénu v Čechách?
Karel Krejčí: Nepřestává mě mile překvapovat. 🙂 Krom stálic se rodí nové kvalitní kapely jako jsou Safecourse, Stifled a hlavně Glad for today. Jsem rád, že mladí  kluci sledujou nové trendy a nebojí se je hrát i u nás. Nicméně mainstreamová scéna mi přijde velice plytká.
Přijde mi, že kapely či interpreti dokáží napodobit své vzory a přijmout tak dobré i špatné znaky daného stylu, ale chybí mi vyloženě nějaké originální prvky. Kapely tady jsou skvělé, zní americky jak nějaká kapela odtamtud, ale tam takových jsou desítky a to včetně západní Evropy. Sám ale nejsem extra originální a původní. 🙂
Tak to bola posledná otázka. Ďakujem veľmi pekne za odpovede, a zároveň by som ťa chcel poprosiť o odkaz pre fanúšikov. 
Karel Krejčí: Moc děkujeme za možnost udělat rozhovor a budeme rádi, když se lidé podívají na naše stránky, kde naleznou odkazy na album i klipy.
Youtube ukážka:

Linky:
https://www.alikeband.cz/
https://www.facebook.com/alikebandcz/
https://bandzone.cz/alike