Sonata Arctica – release new single and video 'Cold'
23. August 2019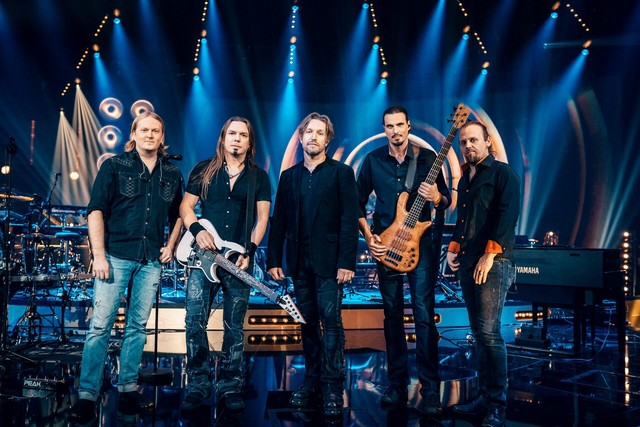 In two weeks – on September 6th – Finnish melodic metal titans SONATA ARCTICA will release their new 11-track studio album »Talviyö« ("Winter Night"), through Nuclear Blast.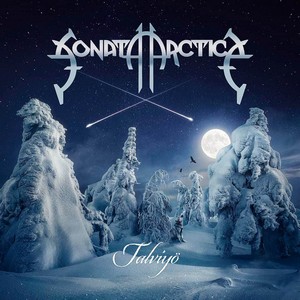 Tracklist:
Message from the Sun
Whirlwind
Cold
Storm the Armada
The Last of the Lambs
Who Failed the Most
Ismo's Got Good Reactors
Demon's Cage
A Little Less Understanding
The Raven Still Flies with You
The Garden
Today, the band release their beautiful new single and video 'Cold':
"It's been a while since we released the first single ' A Little Less Understanding'  from our upcoming album "Talviyö", and now it's time to reveal the next piece in the puzzle. This single 'Cold' is also our first music video from the album, with more to follow later on. We filmed the video in Tampere with the amazing Patric Ullaeus, and we had a blast once again.  Just 2 more weeks until the whole album is out, meanwhile enjoy this treat. Cheers!", comments Henrik "Henkka" Klingenberg
»Talviyö« was recorded between September 2018 and May 2019, produced by Mikko Tegelman and SONATA ARCTICA in Studio57. Additional recordings took place in various other places. "Mikko produced the album and he really managed to push us to do our best, even with the more experimental stuff. Working with an outside producer was the biggest new thing we tried this time," says Henrik "Henkka" Klingenberg. The mixing was done by Mikko Tegelman and Pasi Kauppinen and the mastering was handled by Svante Forsbäck (Chartmakers Mastering).
The first single:
A Little Less Understanding: https://youtu.be/FiM94N3FnQA
Links:
http://www.sonataarctica.info/
https://www.facebook.com/sonataarctica/?fref=ts
Source of Information: https://www.facebook.com/nuclearblasteurope/, Photo: Atte Mäläskä
VISIONS OF ATLANTIS Release Official Video & Single "Nothing Lasts Forever"
23. August 2019
VISIONS OF ATLANTIS continue their way up to the top.
With VISIONS OF ATLANTIS' newest and third release "Nothing Lasts Forever" off their upcoming album Wanderers, the listener will be put into a state of melancholy and thoughtfulness. The newest single speaks of fleeting moments in our lives and how we must cherish every one of them – without a single regret, because they cannot last forever.VISIONS OF
ATLANTIS on the new video:
"This is by far the richest and most emotional video VOA has ever released. It perfectly vehicles the universal message of the song "Nothing Lasts Forever" which is about living the moment and cherishing the present with our loved ones, before they go… We shot this video in the beautiful Styria in Austria, with nature and the very old castle "Rothenfels" as environments, to convey the timeless aspect of our message. Despite the sad connotation of the song theme, this video isn't dark for a metal band video, as we do believe the overall message to be positive and that it will touch music lovers of all genres and ages."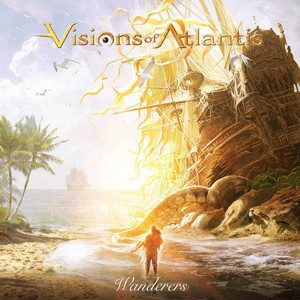 Tracklist:
Release My Symphony
Heroes of the Dawn
Nothing Lasts Forever
A Journey to Remember
A Life of Our Own
To the Universe
Into the Light
The Silent Scream
The Siren & the Sailor
Wanderers
At the End of the World
Bring the Storm
In and Out of Love
Dnes prišli s videoklipom k druhému tretiemu singlu Nothing Lasts Forever:

VISIONS OF ATLANTIS are excited to release their seventh studio album Wanderers via Napalm Records on 30th August 2019. The band's follow-up to 2018's The Deep & The Dark, which hit the charts in Germany, UK, the US and Switzerland, continues the everlasting journey of VISIONS OF ATLANTIS in 19 years of band history right into the untamed seas.
Some of VISIONS OF ATLANTIS' musical peers weighed in on the new album:
"Bold, diverse and captivating! VOA returns with an album ready to launch the band to the next level!"
(Thomas Younglood / Kamelot)
"That's how symphonic metal has to sound like!"
(Chris Harms / Lord Of The Lost)
"Epic, colorful and a sense for big emotions!"
(Hannes Braun – Kissin Dynamite)
"A big congratulations for this album, I love the title track!"
(Alissa White-Gluz / Arch Enemy)
"Strong songs with amazing choruses."
(Mark Jansen / Epica)
Previous teasers:
A Journey To Remember: https://youtu.be/9XpKh3v7Oec
Heroes Of The Dawn: https://youtu.be/VV7iXGIeMjg
Links:
http://www.facebook.com/visionsofatlantisofficial
http://www.napalmrecords.com
http://www.facebook.com/napalmrecords
Source of Information: Napalm Records Promotion Team, Photo: Emilie Garcin
Strigoi – sign to Nuclear Blast and announce debut album "Abandon All Faith"
21. August 2019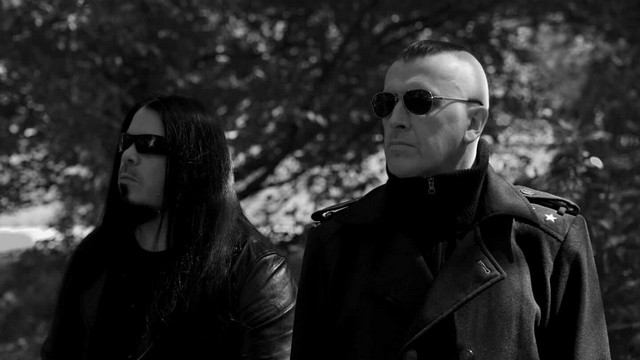 When PARADISE LOST guitarist Greg Mackintosh put to rest his VALLENFYRE side project in 2018, he closed a difficult, but an ultimately cathartic period in his life. Created as a tribute to his father John, who passed away in 2009, VALLENFYRE originally served as a sounding board for Greg's grief, but then delved into his nihilistic take on the world.VALLENFYRE's brief existence was intentional — the band always knew they could go no further than the three studio albums that bore their name. A mere few days afterVALLENFYRE played its last live show in September 2018, Mackintosh announced the formation of a brand-new band, STRIGOI. Freshly signed to Nuclear Blast, the English twosome will release its debut album »Abandon All Faith« on November 22nd and the first single will soon see the light of day.
Named after the troubled spirits in Romanian mythology who could rise from the grave and assume an entirely different form, STRIGOI's lineup is rounded out by former EXTREME NOISE TERROR and VALLENFYRE bass player Chris Casket. (PARADISE LOST drummerWaltteri Väyrynen provided studio drums but will not be a full-time member.) Recorded at his Black Planet studio between January and March 2019, the resultant 12-song»Abandon All Faith« debut finds Mackintosh culling from his love of old-school death metal, grindcore and punk for a visceral, but cinematic offering of extreme metal. WhereasVALLENFYRE was down-and-dirty, crusty and often "in the gutter," STRIGOI conjures feelings of both dread and hostility, laced with Mackintosh's trademark lead guitar lines and biting death metal roar.
"With VALLENFYRE, we went down this path where it got more and more crusty," Greg Mackintosh explains. "I thought we couldn't take it any further, so I needed to put in some new elements. With STRIGOI, there's a bit of spookiness, even some subtle elements of industrial and even black metal. The goal was to switch it up a bit. I was perfectly content with what I was doing in VALLENFYRE, but for STRIGOI to stand on its own, I wanted to try new things to separate ourselves from the pack." 
STRIGOI are:
Greg Mackintosh – vocals, guitars
Chris Casket – bass
Waltteri Väyrynen – Drums (studio only)
Links:
www.strigoi.co.uk
www.facebook.com/strigoibandofficial
www.instagram.com/strigoi_official
www.nuclearblast.de/strigoi
Source of Information: NUCLEAR BLAST Anne Swallow
Mob Rules – Beast Over Europe
19. August 2019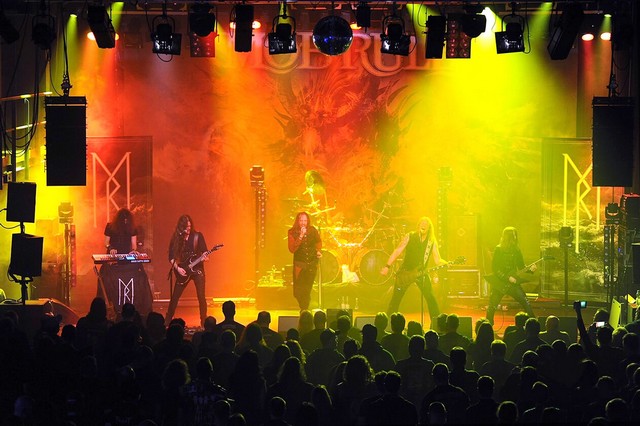 Chart entry with their studio album "Beast Reborn" in Germany (#37) and Switzerland (#59), just back from two successful tours through the metropolises of Europe, 25th band anniversary and a worldwide loyal fanbase … Reason to celebrate? Absolutely! Mob Rules let the corks pop in late summer with their first live album in 14 years: "Beast Over Europe".
The fact that Mob Rules love their fans at least as much as the fans love their band becomes apparent when the six members of this Power Metal band storm onto the stage and perform in a way that you don't really experience very often. Not only the incredible energy of the band and of course the powerful songs are tearing their audience off their feet at every show – it is also the closeness to the people in front of the stage and the authenticity that makes this band worth being heard and seen. Capturing this atmosphere on a new live album can only be a logical consequence. So that the wealth of ideas for their shows can also be experienced on the live album, the band included their fans in the design process of the album artwork: They made an online call to share favorite photos from concerts or experiences with the band from the last two years. You can be curious about the result as Beast Reborn's artwork was voted one of the 100 best Heavy Music Artworks 2018 (heavymusicartwork.bigcartel.com/product/2018-masterpieces).
Mob Rules fans will of course be richly rewarded for their efforts: The album contains about 75 minutes of concentrated live feeling. At the beginning the band didn't expect this to happen: "When we started, we hoped to release two or three albums with a renowned label and maybe play a great tour. Who would have thought that there would be NINE albums and HUNDRES of concerts instead … and our journey is still not over. Without our great fans, we wouldn't have made any of it – we are very grateful for that!" (Klaus Dirks singer and co-founder of Mob Rules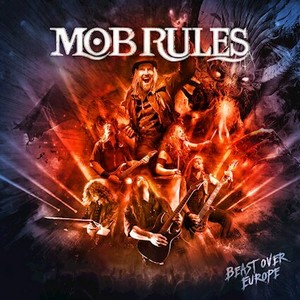 Tracklist:
Beast Reborn (Intro)
Ghost Of A Chance
Somerled
Black Rain
Sinister Light
Dykemaster's Tale
My Kingdom Come
The Last Farewell
 Children's Crusade
On The Edge
In The Land Of Wind And Rain
Hollowed Be Thy Name
Way Back Home
Rain Song
Date of release: 13. September 2019
Links:
http://www.mobrules.de/
https://www.facebook.com/mobrulesband
https://www.youtube.com/user/mobrulesband
Source of Information: Steamhammer / SPV