CHRIS CORNELL – suicide?
19. May 2017
As you know, Chris Cornell from gurnge legends Soundgarden, Audioslave died on 17. May.
Photo: www.wikipedia.org
County Medical Examiner's Office said, that he dies by hanging. His family disputes suicide ruling. Kirk Psich, lawyer representing the family of Chris Cornell, said: ,,Without the results of toxicology tests, we do not know what was going on with Chris — or if any substances contributed to his demise,"
Source of Information: http://www.blabbermouth.net
LORD OF THE LOST SIGN TO NAPALM RECORDS! – New Ensemble Album Coming In Fall 2017!
19. May 2017
[Lord of the Lost with senior product manager Billie Klein @ the Napalm Records Berlin Office]
Napalm Records is proud to welcome a new family member to their ever-expanding artist roster, as LORD OF THE LOST have signed a worldwide record deal with the Austrian rock & metal empire!
Founded in 2007 by Chris Harms, over the last decade this Hamburg-based dark metal group has become one of the most well-established and exciting acts the international scene has to offer. The band's sound has always been a heavy ride traveling through many diverse dark genres, while never standing still and constantly in the process of reinvention.
LORD OF THE LOST features big melodies, aggression and emotions, fronted by Chris Harms' impressive vocal range of styles that can abruptly leap from a sonorous clear voice to brutal death growls and wild screams. With effortless grace, LORD OF THE LOST have managed to establish their unique trademark sound while they create a contrast of musical extremes: Catchy ballads with hit-potential meet harsh metalcore-attacks, with no fear for excursions into the symphonic, industrial metal and heavy rock that goes straight into your heart and face!
With their relentless energy on stage LORD OF THE LOST always deliver lots of sweat, sex and rock 'n' roll making every single show a memorable and special event for their constantly growing fan base all over the world.
After their previous 2015 acoustic release 'Swan Songs', the quintet from the heart of St. Pauli, Hamburg, has now signed a worldwide deal with Napalm Records and will release a brand new acoustic and ensemble album titled 'Swan Songs II' in the Fall of 2017!
Says Chris Harms:
"Progress means movement; and for us any movement can only head forward and upward. It's been an important step for us to continue our path of success together with a new, strong partner and we are proud that we have found this partner in Napalm Records! It could not be better for us!"
To celebrate the band's upcoming release, LORD OF THE LOST will heavily hit the road this Fall for an ensemble album release tour as well as in support of KMFDM in the UK and United States! Make sure to catch LORD OF THE LOST live and on the following dates:
LORD OF THE LOST
Supporting legendary KMFDM!
UK Shows:
05.09. Newcastle – Think Thank
06.09. Glasgow – St. Lukes
07.09. Manchester – Ruby Lounge
08.09. Birmingham – O2 Institute
09.09. London – O2 Academy Islington
10.10. Bristol – Fleece
US Shows:
10/01Chicago, IL – Metro (Cold Waves VI Festival)
10/02 St. Louis, MO – Delmar Hall
10/03 Indianapolis, IN – The Vogue
10/04 Cleveland, OH – Agora Ballroom
10/05 Falls Church (Washington, DC), VA – The State Theatre
10/06 Philadelphia, PA – Underground Arts
10/07 New York, NY – Irving Plaza
10/08 Allston (Boston), MA – Brighton Music Hall
10/09 Baltimore, MD
10/11 Atlanta, GA – The Masquerade – Heaven
10/12 New Orleans, LA – House Of Blues
10/13 Austin, TX – Mohawk
10/14 Dallas, TX – Gas Monkey Live!
10/15 Houston, TX – White Oak Music Hall
10/17 Tucson, AZ – The Rialto Theatre
10/18 Tempe (Phoenix), AZ – Marquee Theatre
10/19 Las Vegas, NV – Fremont Country Club
10/20 San Diego, CA – House of Blues
10/21 Los Angeles, CA – tbd
10/22 San Francisco, CA – The Regency Ballroom
10/24 Salt Lake City, UT – Metro Music Hall
10/25 Denver, CO – Summit Music Hall
10/26 Omaha, NE – The Waiting Room
10/27 St. Paul, MN – Amsterdam Bar and Hall
10/28 Milwaukee, WI – The Rave II
LORD OF THE LOST
'Ensemble Tour' 2017:
18.11.17 DE – Hamburg / Markthalle
21.11.17 DE – Dresden / Alter Schlachthof
23.11.17 DE – Berlin / Huxleys
24.11.17 DE – Bochum / Christuskirche
25.11.17 DE – Munich / Backstage
26.11.17 DE – Frankfurt / Batschkapp
LORD OF THE LOST are:
Chris Harms – vocals, guitar, cello
π – guitar
Class Grenayde – bass
Gared Dirge – piano, synths, percussion, guitar
Tobias Mertens – drums
Links:
http://www.lordofthelost.de
http://www.facebook.com/lordofthelost
http://www.napalmrecords.com
http://www.facebook.com/napalmrecords
Source of Information: Napalm Records Promotion Team
THE PRIVATEER – announce new album "The Goldsteen Lay"
19. May 2017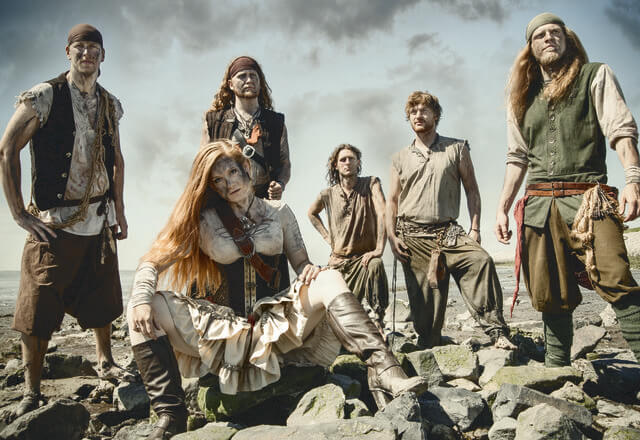 Today, the German pirate metal horde THE PRIVATEER. have announced their upcoming third album
»The Goldsteen Lay«. The album will be released on July 28, 2017 via NoiseArt Records.
The band states:
"Ahoy bloody landlubbers! Finally the work of the last few years will pay off. Our new album "The Goldsteen Lay" will be released on 28 July 2017 under the flag of NoiseArt Records!You can expect an outstanding concept-album with eleven chapters full of madness, eternal life and treasures which won't let any privateer sleep peacefully ever again! The next weeks we will publish further details about the album!"
Recorded in the safe harbors of the Iguana Studios in March-Burchheim under the control of experienced captainChristoph Brandes who also kicked the gangway of mix & mastering, "The Goldsteen Lay" is an overwhelming adventure in terms of sound engineering as well.
THE PRIVATEER travel the seven seas since 2007 and they are looking back onto two successful albums and dozens of landing parties in their homeland as well as foreign and exotic countries. Their Heavy Folk Metal dispersed dust right from their first prey on, and they've found accomodation with the lubbers of NoiseArt Records just in time for their third album. NoiseArt can't get enough from "The Goldsteen Lay" and will on their part make sure that this adventure will be available worldwide. We have set sails already… will you join us on this epic and adventurous journey?
Stay tuned for more information!
Links:
http://www.theprivateer.de
http://www.facebook.com/ThePrivateer
http://www.noiseart.eu
Source of Information: NoiseArt Records