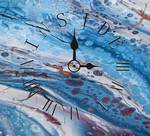 Metalisti a rockeri, ktorí toto leto navštívili niektorý z letných festivalov (Rock pod Kameňom, Legendy 2019, RockFest Nitriainske Rudno…) alebo poctivo sledujú dianie na domácej scéne určite natrafili na stále mladú zlatomoraveckú rockovú kapelu Inside. Tá funguje od roku 2013. Začiatkom leta obdarili svojich fanúšikov tretím albumom, ktorý dostal názov Čas. Okrem toho dostal aj vkusný kabát – vydaný bol ako digipack.
Na ňom sa chlapci rozhodli staviť hlavne na veľmi výrazné melodické riffy. Možno trochu preženiem, ale toľko melodických riffov som už dávno nepočul. Sóla sú síce trochu nevýrazné, v tomto prípade to však vôbec nevadí. Piesne sú väčšinou v strednerýchlych tempách (čiže na koncerty ako stvorené) a nájdeme tu aj baladu. Konkrétne je to skladba na pozícii 7 – Vymodlená (ako to už býva s tematikou lásky). Pochváliť treba aj speváka Gorana. Jeho spev je pomyselnou korunkou krásy všetkých piesní. Dovolím si povedať, že na tomto albume spieva najlepšie zo všetkých.
Inside sú veľkou nádejou našej domácej scény. Majú šancu patriť do prvej ligy. Treba len pokračovať v začatej ceste.
Lineup:
Goran Janík – spev
Martin Vago – gitara, spev
Patrik Kazík – basa
Martin Rapavý – gitara
Andrej Solčiansky – bicie
Tracklist:
Nový svet
Tak sa len usmej
Čas
Ona je tá
Dom lásky
Cieľ
Vymodlená
Kadiaľ ísť
Stopy slobody
Inside
Rok vydania: 2019
Vydavateľstvo: Samovydanie
Youtube ukážka:

Linky:
https://www.facebook.com/pages/Inside/598193463525019
http://bandzone.cz/_73867
Hodnotenie: 5,5/6