Nile – reveal new album »Vile Nilotic Rites«
6. September 2019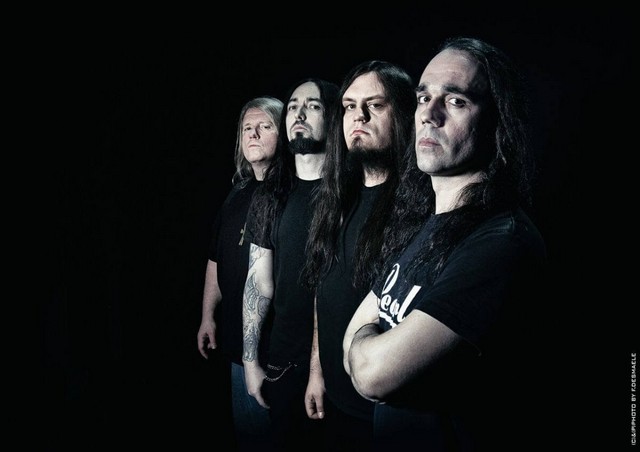 Technical death metal Egyptologists NILE are proud to reveal their ninth album, »Vile Nilotic Rites,« will be released on November 1st via Nuclear Blast. Today, the band gives fans a taste of the album with the release of the first single 'Long Shadows Of Dread.'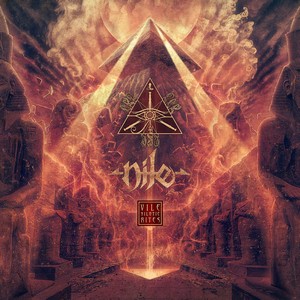 Tracklist:
Long Shadows Of Dread
Oxford Handbook Of Savage Genocidal Warfare
Vile Nilotic Rites
Seven Horns Of War
That Which Is Forbidden
Snake Pit Mating Frenzy
Revel In Their Suffering
Thus Sayeth The Parasites Of The Mind
Where Is The Wrathful Sky
The Imperishable Stars Are Sickened
We Are Cursed
 Watch the lyric video here:

Mastermind Karl Sanders comments, "I am thankful the day has finally arrived that we can share with fans the first single from »Vile Nilotic Rites.« It's the opening track on the new disc, and a song we will be thoroughly enjoying playing live on our upcoming EU and USA tours. 'Long Shadows' was chosen as the first song we want people to hear from this upcoming album as this crushing track should leave NO DOUBT in anyone's mind concerning the uncompromising, brutal, destructive intent evident throughout the entirety of the »Vile Nilotic Rites« album. I would also like to thank our fans who have been patiently waiting while we worked tirelessly to make this record undeniably the best NILE record in many years."
»Vile Nilotic Rites« was recorded and produced by Karl Sanders at Serpent Headed Studios inGreenville, South Carolina with the exception of the drums which were recorded at Esoteron Music Studios in Athens, Greece with engineering handled by Jim Touras and George Dovolos. The album was mixed and mastered by Mark Lewis at MRL Studios. For the album artwork, the band returned to artistMichał "Xaay" Loranc who has worked with the band for over 10 years.
Links:
https://www.facebook.com/nilecatacombs/
https://www.instagram.com/nile_official/
https://www.twitter.com/nilecatacombs/
https://www.nuclearblast.de/nile/
Source of Information: NUCLEAR BLAST Philipp Adelsberger, Photo: Francesco Desmaele
Blind Guardian – present lyric video for first single, 'Point Of No Return'
6. September 2019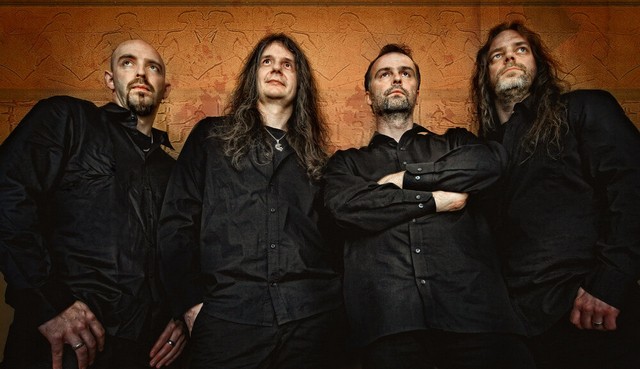 Promising to be one of the most ambitious projects in metal history, BLIND GUARDIAN's upcoming release will be well worth the wait. The idea of recording an orchestral album originally formed in the minds of the two leading lights of the BLIND GUARDIAN universe – guitarist André Olbrich and singer Hansi Kürsch – during the 1990's when BLIND GUARDIAN started to use orchestral elements to enhance their opulent sound. The monumental project started to take shape over recent years, and mirroring its epic sound cascades, the lyrical concept was developed. To create the concept, André and Hansiworked alongside German bestselling author Markus Heitz, whose latest novel »Die dunklen Lande« was released on March 1st, 2019. The book is set in 1629 and contains the prequel to BLIND GUARDIAN TWILIGHT ORCHESTRA's opus »Legacy Of The Dark Lands,« which will be out on November 8th, 2019.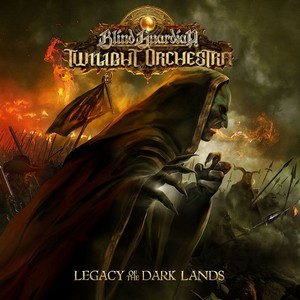 Tracklist:
1618 Ouverture
The Gathering
War Feeds War
Comets And Prophecies
Dark Cloud's Rising
The Ritual
In The Underworld
A Secret Society
The Great Ordeal
Bez
In The Red Dwarf's Tower
Into The Battle
Treason
Between The Realms
Point Of No Return
The White Horseman
Nephilim
Trial And Coronation
Harvester Of Souls
Conquest Is Over
This Storm
The Great Assault
Beyond The Wall
A New Beginning
To give their fans a first taster of the upcoming record, the band is happy to present the first single, 'Point Of No Return,' in the form of a lyric video today. Watch now:

Hansi states, "Finally, after ages of talking about it, it is time to unleash the beast. We have heard your pleas and here it is, a first glimpse of what »Legacy Of The Dark Lands« is about. We have reached the 'Point Of No Return' and there for sure will be no taking back. »Legacy Of The Dark Lands« will be released on November 8, 2019. Enjoy listening to the first single of this wonderful album. 'Point Of No Return' is a very vivid song and already gives you a very good insight of what to expect from the upcoming release. The song has it all, it is intense, very melodious and epic at the same time. Don't forget to check out the lyric video for 'Point Of No Return.' But now enjoy this first short trip to the »Dark Lands.« Still, this is just the beginning."
"It's incredible, that after 20 years we can actually finish this really exciting project. I am so happy and more than satisfied with it. Every single track unveils spectacular worlds and tells its very own story. With this album our biggest creative dream finally becomes reality," says frontman/singer Hansi Kürsch whose favourite author was equally excited about the collaboration: "It's really crazy: As pen & paper role-players we used to listen to BLIND GUARDIAN whilst playing. And years later I get to work together with the band, which was incredible. It's amazing, the things that can happen sometimes," Markus Heitz remembers."Of course, I immediately agreed to join! This creative collaboration is very special for me."
The two protagonists have actively cultivated their creative exchange over the last five years. "Markus is a great story teller; with »Die dunklen Lande« he created the perfect setting and with the mysterious Nicolas, the perfect character for our complex works. His inventiveness seems to be almost infinite. Absolutely impressive and very inspiring," praisesHansi Kürsch regarding the fruitful cooperation with the highly renowned fantasy author.
Both sides tell in their own way the story of the mercenary Nicolas and his involvement in the Thirty Years' War. Author Markus Heitz starts the story off in his book and BLIND GUARDIAN follow suit with »Legacy Of The Dark Lands.« What is the secret surrounding Nicolas? Will he be able to cast off the chains of war and how will his loved ones fare? On»Legacy Of The Dark Lands« via BLIND GUARDIAN TWILIGHT ORCHESTRA, André Olbrich and Hansi Kürsch fulfill their long-time wish of emphasizing imposing choral singing and classical orchestral arrangements. It promises to be an opus unlike any other that the German quartet has ever released, or rather: an opus, as has never been heard ever before.
Links:
http://www.blind-guardian.com/
https://www.facebook.com/blindguardian
Source of Information: NUCLEAR BLAST Markus Wosgien, Photo: https://www.metal-archives.com/
Signum Regis – "THE SEAL OF A NEW WORLD" ALBUM DETAILS REVEALED
6. September 2019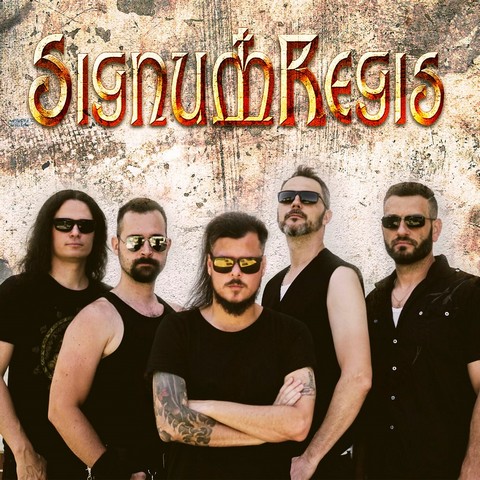 The melodic metal band Signum Regis will release a new album entitled "The Seal Of A New World" on Nov 22nd 2019 worldwide through Beyond The Storm Productions. It's the first album with the new singer Jota Fortinho.
There are 12 new tracks on the album. Among those 12 songs, there are all sonic trademarks of the band. Fans can enjoy fast, melodic, heavy, mid tempo, rocking songs and also an epic ballad.
The album was mixed by Ronnie König and mastered by the famous Jacob Hansen. One of the interesting aspects of the production is, that there are no triggers and drum samples on drums. The sound is 100% acoustic, which is quite rare for a band of this genre and therefore, it helps this album to stand out of the crowd. Backing vocals on the album were done by David Åkesson. You can also hear 2 solos from Magnus Karlsson (Primal Fear, Allen/Lande, Kiske/Somerville) and a guest appearance by Eli Prinsen (The Sacrificed, Sacred Warrior).
The artwork was created by Jota Fortinho.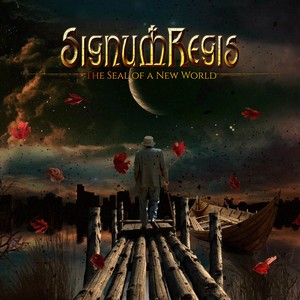 Tracklist:
Kings of the Underground
Prisoner's Elegy
I Always Go All-In
The City of God
The Seal of a New World
A Memory
Phantasmagoria
Let Freedom Ring
Never Surrender
Fly Away
Shalom
Scheme of Lies
Ukážka:

Links:
http://www.signum-regis.com/
https://www.facebook.com/SignumRegis/
Source of Information: Signum Regis
Bullring: details of debut album "Break Down The Gate" unveiled
6. September 2019
Street Symphonies Records & Burning Minds Music Group are glad to announce the opening of the pre-orders for "Break Down The Gate", official debut album by Italian hard-rockers, Bullring. The album is available in physical format in two different versions: Standard CD Edition, and Ltd. Personalized Edition. This one, created by Outward Styles and available exclusively at Burning Minds Music Group's official shop, Rock Temple, will come with handcrafted slipcase and personalized printed card filled with handwritten name of the buyer, printed number of the copy and signature of Street Symphonies Records' label manager Stefano Gottardi, which certifies the originality and exclusivity of the product. A very special edition available in a strictly limited quantity of 30 copies, dedicated to all the best collectors out there!
Debut album "Break Down The Gate" is set for release on September 20, 2019 via Street Symphonies Records/Burning Minds Music Group. CD graphics have been designed by Aeglos Art (Airbound, Raintimes, Michael Kratz, Alchemy, Firmo), while the CD booklet features introductory liner notes written by Iacopo Mezzano (Melodicmetal.it, Melodicrock.it).
Tracklist:
Are You Shining?
You're Just What You're Fighting For
My Darkest Shadow
Violet Song
Dirty Paradise
Fear Killing Anthem
Jackhammer
Amy And Me
You Cannot Hurt Me
I'll Snatch Your Tongue
I'm Too Old
Idea4
Line-up:
Remo Ferrari: Vocals & Bass
Dave Pola: Guitars
Luca Ferraresi: Drums
Special Guests:
Alex De Rosso (Dokken): Lead Guitar on "You're Just What You're Fighting For"
Luca Princiotta (Doro, Blaze): Lead Guitar on "Snatch Your Tongue"
Links:
https://www.bullringband.com
https://www.facebook.com/bullringband
http://www.burningmindsgroup.com/street-symphonies
https://www.facebook.com/streetsymphonies
Source of Information: Atomic Stuff Promotion