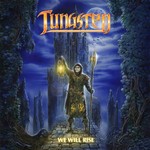 Čomu sa venoval bubeník Anders Johansson po odchode z HammerFallu? V prvom rade pokračoval v ďalších bandách, kde pôsobil už popri HammerFalle (Fullforce, Bakteria…). Okrem toho sa tento rok dokonca pridal k Manowaru. A asi dva roky po odchode, teda v 2016tom, spolu so svojim synmi rozbehol ďalšiu bandu. Ta dostala názov Tungsten. Debutová nahrávka im vyšla tento rok a dostala názov We Will Rise.
Ako by sa dala charakterizovať? Samozrejme nebude to žiaden brutálny death metal ani grindcore. Teda pohybovať sa bude okolo melodického metalu. Melódii je v jednotlivých piesňach fakt požehnane. Samozrejmosťou je aj kvalitný melodický vokál.
No kto však čaká niečo podobné štýlu HammerFall alebo nebodaj Manowar bude po prvých tónoch sklamaný. ,,Johanssonovci" sa rozhodli svoju muziku nasmerovať industriálnym smerom. Teda budete tam počuť množstvo elektroniky.
Samo o sebe by to nebol samozrejme problém. No bohužiaľ asi im chýbal cit pre aranžmány, niektoré piesne sú doslova až ,,preelektrizované" a znejú dosť monotónne (a to aj kvôli použitej rytmike). Mám namysli hlavne Animals, Remember, To The Bottom. Je tu aj niekoľko svetlých momentov, napr. vydarená úvodná (zároveň titulná) pieseň Misled, alebo záverečná Wish Upon A Star obohatená o etno prvky.
Milovníkov zoskupení ako Rammstein, Meshuggah debut ,,rodinnej kapely Johanssonovcov" možno osloví. Ľudí, ktorí majú záujem o vyvážený mix žánrov asi nie.
Lineup:
Mike Andersson – spev
Nick Johansson – gitary
Karl Johansson – basa, screaming, klávesy
Anders Johansson – bicie
Tracklist:
We Will Rise
Misled
The Fairies Dance
Coming Home
It Ain't Over
As I'm Falling
Sweet Vendetta
Animals
Remember
To The Bottom
Impolite
Wish Upon A Star
Rok vydania: 2019
Vydavateľstvo: Arising Empire
Youtube ukážka:

Linky:
http://www.tungstenofficial.com/
https://www.facebook.com/tungstenband/
Hodnotenie: 3,5/6