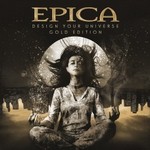 Patrím medzi ortodoxných fanúškov americkej power metalovej legendy Iced Earth. Tak sa toto EP stalo pre mňa doslova povinné čítanie. Ako isto viete Iced Earth zmenili názov na IE až pred vydaním debutu a na začiatku sa volali Purgatory. Lenže kapiel s týmto názvom bolo mnoho a nechceli byť s nimi zamieňaní.
Na tomto EP nájdete materiál čo mal byť na poslednom deme Purgatory. Tak preto aj hlavný autor IE, Jon Schaffer oslovil dvoch pôvodných členov Purgatory a IE, gitaristu Bill Owena a speváka Gene Adama, aby spolupracovali na tomto spomienkovom projekte.
Práve Geneov hlas je najväčšie prekvapenie celej nahrávky. Pokiaľ sa vám páčil v dobe debutu IE budete ho milovať. Pretože sa nádherne vyvinul a vek mu vyslovene pristane.
K práci Schaffera sa netreba vyjadrovať, pretože on patrí medzi naj rytmické gitary planéty a jeho rukopis spravil z Iced Earth to čo dnes sú.  Na albume hrá na bicie Mark Prator, ktorý bubnuje na niekoľkých platniach IE, na basu hrá Ruben Drake z Demons & Wizards a sóla nahral legendárny producent Jim Morris. Takže taká malá veľká rodinka IE spolupracovníkov.
Toto celé sa dá brať ako veľká raritka. Pretože skladby už Iced Earth nahrali za dobu ich existencie. No tu znejú dosť inak. Takto mali znieť v dobe keď boli napísané. Je to veľmi vydarený dokument doby. A myslím, že nie len pri takej Burning Oasis sa vám roztrasú kolená. Odporúčam každému a nie len ortodoxným fanúškom ako som ja. 
Lineup:
Gene Adam – spev
Jon Schaffer – gitary, doprovodné vokály
Bill Owen – gitary
Hostia:
Jim Morris – gitary
Ruben Drake – basa
Mark Prator – bicie
Tracklist:
In Your Dreams
Dracula
In Jason's Mind
Jack
Burning Oasis
Rok vydania: 2018
Vydavateľstvo: Century Media Records
Youtube ukážka:

Linky:
http://icedearth.com/
https://www.facebook.com/OfficialIcedEarth/
Hodnotenie: 5,5/6