Accept present new band member, Philip Shouse!
1. November 2019
ACCEPT are getting ready for two upcoming North American dates next week on November 8th at the Arcada Theater in St. Charles, IL andNovember 10th at the Foamhenge Festival in Houston,TX. Unfortunately, Uwe Lulis will not be able to join us for these two shows as he recuperates from an recent reconstructive surgery on his leg from injuries he received to it in a near fatal motorcycle accident a decade ago. Uwe has dealt with the injury for a long time and has had many surgeries as a result.
In the process of finding coverage for Uwe for these shows, everybody remarked how they loved working with Philip Shouse during this year's "Symphonic Terror Tour" so we asked if he could help us out for these two shows. To our and Uwe's great relief – he said yes!
During the next few days as lots of e-mails and discussions about the Ins and Outsfor the 2 gigs and rehearsals in Nashville lead the band found itself faced with an unexpected question: Why doesn't Phil join us and stay as a permanent member of ACCEPT? The answer? It was unanimous! Everyone agreed and Phil did too!
After his recovery, Uwe will continue to tour with ACCEPT and rejoin the guys for the upcoming South American shows in December. Wolf in support of his bandmate says, "Uwe became a great friend for all of us and after his recovery he might need to adjust his stage moves a bit – which is no problem with all the support he has from us! We are here for you, brother!"
ACCEPT would like to welcome Phil into the band and wish Uwe a speedy recovery and invite the fans to see this brand new ACCEPT version with PHIL, UWE & WOLF on Guitar, CHRISTOPHER on drums, MARTIN on bass – and THE Voice: Mighty MARK TORNILLO!
P.S. 2020 will be another year we are so much looking forward to. Stay tuned …there will be good news coming your way! See ya soon! Wolf, Mark, Christopher, Uwe, Martin & Phil
Mark Tornillo – vocals
Wolf Hoffmann – guitars
Uwe Lulis – guitars
Philip Shouse – guitars
Martin Motnik – bass
Christopher Williams – drums
Links:
http://acceptworldwide.com/
https://www.facebook.com/accepttheband/
Source of Information: Nuclear Blast – Markus Wosgien, Photo: Paul Bossenmaier
Obscrua – sign to Nuclear Blast
30. October 2019
Today, Nuclear Blast is pleased to announce the signing of Germany's finest progressive death metal band, OBSCURA. Founded in 2002, the group have established their reputation by releasing 5 studio albums which have been highly acclaimed by fans and press alike, accompanied by playing support tours (w/ SEPULTURA, CHILDREN OF BODOM, CANNIBAL CORPSE among others) as well as their own headline shows all around the globe.
Band founder Steffen Kummerer states, "Partnering with the world's biggest independent metal label feels like the start of a new chapter for OBSCURA and we are very much looking forward to a great collaboration and to releasing our forthcoming sixth studio album with a great team at our side."
Nuclear Blast's Jaap Wagemaker adds, "As fans ourselves at Nuclear Blast, we have long admired the artistry of German progressive death metal masters OBSCURA. We were blown away by their musical 4-album-cycle that started with »Cosmogenesis« and ended with »Diluvium« complete with all the band's signature elements plus groundbreaking polyrhythms, dramatic songwriting, and jaw-dropping virtuosity! We knew that OBSCURA has the potential to become one of the leading forces in progressive death metal worldwide, so when the opportunity came to work with them, there was no room for second thoughts. We at Nuclear Blast are very curious to see where OBSCURA's musicial journey beyond »Diluvium« will bring them. If you are a fan of progressive metal, you should definitely check out this band!"
In additon, the band will once again be touring in support of their current studio album »Diluvium,« in February/March 2020. Support on this run, which will see them performing in 21 cities in 19 countries across the continent, will come from various special guests: Dutch death metallers GOD DETHRONED, vocalist/guitarist Steffen Kummerer's blackened melodic death metal band THULCANDRA as well as French progressive death metal outfit FRACTAL UNIVERSE. All dates can be found below, tickets are on sale now!
Links:
https://www.realmofobscura.com/
https://www.facebook.com/realmofobscura/
https://www.twitter.com/realmofobscura/
https://www.instagram.com/realmofobscura/
https://www.youtube.com/realmofobscura/
https://www.nuclearblast.de/obscura/
Source of Information: NUCLEAR BLAST Philipp Adelsberger, Photo:
Christian Martin Weiss
(0) – Signs worldwide contract with Napalm Records
29. October 2019
Demanding and multi-faceted Progressive Black Metal –
the best-kept secret of the Danish underground
(0), the best-kept secret of the Danish underground has signed a worldwide contract with Napalm Records. They choose to remain nameless, they choose to remain faceless and they choose to have their harsh and extreme soundscapes speak for them. Testing the boundaries of black, progressive, drone and post metal while mixing it with elaborated visuals and an impressive performance live on stage, (0) captivates you into the void.
More to be announced!
(0) on the signing:
"Big News! We are extremely excited to announce that we've signed a record deal with Napalm Records. We look forward to the collaboration with Napalm Records, which will surely help us taking (0) to more people."
(0) are:
vocals – (FJ) – vocals
guitar –  (JU)  – guitar
guitar –  (MA)  – guitar
drums –  (JK)  – drums
bass – (MC) – bass
Links:
http://parentes0parentes.com/?
https://www.facebook.com/0BandOfficial/
Source of Information: Napalm Records
Saints Trade: deal with Art Of Melody Music
28. October 2019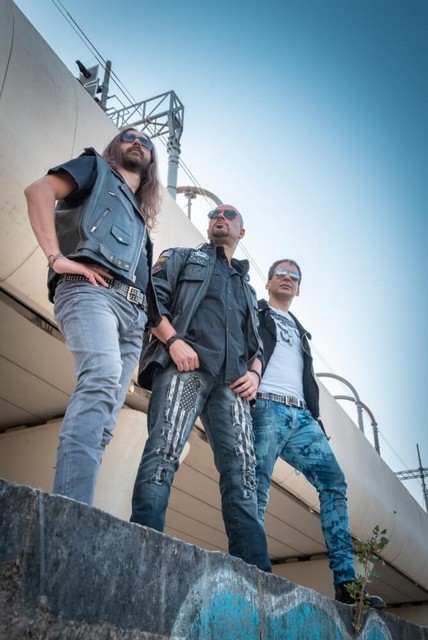 Art Of Melody Music & Burning Minds Music Group are glad to announce the signing of Italian melodic rockers, Saints Trade, for the release of their brand new studio album, "Time To Be Heroes".
Saints Trade project was born in Bologna in 2009 with a great will to play music and a sheer passion for glorious Hard Rock bands. Soon, the band started composing its own material and performing live around Italy. After some line-up changes throughout the years, the band got the great opportunity to play at Fleetwoodstock Festival (Fleetwood, UK) in November 2011, as opening act for famous British hard-rockers Ten. The enthusiastic response of the audience to the songs gave Saints Trade an encouragement to enter the studio in April 2012 and record "A Matter Of Dreams", their first mini-album produced by Roberto Priori (Danger Zone, Wheels Of Fire, Raintimes, Alchemy, Michele Luppi) at his Pri Studio. In early 2013, Saints Trade presented the official video for the song "Face In The Mirror" and opened for British rockers Jettblack in Bologna. Once again, the positive audience response gave the guys a good reason to re-enter the studio. Saints Trade and Roberto Priori got to team up in June 2014, giving birth to Saints Trade's first full-length album called "Robbed In Paradise". The album features various special guests – Roberto Priori himself, the talented keyboard player Pier Mazzini (Danger Zone, Perfect View) and the virtuoso Tommy Denander (Paul Stanley, Alice Cooper, Robin Beck, House Of Lords). In November, the signing for the Italian label Logic Il Logic Records set forth a new chapter of Saints Trade's career. In 2017, the band started writing some new stuff. In March 2019 Saints Trade, now a three piece formed by Santi Libra (vocals), Claus (guitar) and Andrea Sangermano (bass), joined Roberto Priori in his studio once again to record their new album "Time To Be Heroes", expected for a late year release by Art of Melody Music / Burning Minds Music Group
. Now the band is ready to celebrate its 10th anniversary. Further details about tracklist, cover artwork, official release date and first single "Higher" will follow shortly.
Song from previous album:
Links:
http://www.saintstrade.com/
https://www.facebook.com/saintstrade
Source of Information: Atomic Stuff