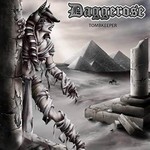 Daggerose sú bratislavská US power/thrash metalová kapela, ktorá vydáva svoj debutový album po desiatich rokoch existencie. Chodievali sme na ich koncerty v jednom klube, pretože majú vo svojich radoch speváka obľúbenej old school heavy metalovej legendy Strygon, Harveyho. Oproti Strygon boli ale Daggerose úplný protipól. Tvrdá, hutná, moderná, progresívna kapela. Žiaľ sa v roku 2016 rozpadli. O to bolo väčšie prekvapenie, keď sa zrazu bez nejakej reklamy dostal na trh ich debut Tombkeeper.
Určite poteší aj skvelý zvuk zo štúdia Shaark. Obrovské prekvapenie pre mňa je zaradenie temnej elektronickej skladby The Unknown. Tá je veľkou ukážkou skladateľskej slobody kapely. Tá sa vlastne dokazuje na dĺžke celého albumu.
Nájdeme tú doom metalové, thrash metalové, death metalové, prog rockové pasáže. To všetko zabalené do konzistentného US power/thrash obalu. Rytmická sekcia na európskej úrovni bravúrne podporuje mierne chudobnejšiu gitarovú sekciu, ktorá tak trocha zaostáva za zvyškom, aby dohromady spravili priestor pre fantastický spev. Dovolím si tvrdiť, že potom čo som počul jeho albumy, tak toto je Harveyho životný výkon. Občas v štýle King Diamonda, občas Matta Barlowa a najčastejšie Halforda.
Daggerose natočili album z ktorého sa slovenský metalista musí tešiť. Výnimočný a netradičný materiál, ktorého chyby je zbytočné komentovať, pretože tu ide o materiál, ktoré vybočuje zo žánrových mantinelov čo sú v našich končinách bežné. Dúfam, že na pokračovanie nebudeme musieť čakať ďalších desať rokov.
Lineup:
Harvey Rabensblut Havran – spev
Ďuri "Big D." Bránsky – gitary, doprovodné vokály
Radovan Godál – basa
Marek "Marc B.K." Kučera – bicie, perkusie, doprovodné vokály
Tracklist:
Intro / Ordo ab Chao
Fire from the Sky
Dagger & Rose
Sophie
The Unknown
You Betrayed
Saints and Sinners
Lethal Beauty
Tombkeeper
Lethal Beauty (Only Band Version)
Rok vydania: 2019
Vydavateľstvo: Samovydanie
Youtube ukážka:

Linky:
https://www.facebook.com/Daggerose/?ref=br_rs
https://bandzone.cz/daggerose
Hodnotenie: 5/6