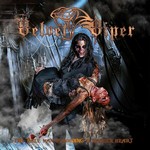 Nemecká speváčka Jutta Weinhold patrí medzi najrešpektovanejšie heavy metalové speváčky planéty už pekných pár desaťročí. Dnes 72 ročná dáma predvádza svoje umenie od roku 1963 a k heavy metalu sa dostala koncom sedemdesiatych rokov. V tomto je prvá podobnosť s božským Ronnie James Diom. A nie posledná. Celkovo jej tvorba minimálne od debutu legendárnych Zed Yago evokuje kapelu DIO. Ale nie kopíruje. Stredné a valivé tempá, agresívne a pompézne vokály, fantasy texty.
Jutta obnovila v roku 2017 jednu zo svojich kapiel Velvet Viper a vydali famózne dielo Respice Finem. Tvrdilo sa, že bude jej posledné. Lenže jeho úspech nabudil hlavnú hrdinku natoľko, že máme album nový.
The Pale Man Is Holding a Broken Heart nie je až tak silný ako predchodca, ale rozhodne si nezaslúži takú kritiku ako som našiel na internete. Varí sa z rovnakej vody, rovnaká zostava aj zvuk, ale rozhodne nejde o nudu. Už v druhej v poradí Götterdämmerung mi spôsobila veľkú radosť a považujem ju za jednu z naj čo kedy táto divožienka napísala. Pri Samson and Delilah dôjde aj na akustické nástroje a Jutta si odspieva svoj top na tomto albume. Najsvižnejšia Confuse and Satisfy sa valí v power metalovom duchu a mierne mi pripomenie Stratovarius a Nightwish.
Tento album sa počúva sám a mám z neho radosť. I keď si myslím, že viac času na tvorbu by prinieslo väčšiu sviežosť. Jutta Weinhold 4ever.
Lineup:
Jutta Weinhold – spev
Holger Marx – gitary
Johannes Möllers – basa
Micha Fromm – perkusie
Hostia:
Melanie Newton – zbory
Katie Bormann – zbory
Michael Bormann – zbory
Michael Ehré – bicie
Tracklist:
Things Behind
Götterdämmerung
All by Yourself
One-Eyed Ruler
Samson and Delilah
Confuse and Satisfy
Something Is Rotten
Keep Your Head Up
Hide Your Fire
The Wheel Has Come Full Circle
One Day
Rok vydania: 2019
Vydavateľstvo: Massacre Records
Youtube ukážka:

Linky:
https://www.facebook.com/VelvetViper/
Hodnotenie: 4,5/6