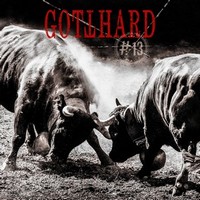 Pri pomyslení na Švajčiarsko sa nám môžu vybaviť rôzne veci. Syry, hodinky, čokoláda Milka alebo, aj kapela Gotthard. Ta na scéne funguje od roku 1992 a nezastavila ich ani taká vec, ako smrť speváka Stevea Leeho v roku 2010. 13. marca vyšla ich nová platňa so symbolickým názvom – 13.
Album začína pomerne energicky (skladby Bad News až 10 000 faces) a počuť, že Nic Maeder dáva do spevu všetko. Do pozornosti dávam hlavne trojku – Misteria s orientálnymi motívmi. Nesklamú ani pomalšie piesne, ako napr. chytľavá Another Last Time, Save the Date… Pri úvode som mal z celého albumu vysoké očakávania.
Bohužiaľ táto nahrávka nebude úplne bez chyby. Dostalo sa tam aj pár zbytočných kúskov, ktoré kazia dojem. Mám na mysli cover klasiky od Abby – S.O.S (v 9-tke Marry you budete počuť, že Gotthardi vedia balady robiť a nemusia si vypomáhať covermi), alebo pomyselnú vatu v podobe piesní Man on A Mission, No Time to Cry….
13 nie je pre Gotthard nešťastím. Cestu k ušiam fanúšikov kapely a aj ľudí, ktorí sa s ním stretnú po prvýkrát si určite nájde. O niečo menšia stopáž by mu však svedčala. Na druhej strane, existuje aj tlačítko ,,ďalšia skladba" 😀
Lineup:
Nic Maeder – spev
Leo Leoni – gitary
Freddy Scherer – gitary
Marc Lynn – basa
Hena Habegger – bicie
Tracklist:
Bad News
Every time I Die
Missteria
10.000 Faces
S.O.S
Another last Time
Better than Love
Save the Date
Marry You
Man on a Mission
No time to Cry
I can say I´m Sorry
Rescue Me
Rok vydania: 2020
Vydavateľstvo:Nuclear Blast
Youtube ukážka:
Linky:
https://www.gotthard.com/
https://www.facebook.com/gotthard/
https://www.twitter.com/gotthard/
https://www.nuclearblast.de/gotthard/
https://www.instagram.com/Gotthard_band/
Hodnotenie: 4,5/6