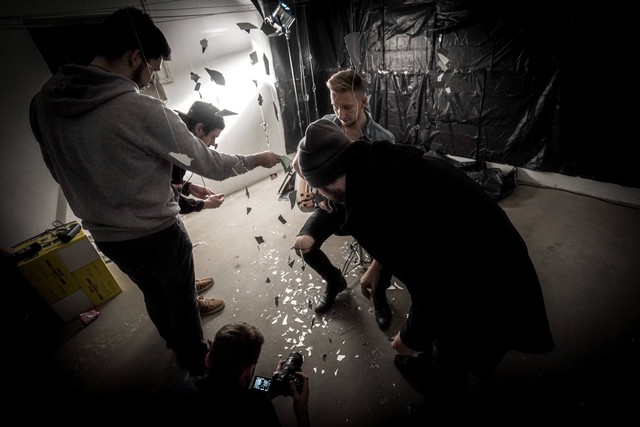 Mladá rocková formácia z južného Slovenska LUISVILLE STORY vydala novinku s názvom "Spoveď" s príbehovým klipom na ktorej im zahosťoval aj Jimi Cimbala (NoControl, Metropolis). O singli aj o klipe sme sa porozprávali so samotnou kapelou.
Chalani, ide o vašu prvú takúto baladickú skladbu. Čo nám k nej poviete?
Mojo: Po niekoľkých tvrdších skladbách sme to cítili tak, že ukážeme svetu aj takúto baladickú stránku našej kapely. Obzvlášť, po dokončení textu k tejto skladbe nám bolo jasné, že pieseň takéhoto charakteru k nej bude sedieť.
Keď už sme pri texte, o čom hovorí ? Respektíve, komu je text venovaný?
Robo: Text je venovaný našim najbližším a zároveň všetkým ľuďom, na ktorým nám záleží. Nikto z nás nie je rád sám a sme vďační, keď týchto ľudí môžeme mať okolo seba. Proste, keď sa máme o koho oprieť.
Skladba ku koncu výrazne vygraduje a objaví sa tu s majstrovským sólom aj Jimi Cimbala. Ako prišlo k tejto spolupráci?
Robo: Tak ako aj naše ostatné piesne, aj túto sme nahrávali v seredskom nahrávacom štúdiu Randal a produkoval nám ju práve Jimi. Pri procese nahrávania prišiel úplne prirodzene nápad s gitarovým sólom. Zobral gitaru, nahral ho a výsledok stojí zato.
Samo: Presne ako vravíš. Nakoniec aj tu sme ukázali tú rockovejšiu stránku našej kapely. Síce až na konci, ale predsa.
Pieseň sprevádza príbehový videoklip. Takéto niečo ste tu predtým ešte nemali. Aké je pozadie tohto videoklipu ?
Mojo: Videoklip nám natáčali veľmi šikovní filmári z LEXIS PRODUCTION, s ktorými spolupracujeme od začiatku našej existencie. Niekoľko nápadov ku klipu vznikalo priamo na pľaci a do klipu sme zapojili aj štyroch mladých hercov ktorí stvárňujú nás ako kapelu. Chceli sme klipu dať retrospektívny nádych.
Robo: Sú to naši kamaráti ale aj príbuzní. Svojej role sa zhostili výborne. A ktovie, či z niektorého z nich nebude aj v budúcnosti herec J S výsledkom sme veľmi spokojní.
Čo odkážete fanúšikom ešte na záver ?
Samo: Pieseň SPOVEĎ, ale aj ostatné doteraz vydané piesne nájdete na Youtube a aj na najznámejších online streamovacích platformách ako Spotify, Deezer atď. Budeme radi ak si ich pridáte do svojich playlistov.
Mojo: Z dôvodu momentálnej situácie sme boli nútení všetky naše plánované koncerty preložiť na neskoršie termíny. O nových termínoch budeme informovať na našich sociálnych sieťach Facebook a Instagram. Zdravie je teraz prvoradé a hneď ako to bude možné, stretneme sa na koncertných pódiách aj s novými, doteraz nehranými piesňami.
Videoklip novej piesne Spoveď:
www.facebook.com/LuisvilleStoryLVS
www.instagram.com/luisville_story
www.bandzone.cz/lvs
Zdroj: Mojmír Ivaniš