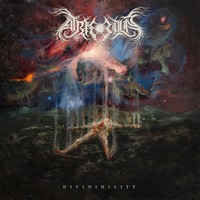 Štvorica Atræ Bilis pochádza z kanadského Vancouveru a rozhodla sa hrať dissonant technical brutal death metal. Prečo nie? Myslím, že v tomto prípade sa im to podarilo.
Label Transcending Obscurity Records vydá ich album Divinihility až 14. augusta toho roku, takže sa môžete ešte chvíľu tešiť, pretože skutočne máte na čo. Jednoliatu monolitickú nahrávku tvorí šesť skladieb o dĺžke asi 21 minút. Neuveriteľný mix všetkých štýlov extrémneho metalu, plný surovej, neopracovanej ,raw' energie, ktorá nedovolí nudiť a úplne vás pohltí.
Mne najviac pripomínajú Meshuggah a Pestilence. V temných zákutiach skvelých riffov na vás striehne technical death, brutal death, či dark death. Ak hľadáte niečo nové a neopočúvané, toto je pre vás to ,pravé orechové'.
Je to skutočná drvička kostí s masívnym zvukom, častými zmenami temp rafinovaných rytmov, miestami sláčikovými nástrojmi a dvoma vokálmi.
Naozajstná lahôdka pre fajnšmekrov, vhodná pre fanúšikov Gorguts, Ulcerate, Suffocation, Cattle Decapitation, Atheist, Depravity, Morbid Angel, Dying Fetus, Death, Cutterred Flesh, či Replicant…  Vynikajúci je aj artwork, ktorý vyšiel z dielne Adama Burkeho.
Kanaďania môžu byť právom na seba hrdí. Majstrovské dielo.
Lineup:
Jordan Berglund – spev
David Stepanavicius – gitary
Brendam Campbell – basa
Luka Govednik – bicie
Tracklist:
Gnode
 Sulphur Curtain
 Phantom Veins Trumpet
 Ectopian
 Upon the Shoulders of Havayoth
A Ceremony of Sectioning
Rok vydania: 2020
Vydavateľstvo: Transcending Obscurity Records
Youtube ukážka:
Linky:
https://tometal.com/
https://www.facebook.com/atraebilis
https://atraebilisdeath.bandcamp.com/
Hodnotenie: 6/6