Kamelot zložili 25 songov pre nový album
20.8.2020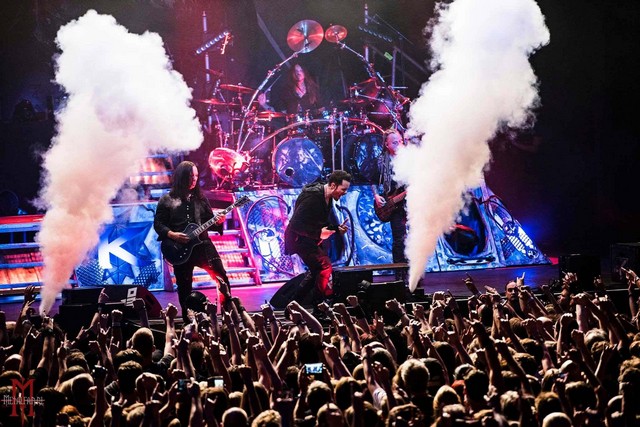 V novom rozhovore pre A&P Reacts gitarista Thomas Youngblood porozprával o pripravovanom nasledovníkovi posledného albumu Kamelot – Shadow Theory. Podľa jeho slov kapela ma zložených 25 skladieb, čo sa ešte nikdy predtým nestalo. Čoskoro budú tvrdo diskutovať o tom, ktoré budú použite na pripravovanú platňu (bude to približne 12-13). No termín vydania je zatiaľ naplánovaný na koniec budúceho roka.
Posledným väčším počinom kapely bol živý album I Am The Empire – Live From The 013, ktorý bol vydaný 14. augusta prostredníctvom Napalm Records.
Linky:
https://ww.facebook.com/kamelotofficial
https://www.kamelot.com
https://www.youtube.com/kamelotofficial
Zdroj: Blabbermouth, Foto: Metalfan.nl – Tilburg/NL
Ad Infinitum – nový videoklip
19.8.2020
Tohtoročný rakúskych symfonikov Ad Infinitum – Chapter I. Monarchy slávi mohutný úspech. Kapela sa rozhodla ho pripomenúť zverejnením klipu k skladbe Fire and Ice.
Linky:
http://adinfinitumofficial.com/
https://www.facebook.com/AdInfinitumMusic/
https://www.instagram.com/adinfinitumofficial/
Zdroj: Napalm Records
Diamante – nový singel
19.8.2020
Talianski hard rock/metalisti Diamante zverejnili videoklip k novému singlu Road, My Life. Je to prvá skladba kapely naspievaná v angličtine. Za mikrofónom môžete počuť nového speváka Mattea Metelliho, ktorý sa k nim pripojil pred troma rokmi.
Linky:
https://www.diamanteband.com/
https://www.facebook.com/diamanterock/
https://www.instagram.com/diamantehardrockband/
https://www.youtube.com/channel/UCO-SUm80JB_F-KyeAEk2Hlg/
https://twitter.com/diamante_band/
https://www.burningmindsgroup.com/atomic-stuff/
Zdroj: Atomic Stuff Promotion
Melissa – nový videoklip
22.8.2020
Česká folk/medieval/akustic kapela Melissa zverejnila videoklip k novej skladbe Bailarina.
Linky:
https://www.facebook.com/melissa.officialsite/
https://bandzone.cz/melissakutnahora
https://www.youtube.com/channel/UCIfIK1CQvra37aVG1Jsn4vA?view_as=subscriber
https://www.vivala.cz/alba/225670/melissa-taverna?fbclid=IwAR1wRIsXJ3Sgx38CiBsy_lViF8PUH-nBPWrAhkw4hZP5k0ECmdJgvbt1nkg
Zdroj: Petr Kohoutek