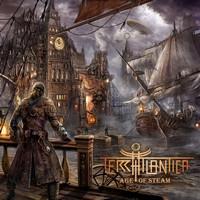 Pravdepodobne všetci mi dáte za pravdu, že kapiel hrajúcich priamočiary epický power metal už v súčasnosti nie je veľa. No tento štýl rozhodne nie je mŕtvy. To môžeme vidieť napr. aj u nemeckej kapely Terra Atlantica.
Na scénu prišli v 2014-tom a o tri roky nato vypustili do sveta debut A City Once Divine. V auguste tohto roku vydali jeho pokračovanie Age of Steam, tentokrát už pod väčším vydavateľstvom Pride & Joy Music.
V prvom rade treba pochváliť aj zaujímavý textový motív. Tak ako na začiatku aj tu sa venujú tematike Atlantídy – no rozhodli sa ju poňať zaujímavým spôsobom. Je 19. storočie – začiatok priemyselnej revolúcie. Britské impérium sa cíti Atlantídou ohrozené a snaží sa eliminovať svojho rivala.
Hudba sa nesie v duchu vzorov členov Terra Atlantica – čiže Rhapsody, Edguy, alebo Avantasie. Čiže budeme tu mať rýchle tempá, zborové spevy (sem tam trochu ,,sabatonovské") a hlavne množstvo úchvatných melódii. Akýmsi spestrením sú aj symfo-kláveosvé vyhrávky. Tristan Harders síce nie je žiaden Kiske ani Fabio Lione to však vôbec nevadí. Jeho hlas do muziky Terry Atlanticy skvelo pasuje. V The Treachery of Mortheon sa do spevu zapojí aj hosť – Oleg Rudych (Magistarium). Aj keď podobné kapely majú vo zvyku robiť aj dlhé skladby, na tejto platni nájdete len jednu takú – poslednú Until the Morning Sun Appears.
Vytknúť sa dá zrejme len určitá klišovitosť v niektorých textoch – trebárs Forces of the Oceans, Unite! (,,We stand up and fight – Fight – Fight – Fight"), resp. pri spomínanej poslednej piesni albumu ("I'm rising from the darkness. I'm facing all my fears. Together we'll be stronger. Side by side until the morning sun appears")
Každopádne na A City Once Divine odviedli Terra Atlantica dobrú prácu. Ak sa im podarí dostať svoju muziku k väčšiemu počtu ľudí, môžu byť úspešní. Možno rovnako ako ich vzory.
Lineup:
Tristan Harders – spev, gitary
Frederik Akkermann – gitary
Julian Prüfer – basa
Nico Hauschildt – bicie
Hostia:
Alex Hunzinger – orchestrálne aranžmány
Oleg Rudych – spev
Gabriel Tuxen (Seven Thorns) – gitary
Tracklist:
Rebirth 1815 (intro)
Across the Sea of Time
Mermaids' Isle
Age of Steam
The Treachery of Mortheon
Forces of the Oceans, Unite!
Quest into the Sky
Believe in the Dawn
Gates of the Netherrealm
Rage of the Atlantic War
Until the Morning Sun Appears
Rok vydania: 2020
Vydavateľstvo: Pride & Joy Music
Youtube ukážka:
Linky:
https://www.terra-atlantica.de/
https://www.facebook.com/terraatlantica/
https://www.instagram.com/terraatlantica/
https://www.youtube.com/channel/UCeqtCIaw70sqpzUs-N9R8bw
Hodnotenie: 5/6