Sabaton čoskoro začnú nahrávať nový album
24.12.2020
Jedna z najslávnejších kapiel súčasnosti, Švédi Sabaton, čoskoro začne nahrávať nástupcu posledného počinu The Soundtrack to the Great War (2019).
Deň pred Štedrým dňom zverejnili na YouTube krátku ukážku novej skladby a napísali: ,,Stavíme sa, že ste to nepočuli. Ste pripravený na novú muziku od Sabaton? Už nemusíte čakať. Vypočujte si krátku ukážku jednej z pripravovaných skladieb"
Chystaná nahrávka bude druhou platňou, s gitaristom Tommym Johanssonom. Ten v súčasnosti pôsobí aj v kapele Majestica.
Links:
http://www.sabaton.net/
https://www.facebook.com/sabaton/?fref=ts
https://www.youtube.com/channel/UCjQhd1APsd5NQhiVZV7GYzg
Zdroj: Blabbermouth, Foto: www.metal-archives.com
Journey – chystaný album
23.12.2020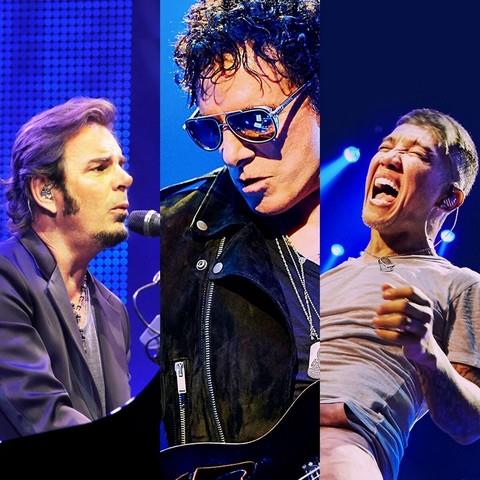 Americká rocková legenda Journey plánuje na ďalší rok nahrať nový album. Potvrdil to gitarista Neal Schon v rozhovore pre FOX17 Rock & Review. Posledným albumom kapely je Eclipse (2011).
Journey začali pôsobiť v roku 1973. Napriek častým zmenám zostav stále pôsobia na scéne. V súčasnosti hrajú v podobe:
Arnel Pineda – spev
Neal Schon – gitary, doprovodné vokály
Jonathan Cain – klávesy, gitara
Linky:
https://www.journeymusic.com/
https://www.facebook.com/journey
https://www.youtube.com/channel/UCjQhd1APsd5NQhiVZV7GYzg
Zdroj: Blabbermouth 
FAUST – nové EP
23.12.2020
Černý sedmi palec v režii pražské formace Faüst, jakožto debutové mini EP s náloží rovných tří kompozic.
Tyto navazují na v červnu 2016 vydané debutové EP formace Colblooded Fish, které o dva a půl roku později doplnila emise debutové fošny tentokrát pod záštitou CBF.
Zdání občas klame a díky tomu jsou tak všechny tři formace uváděny zcela záměrně, jelikož se vlastně jedná o formaci jednu jedinou. Že to působí dost zmatečně? Ale kdepak. To je právě to zdání. Už si rozumíme???
Limitovaná, ručně číslovaná emise v počtu 250 ks, včetně vloženého plakátu 350×350 mm.
A:
01. V3S Trebuchet War Parade
02. Door Into Debris
B:
01. Relentless (Pentagram Cover)  
Music by: J. Lapáček, K. Eichler
Lyrics by: J. Lapáček
Artwork by: T. Kannibalet Hietomaa
Grafical edit: Kryštof & Prsoň
Photo: CreedNet & Monča Coufalová
Recorded in June 2020
Mix und mastered at Dödsmord studio
FAÜST:
Honza – drums
Kryštof – vox & guitar
Jenda – bass
Kapela #ČERNÁ si pro své fanoušky přichystala vánoční dárek v podobě nového singlu "Zastavil Se Čas"
22.12.2020
Přesunuté či zrušené koncerty bohužel potkaly i #ČERNOU. Trápit se tím a čekat na zázrak? Ani omylem! Aktuální společenská situace posílila tvůrčí činnost této nadějné čtveřice a po live coveru popového hitu Roar zpěvačky Katy Perry přichází s další novinkou. Tou je singl Zastavil Se Čas doplněný videoklipem od Jana Murgy (RedPoint Production). Současně oznamuje další termíny koncertů v rámci putovního festivalu Monster Meeting během léta příštího roku.
Novým singlem kapela reaguje na současnou situaci a jasně vyjadřuje svůj postoj a společnou lásku k hudbě a tvrdé dřině. "Nikdy nepřestaneme tvořit, nechte nás, prosím, hrát! Ať je situace, jaká je, my nepolevíme. Jednou jsme se rozhodli dělat naplno to, co všichni milujeme, a jsme ochotni pro to obětovat vše," doplňuje frontman #ČERNÉ Feri Ciml. Videoklip k novému singlu vznikal v brzkých ranních hodinách přímo v ulicích Prahy za dodržení všech aktuálních vládních nařízení.
Jako další vánoční dárek pro své fanoušky potvrzují účast na další části putovního festivalu Monster Meeting 2021, kde na celkem 18 koncertech během celého léta příštího roku vystoupí po boku Dymytry, Traktor a Panoptiko. Letošní část festivalu Monster Meeting sklidila nadšené reakce jak publika, tak médií. Je tak naprosto jasné, že na letošní úspěch všechny kapely navážou se stejným nasazením a odhodláním.
Kapelu #ČERNÁ tvoří čtveřice ambiciózních a zkušených muzikantů, kterými jsou Feri Ciml (zpěv), Pavel Dvořák (kytara), Roman Knězů (baskytara) a Eda Štěpánek (bicí).
#ČERNÁ – Zastavil Se Čas: https://youtu.be/xfbK947VNos
#ČERNÁ – 6000 let: https://youtu.be/9OmcNv4dXFk
Termíny putovního festivalu Monster Meeting 2021:
8/5         Boskovice
14/5       Liberec
21/5       Pardubice
22/5       Praha
28/5       Chomutov
29/5       České Budějovice
5/6         Slušovice
12/6       Ostrava
25/6       Plzeň
31/7       Konopiště
7/8         Výrava
14/8       Loket
28/8       Hlinsko
3/9         Olomouc
10/9       Jindřichův Hradec
11/9       Strakonice
17/9       Brno
25/9       Třinec
Aktuální informace najdete na Facebooku ČERNÁ OFFICIAL a na www.cerna-black.cz.
Tlačová správa