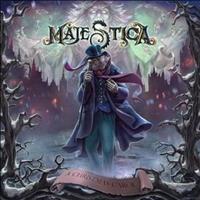 Staronová partia Tommyho Johanssona – Majestica v roku 2019 zažiarila debutom Above the Sky a koncom min roka sa pustili do veľkolepého projektu – muzikálu na motív legendárnej knihy Ch. Dickensa – A Christmas Carol (Vianočná Koleda).
Ak tento príbeh náhodou nepoznáte, tak v krátkosti. Hlavnou postavou je Ebenezer Scrooge, lakomý a nepríjemný starec. Postupne ho navštívi duch jeho obchodného partnera J. Marleyho a po ňom ďalší duchovia (Duch minulých, Duch súčasných a Duch budúcich Vianoc). Ebenezer ma strašné vízie, no nakoniec sa zmení o 180 stupňov.
Už úvodná skladba A Christmas Story svedčí o tom, že kapela to pojala naozaj veľkolepo. Tommyho (ktorý sa do spevu poriadne oprel) dopĺňajú mohutné zbory a nechýbajú ani vianočne znejúce melódie.
Spomínané zbory a party za jednotlivé postavy spievajú členovia kapely a hostia. Tento vzorec je použitý prakticky vo všetkých piesňach. Nasledujú  rovnako ako ide príbeh (Scrooge a jeho pisár; návšteva ducha Marleyho; príchod ostatných duchov a optimistický záver). Niektoré však majú hovorené intrá.
Daný album vás jednoducho úplne pohltí a keďže Tomy a spol. opäť dávajú dôraz na rýchlosť (nový bubeník Joel Kollberg si zaslúži pochvalu), ani si neuvedomíte že už znie outro A Majestic Christmas Theme. Teda inštrumentálna skladba v dĺžke päť minút.
Myšlienka zhudobnenia A Christmas Carol sa naozaj vydarila a máme tu nový štýl ,,vianočný power metal". Ten nemusí byť nevyhnutne o koledách v ,,metalovom šate".
Lineup:
Tommy Johansson – spev, gitary, piano, rolničky
Alex Oriz – gitary, spev
Chris David – basa, spev
Joel Kollberg – bicie, spev
Hostia:
Anders Sköld – spev
Henrik Lindfors – spev
Hanne Hermansson – spev
Tracklist:
A Christmas Carol
Christmas Story
 Ghost of Marley
Ghost of Christmas Past
The Joy of Christmas
Ghost of Christmas Present
Ghost of Christmas to Come
A Christmas Has Come
A Majestic Christmas Theme
Rok vydania: 2020
Vydavateľstvo: Nuclear Blast
Youtube ukážka:
Linky:
https://majesticametal.com/
https://www.facebook.com/Majesticametal/
https://www.instagram.com/majesticametal/
Hodnotenie: 5,5/6