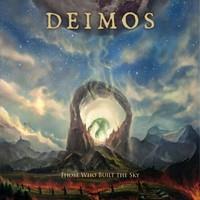 Deimos (,hrôza') je vonkajší a menší z dvoch známych mesiacov planéty Mars. V gréckej mytológii je Deimos bohom strachu a teroru. Slúžil na predstavenie desivých pocitov a paniky, ktoré postihovali všetkých pred vypuknutím boja.
Martin Rendes z Los Angeles je lídrom tohto medzinárodného metalového projektu. Na pomoc si privolal tajomné posily z Európy, aby spoločne postavili nové nebo.
Výsledkom tejto spolupráce je takmer 35 minútová malebná obloha progresívneho groove/thrash metalu, ktorú miestami ,zatemňujú' death metalové mraky. Táto zaoceánska zmes slúži ako pohonná hmota pre vesmírnu misiu bandy z Kalifornie, ktorá na svojom debute reže ako zmyslov zbavená.
,Marťania' vás roznesú na kopytách bez predchádzajúceho umŕvenia. Medzinárodná horda ukuchtila smrtiaci opus naoko traumatického žrádla pre vyprahnuté mysle dnešnej doby, ktorá sa nebojí melódií, ani spomalenia. Fantázia poráža ťažkú depresiu.
Masívna technická nálož, nová vlna thrash metalu.
Lineup:
Matt Taylor – spev, gitary
Stephen Quid – gitary
Tracklist:
Hell is Empty
Bite the Hand That Feeds
Rays of the Never Setting Sun
Dendrocnide
Forbidden Gateways
Arrival of Deimos
We Built the Sky
Rok vydania: 2021
Vydavateľstvo: Samovydanie
Full album:
Linky:
https://www.facebook.com/OfficialDeimos/
https://www.youtube.com/channel/UCsdJIq9n55uv5po4WPscODg/videos/
https://www.instagram.com/deimos.music/
https://soundcloud.com/officialdeimos/
Hodnotenie: 5/6
Páčil sa ti tento článok?